Items 1 to 2 of 2 on page 1 of 1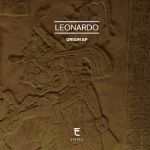 Cat: ETHRC 001. Rel: 09 Apr 18
Techno
Hieroglyph

8

Birdcage

Land Of Warriors
Review: After debuting on Alan Fitzpatrick's We Are The Brave digital label, Leonardo wastes no time in launching his own label Etheric as a vessel for his own productions, and he serves up a potent brand of tech house built for maximum club damage. "Hieroglyph" has plenty of gaseous tones, but it's a rock solid party track at heart, while "8" matches airy synths with a tough beat in a truly uplifting combination. "Birdcage" shuffles on a stripped down, slightly swung groove and "Land Of Warriors" breaks things open with an adventurous trip into broken rhythms and dramatic musical motifs.





…

Read more
Cat: ETHRC 002. Rel: 29 May 18
Techno
The Offering

Symmetry

The Afterlife

Droplets
Review: Having kicked off his Etheric label with the Origins EP earlier this year, Leonardo is back with more adventurous machine music for the spiritually inclined dancefloor. "The Offering" has a dark and moody tone thanks to the snaking synth line wriggling its way through the track, perfect for eyes-down submission as the strobe blinks slowly. "Symmetry" is a more open affair, all soft top chimes and vapour blasts pinging around an easy electro beat, while "The Afterlife" strikes somewhere in the middle with a tougher, club-minded sound that still favours a sunnier sound palette. "Droplets" is the consummate B2, shrugging off the dancefloor rules of the previous tracks to trip out in a dubwise atmosphere that further strengthens the quality of what Leonardo is up to.
…

Read more
Items 1 to 2 of 2 on page 1 of 1