Items 1 to 3 of 3 on page 1 of 1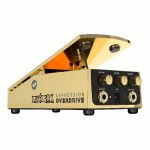 Cat: 638126 Rel: 19 Jan 17
Overdrive effects pedal with on-board Expression Control, Drive, Tone & Boost controls
Notes: The Ernie Ball Expression Overdrive delivers natural tube-like overdrive with more range than ever before. It features settings for drive, boost and tone, with a foot-sweepable overdrive control, making it effortless to go from clean to searing lead tones and everything in between, all without taking your hands off the guitar.

Expression Control:
Rock foot back and forth to adjust the desired amount of overdrive.

Drive:
The Drive knob adjusts the desired amount of overdrive.

Tone:
The Tone knob adjusts the desired amount of high end roll off.

Boost:
The Boost knob adjusts the Toe Down position from unity gain to desired "solo" gain of over 6dB above unity.

Engineered to perform:
Each component was carefully designed for the highest sound quality and performance available. The sleek, compact design maximizes playability, while minimizing the footprint on your pedal board. Unlock a virtually limitless tonal palette that simply can't be matched by traditional "on/off" stompboxes.

Uncompromised tone:
The Expression Series' innovative design provides continuous, usable tonal control at your feet throughout the pedal's entire range of motion without colouring your tone. The pedals provide complete signal transparency in the zero position. Plug in and play this versatile new tool and unleash your creative expression.

Built like a tank:
The sealed aircraft aluminium chassis offers a mechanically and electrically superior experience by protecting internal components from outside elements. Leveraging the 40+ year heritage of our volume pedal, the usability, easy-access controls, and no-slip grip have been incorporated and modernized.
…

Read more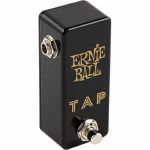 Cat: 660308 Rel: 24 Aug 17
Compact tap tempo pedal with normally open momentary footswitch
Notes: Designed to work as a companion to Ernie Ball's Expression Series Ambient Delay, the Tap Tempo Micro pedal does exactly what you might think it does!

No need to worry about your delay awkwardly drifting out of sync, live or in the studio. Simply plug it in and tap as you see fit, so you can retain the ambience you're after without having to stress about timing!

This handy little unit will also work with any other pedal requiring a standard normally-open momentary footswitch.
…

Read more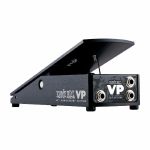 Cat: 674098 Rel: 10 Jan 18
Volume pedal with limited-edition black finish, Kevlar cord & micro taper switch
Notes: Since its introduction in 1977, the Ernie Ball Volume Pedal has been the leading choice for musicians across the globe. The Ernie Ball 40th Anniversary VP pedal features a limited edition slate black aluminium chassis with updated graphics for a sleek appearance both on and off stage. A redesigned ultra-durable Kevlar cord improves potentiometer traction for precise volume control and a super smooth foot sweep. Inspired by the rugged design of the original, the pedal's compact extruded aluminium housing is virtually indestructible. Celebrate 40 years of quality, performance, and reliability with this new anniversary edition volume pedal only from Ernie Ball.
…

Read more
Items 1 to 3 of 3 on page 1 of 1