Items 1 to 2 of 2 on page 1 of 1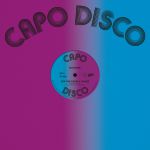 Cat: ERC 049 / JAMWAXMAXI 14. Rel: 16 Apr 18
Classics/Ska
Stop This Fussing & Fighting (8:05)

Mad Blank (5:12)
Cat: ERC 048 / JAMWAXMAXI 13.
Disco/Nu-Disco
Flight To Jamaica (Cool Runings) (5:14)

Skank (3:59)
Review: One way ticket business: cult one-hit-wonders Crashers dropped these cool runnings in 1981 and it's since been known to pass hands for high figures. Famously celebrated and consequently edited by Dimitri From Paris, here we find it in all its original Capo Disco glory. Vibrant, sing-along and just on the right side of sleaze, it still runs as fast as it did almost 40 years later. The same can be said for original b-side "Skank". Pure rare groove boogie with more than your month's quota of slapbass, fuzzy guitar and falsettos, it's another first class trip. Bon voyage.
…

Read more
Items 1 to 2 of 2 on page 1 of 1
Filter
Emotional Rescue/ Jamwax France