Items 1 to 3 of 3 on page 1 of 1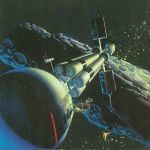 Cat: ELM 1111. Rel: 06 Mar 18
Minimal/Tech House
Into My Mind (4:27)

Digital Moon (4:56)

Riko's Trip (5:03)

Delusions (6:54)

Legoland (7:08)

One Against Time (6:46)

Stardance (6:38)

Flying Asteroids (5:07)

Lost & Found (5:22)

Space Tastes Lonely (3:48)

Dreamweaver (5:58)

Cosmic Epiphany (5:50)

SikRet Universe (5:33)

Out Of My Mind (6:56)
Review: According to hard-working scene stalwart John Dimas, the 14 tracks that make up this belated debut album all reflect his "personal journey on this planet". The Greek producer has long been renowned for producing tasty house and techno treats that look far and wide for inspiration, so it's heartening to find that One Against Time sees him exploring those major influences - think IDM, hip-hop, ambient, D&B, acid house, dub, Detroit techno, tech-funk, Drexciyan electro, two-step garage and wild Chicagoan acid - in far greater detail. It's an approach that pays dividends from start to finish, with Dimas serving up evocative and ear-catching cuts that sound distinctively rich and melodious, despite the variety of styles and tempos on show.
…

Read more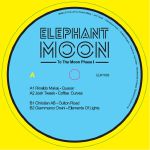 Cat: ELM 1005 . Rel: 12 Sep 16
Deep House
Rinaldo Makaj - "Quasar"

Josh Tweek - "Coffe Curves"

John Dimas - "Locked Groove"

Christian AB - "Oulton Road"

Giammarco Orsini - "Elements Of Lights"

Giammarco Orsini - "Locked Groove"
Review: Elephant Moon hits us with a super dope batch of new music this Spring. The new release is a collection of music from several different artists and demonstrates the diversity of the label's output. Across four brand new tracks we're presented with smooth grooves, odd, whimsical sound design and dynamic dance floor rollers.

Things start off tentatively with Italian Rinaldo Makaj's 'Quasar', a dreamy soundscape which envelopes you in its lush rhythms and deep, meditative bassline. Josh Tweek's 'Coffee Curves' shares side A with 'Quasar', though the atmosphere is totally different. Confused robotic bleeps and effects pop up throughout, seemingly out of sync with the percussion while a sombre b-line rumbles below.

On the flip side we have 'Oulton Road' by Christian AB. A vibey cut, which encapsulates all that is great about the deeper end of house music; measured, emotive and utterly danceable. Accompanying 'Oulton Road' is 'Element Of Lights' by Gianmarco Orsini, a bouncing dance floor-ready slice of 4x4 rudeness . Each side includes 1 bonus locked groove from John & Giammarco :)

There you go, four distinct styles from four skilled artists. Look out for the V/A in all good record shops!

…

Read more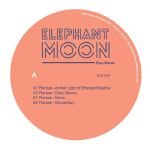 Cat: ELM 1007. Rel: 27 Mar 17
Minimal/Tech House
Amber Light Of Etheral Shadow (6:31)

Easy Waves (6:35)

Move (8:15)

Momentary (5:59)
Review: Artyom Ziobin's distinctive style of minimal house stands apart from the usual thoroughfare of moody, dubby shufflers. Instead the Russian producer reaches for a warm, disco-influenced sound palette which he then slices and dices into sleek, crafty party workouts with lashings of panache as well as studio ingenuity. Following appearances on Bump Foot and Grow Vinyl, the latest outing for Plantae comes via Elephant Moon, with lead track "Amber Light Of Ethereal Shadow" cutting a dashing figure across the soundscape with its busy but nimble mixture of synth splashes and stuttering drums.
…

Read more
Items 1 to 3 of 3 on page 1 of 1