Items 1 to 3 of 3 on page 1 of 1
Cat: EDREAMS 015. Rel: 18 Sep 17
Techno
Stingray (5:25)

Burning Crystal (6:39)

An Infinite Number Of Possibilities (5:40)

720 Degrees (5:55)
Review: Since 2011, or what we could describe as the rebirth of vintage electronic music and the muddled, increasingly convoluted evolution of 'bass' music, Nick Harris aka A Sagittariun has been providing our charts, and the wider scene, with consistently high levels future-proof techno. Slightly Ajar is his third release of 2017 already, and it comes through on his own Elastic Dreams imprint with a squadron of deep and effortlessly mesmerizing electronic shapes. "Stingray" opens with an ocean of euphoric pads and industrial rhythms coming together as one, and is followed elegantly by the much deeper, more reflective broken patterns of "Burning Crystal". On the B-side, "An Infinite Number Of Possibilities" kicks the gears into motion with a much bouncier, club-centric techno groove filled with surreal melodies, and "720 Degrees" buries a load of bleeps into a hypnotic bundle of sci-fi sonics for total dancefloor domination. Effective and ultra-sleek - the lot of them!
…

Read more
The Golden Apple

Blue Lotus

Liebe Tanzen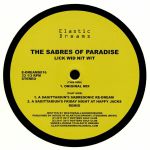 Cat: EDREAMS 016. Rel: 07 Mar 18
Techno
Lick Wid Nit Wit (7:27)

Lick Wid Nit Wit (A Sagittariun Sabresonic Re-Dream) (6:51)

Lick Wid Nit Wit (A Sagittariun Friday Night At Happy Jacks remix) (5:53)
Review: It would be fair to say that "Lick Wid Nit Wit" is not one of the better-known tracks by the Sabres of Paradise, Andrew Weatherall's once high profile 1990s techno trio. The track, a wild re-imagining of their "Wilmot" single rich in clanking, metallic percussion hits, snaking Middle Eastern inspired melodies and copious amounts of dub delay, was only ever released on an obscure compilation. Happily, Elastic Dreams has decided to give it a new lease of life, with label boss A Sagittariun delivering two thrillingly intense new interpretations. There's a "Sabresonic Re-Dream" (named in honour of the trio's label/club night, Sabresonic) that mixes fast-paced rhythms and distorted bass with some particularly hallucinatory sounds, and a more straightforward - but no less trippy - techno take (the Friday Night At Happy Jacks Remix).
…

Read more
Items 1 to 3 of 3 on page 1 of 1