Items 1 to 2 of 2 on page 1 of 1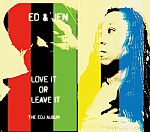 Cat: EDJ 005. Rel: 21 Aug 14
Deep House
Old World

Sexy Mate

Love Bubbles Change

Coming Home To You

Love It Or Leave It

Oil & Vinegar

Mom & Pops Jam

Rainbow
Review: It's been three years since husband-and-wife team Jus' Ed and Jenifa Mayanja released their collaborative debut album, Let's Groove. Since then, both have been busy with solo projects, delivering a large volume of releases in their distinctive warm, melodious and loose deep house style. Love It Or Leave It, then, is something of a rare treat for those who dig their wholeheartedly positive and spontaneous take on deep house. It's perhaps a little breezier than either producer's solo work, with less immersive pads (though they are present, particularly on the chiming "Love Bubbles Change"). It's still deep, though, with cascading melodies, picturesque chords and occasional soul-flecked vocals riding a range of deep, sinewy house grooves.
…

Read more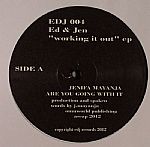 Cat: EDJ 004. Rel: 10 Dec 12
Deep House
Jenifa Mayanja - "Are You Going With It?"

Jus ED - "Struggle For Success" (part 8)
Review: Husband and wife deep house team Jus Ed and Jenifa Mayanja join forces for a pair of refined and mildly haunting cuts that bear all the hallmarks of the Underground Quality family. Jenifa Mayanja's jam "Are You Going With It?" plunges into dense swathes of undulating pads, while the pleasantly spacious beat pops off in a broken fashion. Jenifa's conscious intonations about time sit comfortably in the spiritually enhancing grooves, urging closed eyes and released inhibitions. Ed flies on the flip with "Struggle For Success (part 8)", maintaining that gentle and immersive approach to house music. The beats rattle away with more prominence than the A-side counterpart, but the melodies come on even more sensitive and soothing.
…

Read more
Items 1 to 2 of 2 on page 1 of 1