Labels
Items 1 to 3 of 3 on page 1 of 1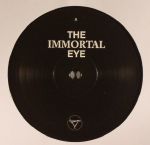 Cat: LINO 75. Rel: 20 Feb 17
Industrial/Noise
Grebenstein & Seefried - "Wufferfraction" (4:59)

Layne - "Love" (5:00)

Autumns - "Imposter Syndrome" (8:38)

DVA Damas - "Shortcut To X" (4:01)
Review: We were wondering what Regis' Downwards stable was planning for 2017, but it's clear that the UK techno lynchpin has absolutely everything under control. The year kicks off with a collaborative EP, The Immortal Eye, featuring a special selection of artists whose sounds only tinker with the techno formula, and which will undoubtedly appeal to a whole spectrum of electronic music enthusiasts. Jan Grebenstein and Christine Seefried, the former having already appeared for the label recently, team up on "Wufferfraction", a mid-tempo roller that ticks along at a steady pace amid a sea of electrifying acid sonics, while fellow recent signee Layne delivers a noxious cloud of rhythmic ambient through "Love". On the B-side, the Autumns outfit offer a cold, bleak, pseudo techno groove on "Imposter Syndrome", leaving the excellent DVA Damas to coax the cold out of the wave thanks to an excellent tune by the name of "Shortcut To X". Recommended.
…

Read more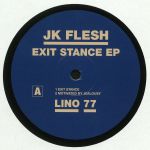 Cat: LINO 77. Rel: 04 Dec 17
Techno
Exit Stance (5:50)

Motivated By Jealousy (4:52)

Bullied By Love (4:23)

Caveman (4:51)
Review: Regis keeps the West Midlands tradition alive by bringing onboard fellow local legend Justin Broderick for the latest Downwards release. Interestingly enough "Exit Stance" sounds rather reminiscent of O'Connor or Surgeon's work, with its splintered beats and snarling mechanical funk. The hypnotic "Bullied By Love" experiments with textures plus inventive and layered rhythmic patterns for truly hypnotic effect. The slow-burning and seething fury of "Caveman" displays yet more diversity in Broderick's repertoire, proving his strong ability to create well executed techno grooves. Most known as the frontman of seminal grindcore/industrial metal outfit Godflesh, Broderick has had a prolific career spanning two decades as part of additional projects like Techno Animal, Jesu and Pale Sketcher in addition to collaborating live with Canadian techno duo Orphx and producing for bands such as Pantera and Mogwaii.
…

Read more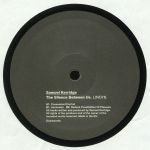 Cat: LINO 76. Rel: 16 Oct 17
Experimental/Electronic
Possession/Control (6:09)

Ascension (5:26)

Radical Possibilities Of Pleasure (4:30)
Items 1 to 3 of 3 on page 1 of 1