Items 1 to 3 of 3 on page 1 of 1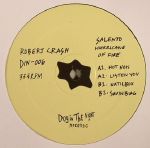 Cat: DIN 06. Rel: 09 Oct 14
Techno
Hot Nois

Listen You

Natil Box

Savin Biag
Review: For the third time in 2014, Italian producer and IFM member Fran Mela dons his Robert Crash guise for a trip into the worlds of analogue techno and industrial-strength acid house. Clear hints of Armando, Virgo Four and early Belgian techno can be heard in the cut-up stabs, rolling basslines and jackin' grooves of "Not Nois" and TB-303-powered "Listen You". There's a deeper, woozier feel about "Natil Box", which combines brilliantly loose drum machine programming with some gently spacey chords. Finally, Schito returns to the acid with "Savin Blag", a sweaty jacker reminiscent of Larry Heard's work under the Gherkin Jerks moniker. Dog In The Night one of this year's best new labels? You better believe it!
…

Read more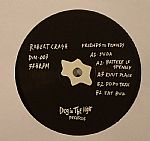 Cat: DIN 03. Rel: 10 Jul 14
Techno
Suda

Clap Your Spenny

Ruut Place

After Trax

Fat Buz
Review: "Who is Robert Crash?" went the Ben UFO tweet in response to Under Party, the debut transmission from the Dog In The Night label earlier this year. The answer is of course Italian producer Fran Mela, and the IFM member is back with more mind crushers as Robert Crash for the mystery label's third release. Friends to Friends again focuses on the rough and the raw style of house music, throwing discarded disco samples and strange vocals into ragged beat tracks laid down straight to muddy tape. Whilst there is plenty of music right now that could be described in this manner, none of it sounds quite as deranged or unpredictable as "Clap Your Spenny" or "Ruut Place".
…

Read more
Cat: DIN 05. Rel: 11 Sep 14
Techno
Luv 4 All

Song 4 Whale

Egyptian Cat
Review: Out of nowhere Robert Crash's Dog In The Night label has swiftly took up it's position at the forefront of frazzled club cuts, calling on some lesser known or indeed unknown artists thus far for a series of 12"s that have caught the ear of selectors such as Ben UFO and Will Bankhead. There is little clue as to the identity of RB, but their triplet of productions here fit right in on Dog In The Night and the humour the label has shown throughout their prior output. the brutal acid slabs making up "Luv 4 All" is anything other than what the track title suggests, while "Song 4 Whale" is nothing like the kind of new age whale song you might expect, combining bloated vocal echoes with lo-fi beats. Both these barely prepare you for the turbulent onslaught of razor sharp drums and atonal bleeps that is release highlight "Egyptian Cat" however.
…

Read more
$9.67
SAVE 25%
in stock
$7.26
Items 1 to 3 of 3 on page 1 of 1