Items 1 to 3 of 3 on page 1 of 1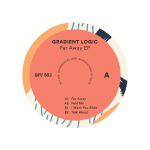 Cat: DFV 003. Rel: 07 Nov 16
Disco/Nu-Disco
Far Away (6:40)

Feel Me (6:02)

I Want You Slide (7:35)

Talk About (7:10)
Review: Even if Russian producer Gradient Logic is found here turning out the business on Serbian label Disco Fruit, the sound on the Far Away EP comes on like a snappy fusion of Garage-ready New York proto house and laid back West Coast boogie of the highest order. It's the third vinyl release for Tonbe's label, and once more marks the serious clout behind the Eastern European operation and its closest artists. Just try grooving to the slick bass pops on "Feel Me" without being transported to an early 80s dancefloor. There's a more organic funk to lock into on "I Want You Slide", but as ever it's hard to tell where the sampling ends and the musicianship begins on this utterly natural sounding EP.
…

Read more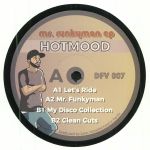 Cat: DFV 007. Rel: 30 Apr 18
Disco/Nu-Disco
Let's Ride (7:11)

Mr Funkyman (7:09)

My Disco Collection (6:16)

Clean Cuts (5:39)
Review: Hotmood is up next on Disco Fruit with some brightly coloured tracks that sit just right in the bowl next to previous efforts from Funky Junkie, Gradient Logic and more. "Let's Ride" is low down and nasty where it counts, but also manages to be smoothly finished so as to keep the crowd happy. "Mr Funkyman" gets a little jazzier, looping up where it counts to keep the sweet, sweet groove rolling as long as needed. "My Disco Collection" is a more rugged affair rolling at a slower tempo, and the appropriately named "Clean Cuts" gets busy with a loop that could roll on all day without anyone tiring of it.





…

Read more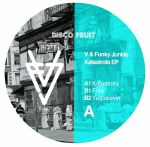 Cat: DFV 002. Rel: 30 Aug 16
Disco/Nu-Disco
Katastrofa

Frka

Yugoslavia
Review: Katastrofa EP is an Ex-Yu Edits release which transforms forgotten gems from the former Yugoslavia. Russian Valique and Serbian veteran selector Funky Junkie are behind this project. Opener "Katastrofa" offers a delicious blend of heavy, synth-laden '80s boogie, punchy afrobeat horns and bold, chant-a-long vocals, while the slower, more chugging "Frka" is an Adriatic delight - all lazy, sun-kissed synths, sugary-sweet vocals and sloppy kisses. As for closer "Yugoslavia" , it sounds like a disco-house anthem in waiting, as the duo adds bumpin' beats to a rising, horn-heavy chunk of starlight disco.
…

Read more
$8.77
SAVE 30%
in stock
$6.14
Items 1 to 3 of 3 on page 1 of 1