Items 1 to 2 of 2 on page 1 of 1
Cat: DAS 020LP.
Deep House
The Passion's Journey

Windchimes

Groove Train

Radiance

Any Way You Want It

Calliope

Afternoon Delight

In The Sunshine

Horizons

Explorations

Smokey Bones

Bouquet

Tic Toc
Review: "Passion's Journey" a remarkable, groundbreaking and genuinely outstanding Album.
Bjak delivers 13 highly sophisticated songs using his vast musical variety.
Entirely perfectly balanced fusing all creative ingredients to form an epic sound experience.
All in all and on top with renowned musicians Yogi Lonich on guitar, Ireesh Lal on trumpet and, Leddie Garcia on percussions House Music
gets some sort of a new definition.

But let the master speak in his own words:
""My goal was to create a seamless flow over the entire JOURNEY, something that keeps a consistency throughout the whole album."",
Well said Brian, we surely feel more than excited to have "Passion's Journey" as kinda like 20th dAS release anniversary!
"

…

Read more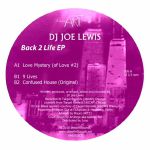 Cat: DAS 022CE. Rel: 03 Apr 18
Deep House
Love Mystery (Of Love #2)

9 Lives

Confused House
Review: deepArtSounds may be a sublabel of Moto Music, but it's achieved so much on its own terms over the past decade. Now Joe Lewis is joining the esteemed ranks of the label with even more experience behind him - he was recording for the likes of Relief Records and Peacefrog way back when. It's no secret when you listen to his jams on Back 2 Live, where rugged and raw synth lines sit atop tough machine beats. "Love Mystery" is plenty tender where it counts, but "9 Lives" and "Confused House" head towards a rougher end goal for the nastier kind of party.
…

Read more
Items 1 to 2 of 2 on page 1 of 1