Labels
Items 1 to 2 of 2 on page 1 of 1
Week-End
(hand-stamped 140 gram vinyl 12")
Cat: DEGREY 002. Rel: 05 Feb 18
Bass
Week-End

6PNHHPE

Stabilizer

Seita
Review: The second release from De Grey introduces the debut 12" from Yorkshire native Jack Angle

WEEK-END, opening proceedings, with skeletal kicks and jacked percussion combining to maximize damage on the dancefloor. 6PNHHPE follows up with brooding acid and sub bass pressure.

On the flip, STABILIZER lightens the mood with lush synths whilst SEITA rounds things off with playful melodies juxtaposed with an industrial framework.

…

Read more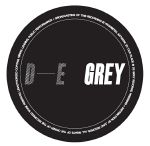 Cat: DEGREY 001 . Rel: 10 Apr 17
Bass
We Can't Have Nice Things (5:30)

Warsaw (5:58)

Exit (6:07)
Review: Webstarr first came to light back in 2014 with a deadly single on Beneath's ever-essential Mistry label, so you know that his moves in the bass music world come highly recommended. Finally coming back on the radar to kick off the De Grey label, his tough, limber productions sound stronger than ever, drawing on industrial and dub influences but framing them in a thoroughly modern context. "We Can't Have Nice Things" uses a plaintive lead that wouldn't sound out of place on a Hodge production, with roughneck drums to match, while "Warsaw" takes a swerve towards brooding techno-flavoured structures. "Exit" is arguably the strongest track here with its tightly wound, urgent rhythmic pulse sounding fit for a Livity Sound release.
…

Read more
$9.23
SAVE 25%
in stock
$6.92
Items 1 to 2 of 2 on page 1 of 1