Items 1 to 2 of 2 on page 1 of 1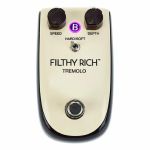 Cat: 676317 Rel: 09 Mar 18
Tremolo pedal with speed/depth controls
Notes: Danelectro invented the thickest, deepest amplifier tremolo in the late 1940's. Billionaire brings back this original Danelectro technology for the richest tremolo tones ever. One listen and this will be a prized part of your arsenal.
…

Read more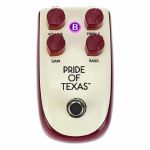 Cat: 676311 Rel: 09 Mar 18
Overdrive effect pedal for electric guitar
Notes: The 'Pride of Texas' recreates that 'holy grail' bluesy tone of one of the greatest and most influential guitar players to walk the earth, fattening up your signal without losing clarity or voice. Ideal for both single coils or humbuckers, the 'Pride of Texas' provides plenty of boost for crunchy rhythm or screaming lead solos.
…

Read more
Items 1 to 2 of 2 on page 1 of 1