Items 1 to 3 of 3 on page 1 of 1
Cat: DPRP 001. Rel: 30 Apr 18
UK Garage
Memory (5:19)

The Way Forward (5:00)

Your Love Baby (5:12)
Review: Having recently reared its head with the reissue of the Groove Chronicles and Dub Child tracks on Rip N Run Vol 2, Dat Pressure makes a fully fledged return to the game with this debut release from DJ Perception. It's a strong statement, steeped in 2-step flex but saying something fresh that feels contemporary rather than throwback. "Memory" pitches its sweet vocal elements amidst a bed of humming pads and heavily reverbed one shots, with just the twitchy beat to carry it. "The Way Forward" is a livelier affair, though no less distinctive, and then "Your Love Baby" finishes the EP off with the most obvious dancefloor belter of the lot.





…

Read more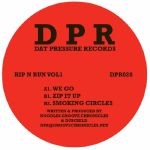 Cat: DPR 028. Rel: 29 May 18
UK Garage
We Go

Zip It Up

Smoking Circles
Review: While volume two of Dat Pressure's Rip N Run may have already hit the streets, now they're back-pedalling to volume one - OCD garage heads rejoice. As ever label boss Noodles is on hand with more essential wares from the vaults, this time enlisting the mighty Dub Child as a partner in crime. These jams veer towards the breakstep end of the garage spectrum, all boom bap drums and stuttered grooves, not least on the massive but spacious "We Go." "Zip It Up" packs in plenty of rootsy dub tones and soul vocal licks to match the skittering drums, and "Smoking Circles" gets into an almost techy strain of broken beat honed for serious dancefloor consumption. Just hold tight for the bass drop on that last one - it's a monster.
…

Read more
So Wild (dub mix)

So Wild (instrumental)
Review: Noodles groovechronicles / dubchild anticipated vinyl release "so wild" already supported on radio & with dj's.This 12' goes back to noodles ethos of uk garage music "make it good"...





…

Read more
Items 1 to 3 of 3 on page 1 of 1