Labels
Items 1 to 3 of 3 on page 1 of 1
Cat: CONGBURNTAPE 05. Rel: 05 Feb 18
Experimental/Electronic
BFTT - "Track 1"

Lack - "Track 2"
Cat: CB 02. Rel: 12 Feb 18
Techno
BFTT - "Public/Private"

Lack - "Absent"

Chekov - "Celeste"

Howes - "Untitled"
Review: On the A side BFTT and Lack follow on from their debut release on the fifth Cong Burn Tape. BFTT crafts a peak time sub heavy techno weapon which beautifully collapses in on itself before its final ascent. Lack layers polyrhthmic splashes of Shackleton-esque percussion over dubbed out bass growls.

Flip it over and you've got Chekov following up his ace debut on Shanti Celeste's Peach Discs with electro 808 patterns and swells of low end weight. Howes lowers the tempo with a low key bubbler that further explores the texture's laid out on Cong Burn's first 12".





…

Read more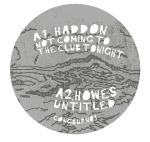 Cat: CB 01. Rel: 14 Aug 17
Deep House
Haddon - "Not Coming To The Club Tonight"

Howes - "Untitled"

L Pearson - "PSR1170"

Perfume Advert - "Dyn Horizontal Multiburst"
Review: Cong Burn is a new label that features a range of producers plying a more interesting twist on the standard deep house formula. Take opening case in point Haddon, who uses oodles of processing to create a slippery, shifting tripper out of "Not Coming To The Club" and instantly stepping aside from the run of the mill milieu. Howes then pops up with the snaking, ultra-deep electro abstractions of "Untitled". L Pearson is in a particularly cheeky mood with the scratchy micro-sampling fun of "PSR1170", calling to mind the crafty chops of Paradroid et al, and then Perfume Advert book end the release with some beautifully horizontal deep house for the subliminally minded to revel in.
…

Read more
Items 1 to 3 of 3 on page 1 of 1