Items 1 to 3 of 3 on page 1 of 1
Cat: CRE 047. Rel: 28 Sep 15
Disco/Nu-Disco
Double Talk (original mix) (4:20)

Double Talk (Andy Butler mix) (6:44)

Double Talk (Wolfram mix) (5:54)

Double Talk (Dinamo Azari mix) (4:16)
Review: 2014's "High Pitch", a welcome return to original production after years spent fiddling around with re-edits and mash-ups, was arguably In Flagranti's strongest single for many years. If anything, "Double Talk" is even better. The original - all Grace Jones style vocals, clipped disco guitars and camp, Italo-disco grooves - has all the makings of a nu-disco anthem. The remixes are pretty darn tasty, too. First, Hercules and Love Affair man Andy Butler drops a sparse, oddly metallic acid house-meets-deep disco remake, before synthesizer fetishist Wolfram channels the spirit of Giorgio Moroder on his druggy, electro-disco rework. Finally, Dimano Azari explores similar territory - whilst including a few nods towards chunky tech-house - on his arpeggio-heavy remix.
…

Read more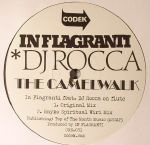 Cat: CRE 051. Rel: 10 Jul 17
Disco/Nu-Disco
The Camelwalk (8:03)

The Camelwalk (Rayko Spiritual Wiri mix) (5:23)

The Camelwalk (Inigo Vontier remix) (8:08)

The Camelwalk (bonus beat) (4:16)
Cat: CRE 050. Rel: 13 Mar 17
Disco/Nu-Disco
In Flagranti - "Side Chain" (5:53)

Vahagn - "Voltage Controlle" (6:15)

Toby Tobias - "Trigger Output" (7:19)

Additional Hardware - "Resistors & Capacitors" (5:54)
Review: In Flangranti's latest project is an interesting one. It features them, and others, creating new tracks from elements of previously unheard recordings by obscure 1980s Swiss outfit Schaltkreis Wasserman, most of which were apparently made under the influence of LSD. The resulting tracks do a good job in putting the cosmic synthesizer refrains and vintage electronics in a new light. For example, Toby Tobias's druggy "Trigger Output" skillfully combines a vintage breakbeat hardcore rhythm and with decidedly psychedelic electronics, while Vahagn's "Voltage Controle" is a sparkling chunk of stylish Italo-disco. Also worth checking is the chugging, arpeggio-driven synthesizer exotica of Additional Hardware's "Resistors & Capacitors", and the intense percussive madness of In Flagranti's "Side Strain".
…

Read more
Items 1 to 3 of 3 on page 1 of 1