Items 1 to 2 of 2 on page 1 of 1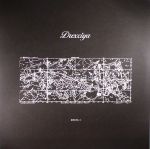 Cat: CAL 009/C# 25LP. Rel: 27 Mar 17
Electro
Cascading Celestial Giants (8:36)

Gravity Waves (6:13)

Powers Of The Deep (8:49)

Drexcyen Star Chamber (6:16)

Drexcyen REST Principle (Research Experimentation Science Technology) (6:00)

Hightech Nomads (5:38)

700 Million Lightyears From Earth (5:06)

Astronomical Guidepost (7:50)
Review: Having previously mined Drexciya's back catalogue for four superb compilations (the Journey of the Deep Sea Dweller series), Clone has decided to reissue the Detroit electro legends' final studio album, 2002's Grava 4. It remains a superb set, moving between deep space explorations (the superbly atmospheric ambience of "Cascading Celestial Giants"), rolling, intergalactic electro ("Drexcyen Star Chamber"), intense dancefloor work outs ("Drexcyen R.E.S.T Principle"), glistening IDM ("Hightech Nomads"), and fusions of Sheffield bleep aesthetics and Cybotron style rhythms ("Gravity Waves"). In other words, you'll struggle to find a better electro album. If you don't own an original copy, you should grab this reissue sharpish.
…

Read more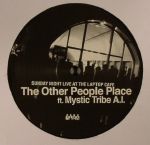 Cat: CAL 010/C#27. Rel: 24 Apr 17
Electro
The Other People Place - "Sorrow & A Cup Of Joe" (6:23)

Mystic Tribe AI - "Telepathic Seduction" (5:44)
Review: Given that Warp has finally bowed to pressure and reissued James Stinson's sole album under The Other People Place guise (2001's peerless Lifestyles of the Laptop Cafe), there was an inevitability about this 12" getting the re-press treatment. It first came out on Clone back in 2002, and paired a fine Stinson solo effort with a rare outing for DJ Stingray as Mystic Tribe A.I. Stinson's "Sorrow & A Cup of Joe" is a thing of rare beauty: a spacey, 4/4 electro cut blessed with bubbly electronics, alien chord progressions, heavy sub-bass and a fluttering, melancholic vocal sample. On the flip, Stingray's "Telepathic Production" is a dreamy chunk of outer space warmth driven by chunky hip-hop breakbeats and an undulating bassline.
…

Read more
Items 1 to 2 of 2 on page 1 of 1