Items 1 to 2 of 2 on page 1 of 1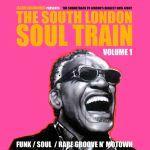 Cat: CFR 001. Rel: 27 Nov 14
Funk
Gloria Jones - "Tainted Love"

Vicki Anderson - "If You Don't Give Me What I Want (I Gonna Get It Some Other Place)"

Marvin Gaye - "Wherever I Lay My Hat (That's My Home)"

Ray Charles - "Tell Me What I'd Say"

Brassroots - "Good Life"

Hot 8 Brass Band - "Sexual Healing"

Riot Jazz Brass Band - "Corn On The Cob"

Magic Drum Orchestra - "Ragga Samba"

Chalo Eduardo - "Beija Flor Suite"

Gilles Peterson's Havana Cultura - "Arroz Con Polo" (MJ Cole remix)

Riva Starr - "The Care Song" (feat Bob Andy)

Barry White - "What Am I Gonna Do With You"

Patrice Rushen - "Haven't You Heard"

Brainstorm - "Journey To The Light" (Ashley Beedle remix)

Chic - "I Want Your Love" (Dimitri From Paris remix)
Review: A 74 Minute Snapshot of the twice monthly, 3 floor, 7 hr dancefloor behemoth that is The South London Soul Train. Your host with the absolute most Jazzheadchronic Mickey Smith presenting a small taste of one his eclectic, uplifting anthemic 7 hr sets of globalistic funk, soul, rare groove, Motown, latin and disco direct from the dancefloors of South London's CLF Art Cafe / Bussey Building - to the whole of yoh soul. A selection of 15 tracks from some of the finest and biggest names in music - then to now. Originals to Remixes. London to NYC via Havana.

From absolute legendary classics - Gloria Jones 'Tainted Love', Marvin Gaye's soul ska-esque 'Wherever I Lay My Hat' and Ray Charles' masterpiece 'Tell Me What I'd Say' to SLST brass band anthems - The Hot 8 Brass Band's full 8min 55 second sublime interpretation of Marvin Gaye's 'Sexual Healing' to Brassroots' foot stomping version of Inner City's "Good Life" and The Riot Jazz Brass Band's intense modern day classic 'Corn On The Cob'. Then there's Patrice Rushen's soul-smile inducing disco classic 'Haven't You Heard', Barry White's orchestrated tour de force that is 'What Am I Gonna Do With You', Dimitri From Paris' Ultimate Remix of The Chic Organisations "I Want Your Love "+ soooooo much more.

Every track a winner baby [that's for sure] and absolutely guaranteed to move your mind & body + force feed yoh soul with the best of times. No Bass wobbles here. Only love funk & soul. Allllll Abbbbooaaaaaaaaaaard!
…

Read more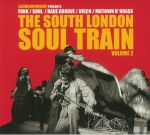 VARIOUS
Cat: CFR 002. Rel: 26 Oct 17
Funk
Jimmy Smith - "Burning Spear"

Stevie Wonder - "I Wanna Make Her Love Me"

Hector Rivera - "I Want A Chance For Romance"

James Brown - "I've Got Money"

Sly & The Family Stone - "Underdog"

Sugar Billy Garner - "You're Wasting My Time"

Beginning Of The End - "Super Woman"

Youngblood Brass Band - "Ain't Nobody"

Riot Jazz Brass Band - "Afro"

Earth Wind & Fire - "Power"

Brass Construction - "What's On Your Mind"

Mass Production - "Welcome To Our World (Of Merry Merry Music)"

Isley Brothers - "Winner Takes It All"

The Jacksons - "Lovely One"

Roy Ayers - "What's The T?" (Kings Of Soul Feelin Soul mix)

Jill Scott - "Coming To You"
Review: Peckham-based club night The South London Soul Train has quickly established itself as a go-to destination for all those looking for "love, funk and soul". Here main man Jazzchronic delivers a second CD of favourites from the monthly shindig. There's naturally plenty to set the pulse racing, from the Hammond-heavy brilliance of Jimmy Smith's "Burning Spear" and the heavyweight boogaloo business of Hector Rivera's "I Want a Chance For Romance", to the New Orleans hustle of Youngblood Brass Band's fine cover of Chaka Khan's "Ain't Nobody" and the righteous disco-funk of Mass Production's "Welcome To Our World (of Merry Music)". Throw in further classics from the likes of James Brown, Jill Scott and Roy Ayers, and you've got a killer collection of dancefloor gems.
…

Read more
Items 1 to 2 of 2 on page 1 of 1