Items 1 to 3 of 3 on page 1 of 1
Cat: CVR 005. Rel: 01 Aug 16
Deep House
Of Love Mystery

Kan U Feel It
Review: "Of Love Mystery" is taken from the Da Soul Revival EP released on Dancemania Records in 1995. Here's another one of Tyree's most sought after tracks. It has that classic four to floor bodyjacking Dancemania Ghetto House sound, with a touch of that Chicago innocence to it. On Side B "Kan U Feel It" was originally released in 1998 on Nepenta Records UK. Well, If you like phat beats and thick basslines, then this track is for you. It reminds of those early releases in the 80's on DJ International Records or Trax Records, where the groove was the most important factor.
…

Read more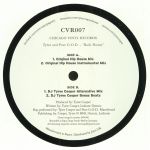 Cat: CVR 007. Rel: 12 Feb 18
Deep House
Back Home (original Hip House vocal mix) (7:18)

Back Home (original Hip House instrumental mix) (7:17)

Back Home (alternative mix) (7:50)

Back Home (bonus beats) (4:28)
Review: A pioneer for the hip house scene in Chicago back in the 80s, Tyree is still at it thirty years later and sounding as vital as ever. This collaboration with Pure God is a thoroughly different concern to the jacking acid of the early days, bringing a live drum sound, funk bass and even a stirring string lilt into the mix on "Back Home". Whether you plump for the full vocal mix or the stripped back instrumental, it's an anthemic party starting beast of a jam for peak time maneuvers. The "Alternative Mix" of "Back Home" on the B-side is a more classic, throbbing slice of mechanical minimalism for the traditional Chicago jackers out there, and there's some "Bonus Beats" thrown in for good measure too!
…

Read more
$8.82
SAVE 25%
in stock
$6.62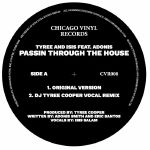 Cat: CVR 008. Rel: 29 May 18
Deep House
Passin Thru The House

Passin Thru The House (DJ Tyree Cooper vocal mix)

Passin Thru The House (DJ Tyree Cooper vocal Soul remix)

Passin Thru The House (DJ Tyree Cooper instrumental Soul remix)
Review: The Chicago Vinyl series continues to act as a vessel for ever more essential club tackle from the one and only Tyree Cooper. On this occasion he's collaborating with celebrated vocalist Isis and the legendary Adonis for this absolutely storming tribute to the heritage of Chicago house music. The original "Passin Thru The House" is a consummate jack track, shouting out all the right names and letting the 707 fills rip through the groove. Tyree then offers up three alternate mixes of the track, from the bugging "Vocal Mix" to the uplifting melodious form of the "Vocal Soul Remix." There's an instrumental version tacked on if you need it, but it's all about Isis' killer vocal on this 12".
…

Read more
Items 1 to 3 of 3 on page 1 of 1