Items 1 to 2 of 2 on page 1 of 1
Trust For You

It's Your Time
Review: All aboard Canoe 007. Vinyl Only!





…

Read more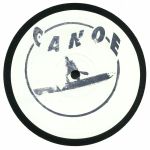 Sounds Of The Spectrum

Resist Dance

Galaxxy Haze
Review: Nyra's Canoe label continues to provide a vessel for the Irish producer to explore his sound without anything getting in the way. The 12" kicks off with "Sounds Of The Spectrum" coming on like a classic 90s house jam from the Detroit school, classic samples and stabs in tow. "Resist Dance" is a deeper, moodier affair but the old-school romanticism is still there in abundance. Then "Galaxxy Haze" rounds the EP off with a pumped up techno cut that still places dusty machine soul at the forefront of the mix, and full credit to Nyra, he makes it sound utterly legit in the process.
…

Read more
$8.82
SAVE 25%
in stock
$6.62
Items 1 to 2 of 2 on page 1 of 1