Items 1 to 2 of 2 on page 1 of 1
Cat: C 004. Rel: 18 Jun 18
Techno
Moto

Fe

Ansia

Moto (Man Power remix)
Review: After appearing on the first Calypso Records release out of Mexico last year, Colossio returns to the fray with a whole EP of sleazy jams for the warm up crowd to get nasty to. "Moto" is a grinding crossover track that features dirty garage guitars to match the low-slung synth undulations and sizzling disco beat, while "Fe" throws the windows open for a ranging cut centred around all kinds of instrumentation played with a post-punk looseness. "Ansia" keeps things nervous and atmospheric without skimping on party energy, and then Man Power swoops in for a remix of "Moto" that keeps things spooky while injecting a swinging groove into the mix.
…

Read more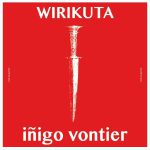 Cat: C 003. Rel: 26 Mar 18
Disco/Nu-Disco
Wirikuta

Marakame

Maxa

Wirikuta (Dreems remix)
Review: A lot of Inigo Vontier's early material was confined to the digital realm, but now the Mexican DJ and producer is starting to get recognition on wax for his heady brew of old methods and a taste for the freakier end of the party spectrum. This 12" for Mexican label Calypso leads in with the strangely unsettling but strident "Wirikuta," before the snappy surge of tightly wound tech variation "Marakame" comes leaping into ear shot. "Maxa" marks out its own unique space with a heavy broken beat excursion, leaving it to Dreems to ruminate on "Wirikuta" for a closing remix.
…

Read more
Items 1 to 2 of 2 on page 1 of 1