Items 1 to 3 of 3 on page 1 of 1
Cat: CABARET 016. Rel: 23 Feb 18
Techno
Greenbuerger (6:41)

Kinziger (5:28)

Eastern Bloc (7:16)

Revdone (6:52)
Review: Since his last solo outing on Caberet in 2015, Germann Nguyen AKA Binh has impressed via fine releases on Time Passages, Perlon and My Own Jupiter. There's naturally much to admire on the Eastern Bloc EP, not least the rubbery bass, skittish drum machine bounce and vintage Detroit techno chords of opener "Greenburger". You'll find plenty more fizz and elastic synth-bass on cymbal-heavy tech-house roller "Kinziger", while closer "Revdone" sees the producer underpin starry chords with a thrusting, acid-flecked techno groove. Arguably best of all, though, is the title track, a fine chunk of revivalist Motor City techno futurism featuring a seriously mind-altering acid bassline and a cascading melody line.
…

Read more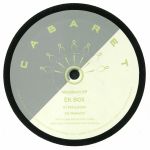 Cat: CABARET 017. Rel: 18 May 18
Techno
Mitsuboshi (6:56)

Mukacho (5:13)

Takikomi (6:38)

Shoganai (6:37)
Review: It's been two years since Evan Baggs and Katsuya Sano opened up their Ek Box. Fittingly, their latest show-and-tell arrives on CABARET, a label that has supported the duo's activities since they first emerged. There's much to admire, not least the unfussy old school techno bounce of "Mitsuboshi", where darting, jammed-out synthesizer lines and sustained organ chords dance enthusiastically above a simple but powerful drum machine rhythm. The acid-fired techno-funk of "Maukacho" is wilder and more energetic, while "Takikomi" sees the duo tiptoe the fine line between ballsy breakbeat techno and sweeping, cinematic bliss. As for closer "Shoganai", it's punchy, bass-heavy and pleasingly intergalactic.
…

Read more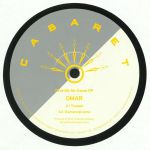 Cat: CABARET 015. Rel: 19 Dec 17
Techno
Tsygan (7:21)

Damenongiveme (7:09)

Mundo (Omar Crashed remix - feat Nilufar Zarre) (5:58)

Mundo (feat Nilufar) (4:03)

Belka (4:47)
Review: The debut EP from Uruguayan-Berliner Omar Chibaro, Thanks One Thousand on Time Passages, raised a few eyebrows earlier in the year. This was primarily due to its hard-to-pigeonhole sound, which seemingly utilized stylistic elements from classic techno, IDM, minimal and breakbeat hardcore. This speedy follow-up on Cabaret Recordings is similarly fluid and far-sighted in tone. It contains a brilliant fusion of loose-limbed jazz breaks and early Warp style "bleeps and bass" (the fantastic "Damenongiveme"), a rolling but spacey chunk of early Black Dog-influenced techno-funk ("Psygan"), a couple of slabs of moody electro and the quirky, Luke Vibert-ish IDM quirkiness of closer "Omar Belka". In other words, it's a pretty tidy EP.
…

Read more
Items 1 to 3 of 3 on page 1 of 1