Items 1 to 2 of 2 on page 1 of 1
Cat: BNB 002. Rel: 09 Apr 18
Techno
Honda

Yamaha

Suzuki

Toyota
Review: Kalbata has turned his hand to many styles over the years, not least the excellent soundsystem explorations of Congo Beat The Drum, but on this second release for his label Brush & Broom, he's decided to fling himself into the fiery pit of acid while paying tribute to 90s motocross bikes. "Honda" is dripping with 303, punctuated by a twitchy set of drums, while "Yamaha" takes a diversion into moodier territory, letting hazy chords set the tone for an energised but defiantly heads down acid workout. "Suzuki" is a bit spicier, capturing the essence of 'up-for-it' early Trax Records but edging it into more hypnotic, looped up territory. "Toyota" finishes the EP off with an atonal bleep out with an electro undercarriage.





…

Read more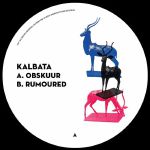 Cat: BNB 001. Rel: 29 Jan 18
Techno
Obskuur

Rumoured
Review: Kalbata is a delightfully unpredictable fellow, one minute turning out slick tech house with Guy Gerber and the next starting a dancehall riot with Warrior Queen. His long and varied career continues following a recent spot on Optimo Trax with this first 12" on Brush & Broom, a new label that is housing some particularly straight up 4/4 jams from the prolific producer. "Obskuur" has a clue in the name, plying a trade in the kind of furtive deep techno that ekes tension out of the most ambivalent of crowds with its oh-so-slow but powerful sense of progression. "Rumoured" has a broader palette, letting undulating threads of melodic synth work slither around the subby, minimal percussion.
…

Read more
Items 1 to 2 of 2 on page 1 of 1