Items 1 to 1 of 1 on page 1 of 1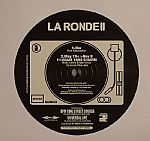 VARIOUS
Cat: BPM 005/006. Rel: 22 Aug 14
Deep House
Ken Carpenter - "Illa"

Nick Jones Experience - "May 19"

Khison - "Why Must We Be This Way"

Jazzdelic - "Love In Us All"

Katsumi Hidano - "Thank You, Larry"

Toshihiko Mori - "Jungle Fever"

DJ Aoki & Toshihiko Mori - "Beat Freak"

Tonepays - "Happy End"
Review: Originally released in 1993 and dedicated to the then recently departed Larry Levan, La Ronde and it's sequel La Ronde II represented one of the earliest documentations of Japanese house music, not to mention providing the precursor to the legendary King Street label. There is an undeniable classiness at work across all the tracks, even if they have aged a little. Smooth deep house is the order of the day, with a few distinctive exceptions including Jazzdelic's low-slung downtempo cut "Love Is In Us All" and Toshihiko Mori's relaxed breakbeat jam "Jungle Fever". For some high grade vocal action head for Khison's sublime "Why Must We Be This Way".
…

Read more
Items 1 to 1 of 1 on page 1 of 1