Items 1 to 2 of 2 on page 1 of 1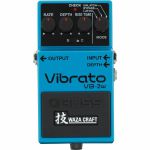 Cat: 599115 Rel: 21 Apr 16
Vibrato effects pedal with premium Waza innovation and all-analog circuit
Notes: True vibrato expression, reborn with Waza innovation.

Ahead of its time when it debuted in 1982, the VB-2 Vibrato has been rediscovered by modern players looking to create unique guitar textures with stompbox effects. Thanks to its expressive, one-of-a-kind sound, this rare pedal has gone on to become one of the most valuable BOSS effects in the vintage market. Now, the progressive spirit of the VB-2 has been reborn as the Waza Craft VB-2W. Using all-analog circuitry, the VB-2W authentically reproduces the true pitch-shifted vibrato of the original pedal, and also adds an innovative new vibrato mode and real-time control function for enhanced expression.

Waza Craft: The Art of Superior Tone.
Since the beginning, the engineers at BOSS have been committed to achieving the finest guitar tones using any technology necessary, from old-school analog circuits to high-tech DSP. Continuing this enthusiastic spirit, we are pleased to introduce the Waza Craft series. In Japan, "Waza" is the term for art and technique, and these special edition pedals proudly carry the Waza symbol to represent the pinnacle of BOSS design and craftsmanship. With final sound approval carried out by BOSS in Japan, the Waza Craft series brings you exceptional tone and touch response through carefully selected analog components, refined circuitry, and meticulous attention to detail.
…

Read more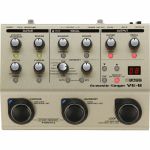 Cat: 608605 Rel: 09 Jun 16
Compact, all-in-one preamp and effects solution for singers who play acoustic guitar
Notes: The complete solution for singing guitarists:
For singer/songwriters who play acoustic guitar, it's a competitive, crowded world out there. The VE-8 Acoustic Singer delivers that extra edge you need to stand out and shine, supporting you with professional BOSS sound every time you perform. Simple to use, the VE-8 provides studio-quality voice and guitar processing plus impressive real-time harmonies and looping in one compact, go-everywhere package. With such great sound and powerful creative features at your command, you're destined to bring down the house everywhere you play.

Sing:
The VE-8 makes it easy to get professional, studio-level vocal sounds right away. Just plug your mic into the XLR input and dial up some nice ambience, add clarity and control with the Enhance feature, and more. You can even call up hard-tuned electronic voice sounds, distortion, and radio voice tones to bring some modern edge to your acoustic performances.

Play:
With the VE-8's dedicated guitar channel, your acoustic axe will sound just as great as your vocals. Acoustic Resonance magically restores your natural guitar sound, eliminating the sterile piezo "quack" that plagues typical undersaddle pickups used in plugged-in acoustics. Reverb and chorus are on hand too, plus cool BOSS effects like Octave, Mod Delay, and more. There's a built-in tuner as well, a must-have tool for stage performing. And with the phase switch and notch filter, you have fingertip access for killing any feedback issues the instant they arise.

Harmonize:
In a solo performance, the ability to create natural vocal harmonies turns heads and elevates your tunes to new sonic levels. Using the VE-8, creating these harmonies live has never been easier. The automatic harmony function detects the chords and key you play with your guitar, and then generates the correct harmony as you sing. Hybrid and fixed harmony modes are available too, giving you all types of versatility for different performing and recording situations. There's also a nice vocal doubling effect, a useful feature for adding fullness and presence to your voice as needed.

Loop:
The specially designed looper in the VE-8 sounds great and is ready to support your performance whenever you need it. Just use the dedicated footswitch to lay down a percussive rhythm, chord progression, vocal counterpoint, or whatever you like. You can easily select your guitar, voice, or both for looping via panel buttons or an optional footswitch.

Connect:
The VE-8's rear panel has a guitar input and XLR mic input with switchable phantom power, plus an Aux input to connect a smartphone or other device for backing music. Stereo XLR balanced outputs provide a direct feed to the house PA, while stereo 1/4-inch outputs let you send a separate signal to stage monitors or an acoustic amp. Both the vocal and guitar channels feature a three-band EQ and low-cut filter for shaping the tone to suit the venue, and it's even possible to send the two channels to separate outputs for external mixing flexibility. And via USB, you can use the VE-8 as a direct recording interface with your favorite DAW software.

Control:
With the VE-8's grab-and-go panel controls, it's simple to dial in sounds and settings as you play. After creating a setup you like for a particular song, just save it in one of 50 memory locations for instant recall while performing. The VE-8's three built-in footswitches control a variety of live functions, and one or more optional footswitches can be connected for further control if needed.
…

Read more
Items 1 to 2 of 2 on page 1 of 1