Items 1 to 3 of 3 on page 1 of 1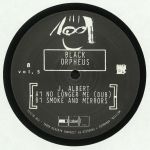 Cat: ORPHEUS 005. Rel: 06 Dec 17
Techno
No Longer Me (dub) (9:00)

Smoke & Mirrors (5:54)
Review: Brooklyn's J Albert returns with more tripped-out lo-fi house. The Exotic Dance Records boss follows up some great releases of late on top labels such as 1080p, Hypercolour and Black Opal. Whether it's the euphoric strobe-lit ecstasy of "No Longer Me" (dub) that's awash in delay drenched rhythm patterns, snarling bass and hypnotic synth leads. Or the brooding B side cut "Smoke & Mirrors" which is reminiscent of fellow local Patricia and packed full of dusty drums, haunting pads and chilling chord progressions: this one's a totally heads down affair for very late at night. Black Orpheus is a Berlin based label run by expat Patrick Conway, who has appeared on such esteemed labels as REKIDS and Forbidden Planet.
…

Read more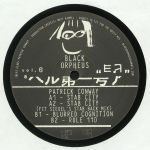 Cat: ORPHEUS 006. Rel: 30 Jan 18
Techno
Stab City (5:47)

Stab City (Fit Siegel Stab Back mix) (4:40)

Blurred Cognition (6:14)

Rule 110 (5:57)
Cat: ORPHEUS 007. Rel: 16 May 18
Techno
Into5 (5:08)

Next Time's For Shure (7:18)

B-Lane (5:50)
Review: The seventh single on Patrick Conway's Black Orpheus imprint comes from prolific producer Pablo Mateo, an artist who has released no less than 14 EPs since 2014. To kick things off on the A-side, Mateo conjures up a bouncy, broken techno workout full of poignant chords and fluttering electronics (EP highlight "Into5"). Over on the B-side, he wraps decidedly psychedelic TR-303 style acid lines and glacial electronic motifs around an unfussy, house-tempo machine groove ("Next Time's For Shure"), before serving up an atmospheric, spaced-out chunk of industrial-tinged electro. He may well be prolific, but at present Mateo can't put a foot wrong.
…

Read more
Items 1 to 3 of 3 on page 1 of 1