Items 1 to 1 of 1 on page 1 of 1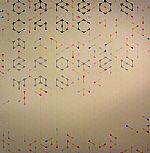 Cat: BTS 002. Rel: 08 Sep 14
Deep House
A Broken Man (redux)

Deep Affection
Review: Carbon Chic, a native of Minneapolis, delivers a high-impact redux on a soulful kick for the A-Side. While for the B-Side, a deep and cozy after-hours excursion effortlessly begins. Two tracks at home both on the dancefloor and in your space.

Beyond The Speaker invites Carbon Chic for the label's sophomore release after Legowelt and Willie Burns shared the successful label debut, Angels Against Dust. With A Broken Man, Beyond The Speaker expands its horizons by committing new talent to wax, furthering the label's vinyl expedition.

Carefully mastered by Alek Stark, A Broken Man in 'Redux' form does not compromise; upping the tension between burrowing bass, satisfying beat and vocal machinations. On the flipside, Deep Affection offers a more comforting assortment of synthetic melody and late night warmth while maintaining a firm dancefloor footing with gently rolling hihats topping everything off.


…

Read more
Items 1 to 1 of 1 on page 1 of 1