Items 1 to 1 of 1 on page 1 of 1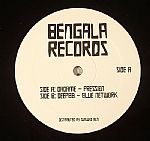 Dadame - "Pression"

Deep88 - "Blue Network"
Review: With their respective stars on the rise Dadame and Deep88 inaugurate the Bengala imprint with a pair of distinctive house cuts that promise much for the future. Dadame is up first with "Pression", which skips on a healthily swung beat made up from thin slithers of drums but offset by a sizable acid bassline that makes this one heavy grooving track. Deep88 meanwhile head into very different territory, keeping the groove on the straight and narrow and letting weighty pads and notes swell up in the track for a contemplative deep house track that counterbalances the cheeky groove of the A side perfectly.
…

Read more
Items 1 to 1 of 1 on page 1 of 1