Items 1 to 3 of 3 on page 1 of 1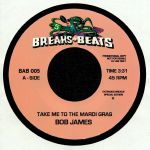 Cat: BAB 005. Rel: 16 Mar 18
Funk
Bob James - "Take Me To The Mardi Gras" (extended Breaks Special edition) (3:30)

David Matthews - "Sandworms" (extended Breaks Special edition) (4:22)
Review: The Beats and Breaks series of "Extended Break Edits" has so far succeeded in its stated aim to provide DJs with simple but devastatingly effective rearrangements built around lengthening key percussive packages. The mystery editors behind the series are at it again here, first looping up the distinctive, cowbell and triangle-driven drum passages dotted throughout Bob James' classic "Take Me To The Mardi Gras". On the flip, they take their scalpel to David Matthews' 1977 jazz-funk gem "Sandworms", casually making merry with the proto hip-hop beat, rubbery bass guitar, flanged guitar riffs and snaking saxophone solos.
…

Read more
Joyous
(7" limited to 300 copies)
Cat: BAB 007.
Funk
pleasure - "Joyous" (extended Breaks Special edition)

Rusty Bryant - "Fire Eater" (extended Breaks Special edition)
Cat: BAB 002. Rel: 08 Feb 18
Funk
The Winstons - "Amen, Brother" (extended Breaks Special edition) (3:32)

The Chosen Few - "Candy I'm So Doggone Mixed Up" (extended Breaks Special edition) (3:25)
Review: The Beats & Breaks 7" series was founded to satisfy the desires of DJs, mainly by serving up re-edits that put some of the world's most recognizable drum breaks front and centre. This edition kicks off with a rearrangement of the Winstons' "Amen Brother", whose drum break not only became a staple of U.S hip-hop in the 1980s, but also the foundation of jungle and later drum and bass. This edit wisely gives plenty of air time to the infamous drum break, dropping into it at frequent intervals in between bouts of punchy, horn-heavy funk. Flip to the B-side for a tastefully chopped and rearranged version of The Chosen Few's super-sweet 1976 soul cut "Candy I'm So Doggone Mixed Up".
…

Read more
Items 1 to 3 of 3 on page 1 of 1