Items 1 to 3 of 3 on page 1 of 1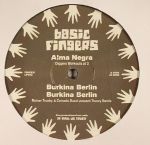 Cat: FINGERSLP 003. Rel: 10 Nov 16
Deep House
Burkina Berlin (7:10)

Burkina Berlin (Rainer Trueby & Corrado Bucci present Truccy remix) (6:18)

Agadez (7:26)
Review: Throughout the course of their Digger's Workout series, Swiss combo Alma Negra has proved adept at blurring the boundaries between re-edits, remixes, and original productions. The same could be said about the sun-kissed global fusion of "Burkina Berlin", where wild vocal chants and dense percussion samples are craftily combined with heady piano motifs and a rock solid deep house beat. Rainer Truby and Corrado Bucci provide a deeper, hazier and subtly soulful interpretation that plays down the sampled beats in favour of far more tactile hits, before the Basel-based trio closes proceedings with "Algadez", a rare Persian treat built around exotic fiddle lines, humid flutes and their usual chunky percussion.
…

Read more
Cat: FINGERS 031.
International
Shout On

My Love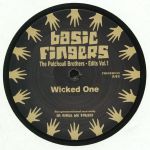 Cat: FINGERS 030. Rel: 06 Jun 18
Disco/Nu-Disco
Wicked One (6:29)

Magic Rhythm (Of Love) (9:06)
Review: Debut fire from Toronto's Patchouli Brothers. "Wicked One" leads us not into temptation with a clam-tight groove and heaven-sent gospel vocals belting on all the right peaks. "Magic Rhythm (Of Love)" raises the tempo and intensity even higher with some turbo disco funk that's dynamically edited with layered breakdowns and sudden bursts of energy just when they're needed. Deeply dug, cleverly spliced... Roll on volume two!
…

Read more
Items 1 to 3 of 3 on page 1 of 1