Labels
Items 1 to 2 of 2 on page 1 of 1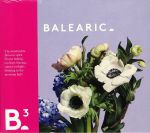 VARIOUS
Cat: BLRC 3CD. Rel: 19 Jun 17
Balearic/Downtempo
Cantoma - "Abando"

The Madrigal - "Ride To The Moon"

Fuga Ronto - "Daydreams"

Shy Layers - "Black & White"

Quinn Lamont Luke - "Primavera"

Zee Erf - "Southern Freeez" (Mudd's mix For Emma)

Hubbabubbaklubb - "Mopedbart" (Olefonken's Autostrada Miks)

Penelope Antena - "Tradewinds" (Cobby mix)

Maajo - "Musa Paradisa"

Hear & Now - "Hirundo"

Nancy Noise - "Kaia"

Tommy Awards - "Sessions II Untitled Track 1" (Balearic remix)
Review: It's that time of year when thoughts turn to lazy afternoons down the beach, early evenings sat watching White Isle sunsets and sticky nights of loved-up debauchery. In other words, it's the perfect time to dive into the latest volume in the consistet Balearic compilation series. There's naturally much to admire in the now-familiar Cafe Del Mar/Cafe Mambo style, from the horizontal, flute-laden samba shuffle of The Madrigal's "The Ride to the Moon" and Shay Lovers exceedingly drowsy "Black & White", to the warm chords and head-nodding beats of Steve Cobby's remix of "Tradewinds" by Penelope Antena, and tropical exuberance of Maajo's "Musa Paradisa". Best of all, though, is Mudd's impeccable "Mix for Emma" of Zee Erf's blissful cover of "Southern Freeez", which is one of the most stunning tracks you'll hear all year.
…

Read more
$11.63
SAVE 30%
in stock
$8.14
VARIOUS
Cat: BLRC 3LP. Rel: 08 Jan 18
Balearic/Downtempo
Cantoma - "Abando"

The Madrigal - "Ride To The Moon"

Fuga Ronto - "Daydreams"

Shy Layers - "Black & White"

Quinn Lamont Luke - "Primavera"

Zee Erf - "Southern Freeez" (Mudd's mix For Emma)

Hubbabubbaklubb - "Mopedbart" (Olefonken's Autostrada Miks)

Penelope Antena - "Tradewinds" (Cobby mix)

Maajo - "Musa Paradisa"

Hear & Now - "Hirundo"

Nancy Noise - "Kaia"

Tommy Awards - "Sessions II - Untitled Track" (Balearic remix)
Review: Here's a glorious selection of 12 bright and sun-drenched moments destined to be heard daily at the world's coolest beach clubs this summer and inevitably soundtracking a million gorgeous sunsets in Ibiza.

This edition features exclusives aplenty. There are two album-only tracks; Tommy Awards gets an Ambient remix from Balearic's Jim Breese. Then The Madrigal blasts off with 'Ride To The Moon,' a completely unique track that's refreshing to hear.

Three tracks were previously unavailable digitally, including the debut from Nancy Noise, Olefonken's spacey remix of Hubbabubbaklubb, and Steve Cobby's tropical-jazz remix of Penelope Antena's Tradewinds.

Other highlights include Cantoma's 'Abando,' plus an incredible, modern interpretation of the 80's classic Southern Freeez from Paul Murphy.

BALEARIC 3 captures the ineffable spirit of Ibiza - perfectly accompanying that unique moment when the golden sun meets the gleaming sea. It's destined to be a classic, go-to album you'll reach for again and again.





…

Read more
Items 1 to 2 of 2 on page 1 of 1