Labels
Items 1 to 3 of 3 on page 1 of 1
Cat: AAV 001. Rel: 30 Mar 15
Disco/Nu-Disco
Shakalode (7:30)

Pim Pom (4:05)

La Botellita (4:47)
Review: JD Twitch and Midland's Autonomous Africa project supersizes to dancefloor-ready 12"s and they do so with this really interesting Columbian Afrofunk release. You'll instantly recognise the A; a powerful rendition of Fela Kuti's "Shakalode", there's more than a smidgeon of Latin fire in those rampant, lolloping grooves. Meanwhile on the B, the label explores two of Wganda's lesser known originals; the tub-thumping, chant-heavy, organ-squeezing "Pim Pom" and the dusty percussive, blues harp-led folk number "La Botellita". With all proceeds going to Action In Africa, this wins in every possible direction.
…

Read more
Played by:
Mukatsuku Records Chart
,
Koichi Sakai - Ghetto Lounge
,
AfroBase (Radio Chart)
,
Craig Charles Funk And Soul
,
Cedric Woo
,
Adam isbell -Racubah Sound System
,
Tooli (Local Talk / OMENA)
,
Sol Power Sound
,
Afro Beat Foundation
,
I Love Disco!
,
Steve Lee
,
Jean Claude Gavri
,
Originals
,
Professor Shorthair
,
Philou Louzolo
…

Read more
Cat: AA 003. Rel: 28 Jul 14
Bass
Midland - "Safi" (5:47)

General Ludd - "Burning Mack" (6:18)

Auntie Flo - "Daabi" (5:26)

JD Twitch - "Maya" (4:58)
Review: JD Twitch's Autonomous Africa series is something of a rarity. Each annual 12" single, which features modern electronic music influenced by African rhythms, sounds and styles, is used to raise money for a different African charity. Proceeds from this third 12" in the series are destined for Tanzania's Mtandika Mission, a charity run by Midland's parents. It seems fitting, then, that he kicks things off with "Safi", a heavyweight slice of future voodoo that expertly blends analogue electronics and bombastic African rhythms. General Ludd go deep, psychedelic and off-kilter with their brilliant "Burning Mack", while Auntie Flo delivers a stripped-back vocal cut with echoes of his recent material on Permanent Vacation. Finally, Twitch steps up to deliver "Maya", which sounds like LFO's "LFO" re-made by African musicians.
…

Read more
Played by:
Flori
,
RUSTAM OSPANOFF.
,
Eamon Harkin, Mister Saturday Night
,
Thomas Gandey
,
Jacques Renault
,
PRECIOUS K
,
Dj soFa
,
Galletas Calientes
,
Cottam
,
Steve Lee
,
Nicola conte
,
Nowicki
,
Randomer
,
Juno Best Sellers 2016
,
Juno Recommends Bass
,
Last Mood
,
25 Places
,
Benjamin Fröhlich
,
Terrence Pearce
,
Ptaki
,
Cervo (Banana Hill)
,
STATUE
,
Vito & Druzzi
,
Ezekiel Rhodes
…

Read more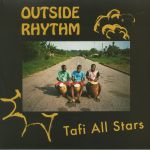 Cat: AALP 002. Rel: 02 Oct 17
International
Gormedzedze (5:23)

Deka Wor Wor (3:52)

Cantata (7:24)

Outside Rhythm (5:53)

Cantata (Sordid Sound System dub) (7:27)

Agbe Me Nya Wo (7:04)
Items 1 to 3 of 3 on page 1 of 1