Items 1 to 2 of 2 on page 1 of 1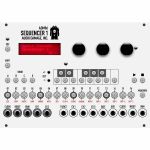 Cat: 635347 Rel: 05 Jan 17
Production sequencer synth module in Eurorack format
Notes: Sequencer 1 is a top-of-the-line x0x-flavored Eurorack sequencer, for controlling up to four voices at once.

With Micro SD card storage and software updates, backing up and updating are as easy as dragging and dropping. Four banks of 16 patterns (each up to 64 steps) plus follow actions for pattern chaining make live performance a breeze. Front-panel one-push access to all commonly-used features means no menu diving, no rote memorization of hex codes, and no confusion. 1V/Oct, Hz/V and gate/inverse gate/S-Trig outputs mean it'll drive both modern Eurorack and vintage analog synths. The three tempo-synced LFOs with 30+ waveshapes are worth the price of admission alone.

In short, Sequencer 1 is, we feel, an incredibly useful production sequencer, in both the studio and on stage, and the feature list will only get longer, with a clear roadmap of updates and additions, and all the programming knowledge and experience that Audio Damage can bring to bear on this, our flagship product.
…

Read more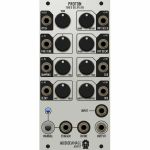 Cat: 645217
B-STOCK: Box opened, product in perfect working order
Notes: ***B-STOCK: Box opened, product in perfect working order***


Proton is Audio Damage's take on the classic Karplus-Strong tuned delay line physical modelling synthesis. Take a capable "vintage digital" style delay line with 1V/Oct clocking, and add an enveloped noise burst, and you have a plucked string physical model. This is wrapped up in standard Audio Damage aural hijinks, and Proton is the result.

Starting with the delay line, which is "tuned" via the coarse and fine tune knobs, add a quality low pass filter (modelled on the MS20's LPF) and damping circuits. This is hit with a noise burst from an analog random number generator that passes through two more filters and an envelope with decay to produce the plucked sound. A "CHOKE" input empties the delay line, for extra dynamic control.

Since Karplus-Strong synthesis lacks bottom in general - the "SUB" control adds a sine at the fundamental frequency to produce gut-churning low end in the bass register. The result is a physical model synth that is capable of both delicate harp-like plucks and monster face-melting basslines.
…

Read more
Items 1 to 2 of 2 on page 1 of 1
Filter
Audio Damage Modular Synth