Items 1 to 2 of 2 on page 1 of 1
Antiformin

Grace
Review: The tenth release on Miles Sagnia's AER, marking the tenth year since the labels inception. This time round, a more hypnotic dancefloor sound encapsulates the artists mindset. With previous releases on Applied Rhythmic Technology (ART), Aesthetic Audio, Ornate Music, Common Dreams, amongst others. Together we glide into the pacier textures, where moments of intensity meet serenity......





…

Read more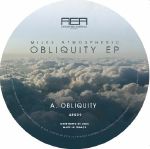 Cat: AER 009. Rel: 22 Nov 16
Techno
Obliquity (9:06)

Emancipate (6:24)

Whispers (6:47)
Review: UK label AER returns with a 3 track EP. Back on the controls is British label boss Miles at the helm, giving us a journey of varying textures. After releases on Aesthetic Audio, ART, Ornate amongst others, Miles esteemed reputation for discerning House & Techno both as a DJ & producer ensure this release is another pure piece of artistry. Not one to compromise, Miles delivers yet again. 'Obliquity' is a dub techno slice of hypnosis! Emancipate gives us a beautiful string rendition amongst haunting lead lines, while 'Whispers' goes beyond the deep, down into ethereal emotive territory, giving the full release a nice snapshot spectrum of this mans work. Superb release.
…

Read more
Items 1 to 2 of 2 on page 1 of 1