Items 1 to 2 of 2 on page 1 of 1
Cat: ANR 008LP.
Experimental/Electronic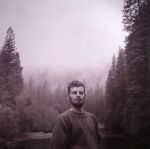 Onism
(clear LP + insert + MP3 download code)
Cat: LANR 007. Rel: 07 Aug 17
Experimental/Electronic
Screens (5:34)

Inharmonious Slog (4:21)

The Everyday Push (5:34)

Storm (3:17)

Outre Lux (feat Madison McFerrin) (4:03)

Balsam Massacre (3:04)

Eco Friend (5:39)

Off-Piste (4:40)

Aura (4:37)

Bombogenesis (6:28)
Review: Evan Shornstein, a young and promiscuous New Yorker with a passion for lop-sided house experimentations, returns to Brooklyn's Astro Nautico label with nothing less than an LP, and we have to admit that this badboy sounds surprisingly fresh and accomplished for an artist who has only put out a handful of 12"s thus far. House music is definitely at the core of these ten tunes, each one guided by a warm and soothing jazziness, but it is clear that there is much beyond the 4/4 genre that is going on in Photay's mind. For instance, aside from the beat-centric swarms of tunes like "Screens", "The Everyday Push" or "Inharmonious Song", the likes of "Storm" or "Outre Lux" spread out into much vaster and more looser electronic terrains. Electronica is not one of our favourite expressions and, while it does paint the picture rather well, we'd prefer to fit this in among the wider 'outsider' domain.
…

Read more
Items 1 to 2 of 2 on page 1 of 1