Items 1 to 2 of 2 on page 1 of 1
Cat: ASC 303. Rel: 03 Apr 18
Deep House
Harmony (Luis CL remix)

Believe In You (feat Robert Owens - RNR remix)

La Beija (Rhythm 2 Soul remix)

Rotation (MHCrew remix)

The Vibe (Jimini remix)
Review: After the first two 12"s from label founder Deep88 himself, ASCII Records turns to a whole host of different characters to remix those tracks with some stunning and varied results. Luis CL is up first, taking a decidedly mellow approach to "Harmony" that tips into a heavy lidded early 90s deep house mood perfectly, while RNR take the Robert Owens-featuring "Believe In You" and make it into a stirring, tense but ultimately emotional acid-laced floor track. Rhythm 2 Soul do a gentle job on "La Beija", MHCrew take a Larry Heard-esque approach on "Rotation" and Jimini lets the space in the mix tell its own story.

…

Read more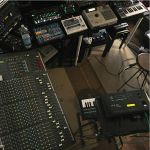 Cat: ASC 202 . Rel: 03 Apr 17
Deep House
Commando (4:40)

O-Ring (5:22)

Calzer8 (6:11)

Nightwish (5:13)
Review: Dedicated hardware hassler and devoted house head Alessandro Pasini has been working tirelessly to push his agenda of warm, classically-rooted house and techno played out live on an impressive spread of equipment. This second release on his Ascii Records label continues that mission in fine style, kicking off with the slinky acidities of "Commando" before diving into the tom-tastic immersion of "O-Ring". On the B-side "Calzer8" takes a more sprightly approach with its bouncy jacking drums and zippy synth lines, and then "Nightwish" takes things in a refined, deep direction without compromising on serious strut-ability. This is outboard house music how it should be done.
…

Read more
Items 1 to 2 of 2 on page 1 of 1