Items 1 to 2 of 2 on page 1 of 1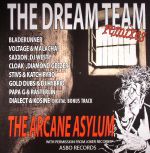 Cat: JOAEP 03. Rel: 19 Aug 16
Drum And Bass
Sweetie (Voltage & Malachi & Papa G remix) (7:02)

Silver Fox (Rassterlin remix) (5:55)

Menace (Cloak remix) (4:11)

The God Father (Unreleased 96 version) (5:33)

Stamina (Bladerunner remix) (5:28)

Warriors (Stivs & Katch Pyro remix) (4:35)

Lighter (DJ Westy remix) (6:22)

Latino (Unreleased 96 version) (3:47)

Public Enemy (Saxxon remix) (5:06)

The Roller (Gold Dubs & DJ Hybrid remix) (4:52)

Coast To Coast (Diamond Geezer remix) (4:54)

Walk & Skank (unreleased 96 version) (6:04)
Review: While Joker Records never achieved the cult status of early drum & bass labels such as RAM, Philly Blunt and Urban Takeover, the imprint nevertheless played a crucial role in the development of the style. Here, a clutch of productions from label founders The Dream Team gets a 21st century makeover. There's naturally plenty of tried-and-tested floor fillers present, from the bouncy jump-up stylings of Voltage, Malachi and Papa G's rework of "Sweetie", and the duo's own unreleased "96 version" of sweaty, bass-heavy roller "The God Father", to the bombastic jungle breaks, speedy ragga vocals and pulverizing bass of "Stamina (Bladerunner Remix)". Arguably best of all, though, is the throbbing jungle revivalism of Dj Westy's rework of "Lighter".
…

Read more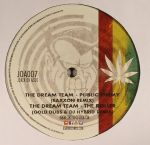 Cat: JOA 007. Rel: 19 Dec 16
Drum And Bass
Public Enemy (Saxxon remix) (5:05)

The Roller (Gold dubs & DJ Hubrid remix) (4:51)

Coast To Coast (Diamond Geezer remix) (4:53)

Walk & Skank (unreleased 1996 version) (6:05)
Review: What began on vinyl three years ago and came correct in full album form last summer on digital, Bizzy B and Pugwash's seminal jungle outfit Dream Team is once again brought back to life on vinyl. Introductions unnecessary: Saxxon's take on "Public Enemy" is as brutal as you'd expect, Gold Dubs and Hybrid twist up the pitched drums and juicy subs on "The Roller" while Diamond Geezer roughs things up 36 Hertz style. Finally we're slapped happy by an unreleased 96 version "Walk & Skank" - drop it and crush your dancefloor within seconds.
…

Read more
Items 1 to 2 of 2 on page 1 of 1