Art Empire Industries
Items 1 to 1 of 1 on page 1 of 1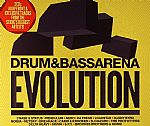 VARIOUS
Cat: DNBA 004CD. Rel: 04 Apr 11
Drum And Bass
Chase & Status - "No Problem"

Delta Heavy - "Space Time"

Breakage - "Fighting Fire" (feat Jess Mills - Loadstar remix)

Camo & Krooked - "Feel Your Pulse"

Nero - "Me & You" (Dirtyphonics remix)

Avicii & Sebastien Drums - "My Feelings For You" (The Prototypes remix)

Fred V & Grafix - "One Of These Days"

Baby D - "Let Me Be Your Fantasy" (J Majik & Wickaman remix)

Modestep - "Feel Good" (The Prototypes remix)

Nu:Tone - "Shine In" (feat Natalie Williams)

Camo & Krooked - "Mind Is Drifting Away" (feat Shaz Sparks - VIP mix dub)

Twisted Individual - "I Am Leg End"

DJ Hazard - "Busta Move"

Cyantific - "305"

Wilkinson - "Moonwalker"

Metrik - "T-1000"

Mattix & Futile - "Corkscrew"

Sub Zero - "Poon"

Loadstar - "Lino To The Past"

Gridlok & Prolix - "Tru Born Playa" (feat MC Fats)

Loadstar - "Space Between"

Sigma & DJ Fresh - "Lassitude" (Sigma VIP)

Pendulum - "Crush"

Camo & Krooked - "Nothing Is Older Than Yesterday"

Danny Byrd - "Tonight" (feat Netsky)

Brookes Brothers - "Beautiful" (feat Robert Owens)

Danny Byrd - "Ill Behaviour" (feat I-Kay)

Shameboy - "Strobot" (Netsky remix)

Lenzman - "Bittersweet" (feat Riva - part 2)

SPY - "By Your Side" (Logistics remix)

Jonny L - "The Rave"

Tyke - "The Music Makers" (feat Recipe - VIP)

Icicle - "Dreadnaught" (feat SP:MC)

BTK - "Things I Do" (Spectrasoul remix)

Jubei - "Gateway"

Enei, Eastcolors & Noel - "Cracker"

Hybris - "Of Two Minds"

Rockwell - "Noir" (Ulterior Motive remix)

Noisia - "Friendly Intentions"

Blackhe4d - "Kisses & Lies"
Review: If you're looking for a snapshot of where drum & bass is in 2011, Drum & Bass Arena: Evolution is a good place to start. Boasting some 40 tracks spread across two seamlessly mixed discs, it neatly offers a wide-ranging view of a scene that continues to evolve in multiple directions. So while there are plenty of radio-friendly crossover hits (Breakage, Loadstar, Chase & Status, Pendulum etc) and hot-hatch friendly wobblers, the D&B Arena crew also find space for the funk and soul of Nu:Tone and Cyantific, the old skool junglisms of Jonny L and Icicle, the soaring strings of SPY's thrilliant "By Your Side" and the dark-tech freakery of Blockhe4d and Matrix & Futile.
…

Read more
$15.14
SAVE 20%
in stock
$12.11
Items 1 to 1 of 1 on page 1 of 1