Labels
Items 1 to 2 of 2 on page 1 of 1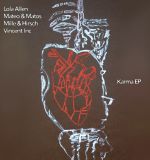 Cat: ADEEP 1. Rel: 11 Sep 17
Deep House
Lola Allen - "Karma"

Mille & Hirsch - "I Get DEEP"

Mateo & Matos - "Idris Rises"

Vincent Inc - "Tears Of God"
Review: AntiDEEPressant is a new label that kicks off with a strong cast of contenders exploring interesting facets of the deep house tradition, starting off with the sultry wonder of Lola Allen's "Karma". There's mystery woven in between the African percussion that shapes out her track, and it's a pleasure to get lost in. Millie & Hirsch take a tender approach to Roland D Clark's classic "I Get Deep", while Mateo & Matos push the tempo back up with the jazz-tinged "Idris Rises." Vincent Inc is last on the list, and he cruises in with the slow and strange tones of "Tears Of God".
…

Read more
Cat: ADEEP 2. Rel: 05 Feb 18
Deep House
Panic In Cosmos

Rayskoye Mesto

Mechta

Jazz Night
Review: "AntiDEEPressant records, where Fusion Deep Space House meets NuDisco, Deep Techno and creates the eclectique spiritual grooves for your mind, body & soul. There are a 4 tracks EP that emphasise on the musical side, the instrumental parts, the atmosphere ... a gem!
Most of you would say this is ""Deep"", but we say it's freakin' great deep influenced house. "





…

Read more
Items 1 to 2 of 2 on page 1 of 1