Items 1 to 3 of 3 on page 1 of 1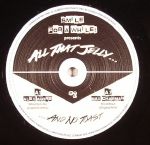 Cat: ATJ 001. Rel: 01 Aug 16
Deep House
Alex Agore - "What Did I Do" (Lowtone remix))

Max Chapman - "Breakdown"

Oleg Poliakov - "Windy Thoughts"

Mutenoise - "Jazzve"
Review: All that jelly and no toast - like when you find a bomb tune that's unavailable on 12". The new sublabel of Smile for a While is exactly about this. Clubby House Music by well-established producers as well as from lesser-known guys. French guy Alex Agore opens the EP with the Lowtone remix of "What Did I Do" - cut-up Garage House to the maxx. Max Chapman from London delivers another belter; a bassline-driven organ House tune with a minimalistic but very effective set-up. Oleg Poliakov - aka SKAT and one of the guys behind Circus Company - comes up with a sublime but powerful Tech House tune, in the original sense of the genre name. "Jazzve" is a tune by Russian producer Mutenoise. It's maybe the most original, innovative tune on this EP. Full of surprises and cutting-edge elements - hard to compare to anything else around these days.
…

Read more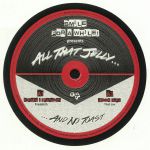 Cat: ATJ 004. Rel: 07 Feb 18
Deep House
C-Rock & Franksen - "Freakish" (7:41)

Jesse Para - "That Luv" (5:27)

Fonso - "Human Effort" (5:06)

Jacopo SB - "Seven 08" (6:49)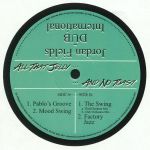 Cat: ATJ 003. Rel: 16 Jan 18
Deep House
Pablo's Groove (6:17)

Mood Swing (5:42)

The Swing (Thrillseekers mix) (5:35)

The Swing (club Orchestra mix) (4:51)

Factory Jazz (4:00)
Review: Straight back to 94! Jordan Thrillseekers Fields laid down his second EP "Dub International" 23 years ago and it still sounds future to this day. "Pablo's Groove" takes a classic Cuban lick and roughs it up sideways with some awesome riffle kick rolls, "Mood Swing" is a broken house music assault with all the cuts and stutters you can cram into a jam while "Factory Jazz" is a timeless slice of rolling breakbeat funk smashed straight from the heart of a groovebox. "The Swing" finishes this classic remastered reissue with two versions, both via two more of Fields' many aliases: his Thrillseekers version layers distinctly UK-styled rave synths while his Club Orchestra takes a looser, groovier tact that allows the powerful Latin vocal sample to cut through. This is what reissues were invented for.
…

Read more
Items 1 to 3 of 3 on page 1 of 1