Items 1 to 2 of 2 on page 1 of 1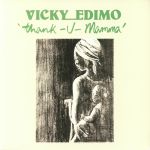 Cat: DWAPS 2152. Rel: 19 Apr 18
Disco/Nu-Disco
Thank-U-Mama (5:57)

Marina Drive (6:47)

It's Not Serious (5:52)

Stormy Rain (5:17)

You (5:56)
Review: Cameroonian legend Victor Edimo's rare and collectable Decca Nigeria album Thank U Mamma enjoys its first reissue since being released in 1981. Five tracks tight but crammed full of vibes, this is one of the funkiest, sunniest and most vibrant albums to come out of Lagos in the early 80s. From the blissed, bless 'thank you' vocal loop of the title track to the blazing feels of "Marina Drive" to Victor's signature freak bass licks on "You", this is such a beautiful album from start to finish.
…

Read more
Cat: DWAPS 2072. Rel: 24 May 18
Disco/Nu-Disco
What Is Love About (4:18)

Take Life Easy (4:14)

Respect Your Man (4:36)

Mind Your Biz (3:24)

You Can't Change A Man (4:01)

I'll Be Your Man (4:09)

Understanding (3:35)

Goodbye (4:08)
Review: First time reissue: Christy Essien's fourth album from 1979 is a remarkable piece of work in so many ways. Well-chiselled songs, laced with Christy's signature poetry, a rich afrobeat fluidity runs throughout the arrangement flickering between soft-focus island style ("Respect Your Man"), salubrious foamy funk ("Take Life Easy"), powerful soul ("Understanding") and synth-rippled dancefloor soul ("You Can't Change A Man") Madly she was only 19 when she made this record! No wonder she's known as Nigeria's 'first lady of song'.
…

Read more
Items 1 to 2 of 2 on page 1 of 1