Labels
Items 1 to 2 of 2 on page 1 of 1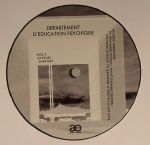 Cat: ACIDO 021. Rel: 07 Sep 15
Experimental/Electronic
Track 1 (24:49)

Track 2 (25:28)
Review: Acido continues to surprise and impress. Having taken a turn towards the club on Acido 21 which saw A Made Up Sound collaborating with Dresvn, this latest release is an album length affair featuring the collective talents of SVN, Dynamo Dreesen, and French artist Jean-Marc Foussat. Working under the name Departement D'Education Psychique, the genesis of this Musique Improvisee album was seemingly a mid-week event in Paris last year featuring Dreesen, SVN and Foussat and others. Inspired by that evening, the trio elected to jam some material together with the results pressed as two extended pieces of around 25 minutes. If you are a fan of musique concrete, Acido and the recent Busen LP on General Elektro you will want to check this delightful slab of electronics.
…

Read more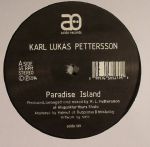 Cat: ACIDO 019. Rel: 08 Dec 14
Coldwave/Synth
Paradise Island

I Travel The World
Review: The latest Acido release sees the full debut of Karl Lukas Pettersson, aka Gothenburg's premier electro exponent Lukas Karl Pettersson who previously featured on Dynamo Dreesen's label back in 2007 under his familiar Luke Eargoggle alias. As Karl Lukas Pettersson, the Swede is evidently looking to explore a sound less trodden with both "Paradise Island" and "Travel The World" crafty concoctions formed from various elements of primitive wave and Das Ding style electro that sound convincingly like they were exhumed from DAT tapes in the late '80s. If you are a fan of Acido, you'll no doubt be used to such stylistic deviations from the label, but Dark Entries and Minimal Wave fans should also check these cuts!
…

Read more
Items 1 to 2 of 2 on page 1 of 1