Items 1 to 2 of 2 on page 1 of 1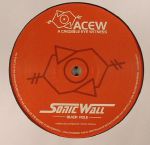 Cat: ACEW 005. Rel: 30 May 17
Electro
Black Hole (5:48)

Fall To Our Knees (5:07)
Review: Italy's Emilio Urbano is no newcomer to the scene. The dude's A Credible Eye Witness project has been responsible for churning out electro since the late 90s, and he's cut from the same cloth as Rome's other important tech fiends like Leo Anibaldi and the great Lory D. His self-named ACEW label came back into action back in 2014, and is now on a steady pace to the top of our elector charts. This new two-tracker kicks off with "Black Hole", a nervous, itchy sort of excursion that heads into the nastier side of dark acid thanks to its noxious bass bumps; the latter comes in the form of "Fall To Our Knees", a less tenebrous, more high-pace sort of tune that recalls the likes of Stingray and the Drexciya alliance. Nice.
…

Read more
$12.99
SAVE 30%
in stock
$9.09
Cat: ACEW 006. Rel: 05 Mar 18
Electro
Gravity Dance (4:27)

Storm Attack (6:02)

Taj Mahal (6:42)
Review: Rome's Emilio Urbano has been in the picture since the late 90s, and it's clear from his dark and explorative aesthetic that he has been greatly influenced by the Eternal City's other cult artists like Leo Anibaldi. His moniker has always been A Credible Eye Witness, or ACEW as is written on his own imprint, and sounds that feature on tunes like "Gravity Dance" and "Storm Attack" have always represented him as an artist - toxic, cyber-punk tones that remind us of artists like Convextion. Even "Taj Mahal", with its comparatively quirkier sounds, is ACEW all over - honest techno for the dance floor.
…

Read more
Items 1 to 2 of 2 on page 1 of 1