Labels
Items 1 to 2 of 2 on page 1 of 1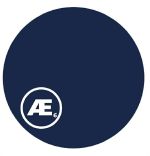 Cat: AE 06. Rel: 24 Jul 17
Techno
Aerials

Phased Out

Exiles

Dialogic

Goosebumps
Review: Thule's dark doppelganger AE Recordings was revived last year with the excellent Freyja EP by NonniMal, and now the saga continues with this devastatingly on-point release from Cold. Much like the vibe on Thule, the music on Thule continues to channel the mood of the icy tundra into refined, modern club tracks, but there's definitely a more sinister intent at work in these tracks from Cold. "Aerials" is a nightmarish chugger loaded with eerie sonics, while "Phased Out" lays down some fine dubby processing over a bed of chilly chord pulses. "Exiles" is a standout track thanks to its crafty groove, coming on a little more housey than its counterparts but still heavier than the average Thule jam.
…

Read more
Cat: AELP 01R. Rel: 08 Jan 18
Techno
Ooger

E.T. Dial Home

The Phuture Is Cow

Zx Spectrum

Oh, The Sky Fell On My Head

As If The Living Were Moving

Matrix Noise

Art Of Wrestling

Old Concepts
Review: ae Recordings is the infamous sublabel of Thule Records, which was responsible for some of the finest techno releases from Iceland in the early 2000s. This collaboration between two titans of the Icelandic electronic music scene, Thor & Yagya, was one of the pedestals of the Thule Musik dynasty. Originally released in 1998, it still stands the test of time even ages gracefully like a good red wine, where the the harsh tannins of its youth gradually give way to a softer mouthfeel.
Ooger deliveres finely crafted techno with glacial atmosphere a blend Thule records has long time ago perfected. The phuture isn't what it used to be The Phuture is Cow.
ae Recordings/Thule Records is considered by many to be a pioneers in the field of dub-influenced techno music and was a starting point for many of Iceland's most renowned electronic musicians.





…

Read more
Items 1 to 2 of 2 on page 1 of 1