Items 1 to 2 of 2 on page 1 of 1
Cat: 326 001. Rel: 15 Sep 16
Disco/Nu-Disco
Sun Sun Sun (7:53)

Purple Music (6:45)
Played by:
Hungarian Hot Wax Records
,
Paul Thornton (Dig Deep / Reboot)
,
CHRIS KIDBIBZ HABIBIAN
,
Monsieur Cedric (Serie Limitee)
,
Per Bojsen-Moller
,
Disco Halal
,
JKriv (Razor-N-Tape)
,
Andrea passenger
,
Unbroken Dub
,
Giorgio Luceri
,
Bress Underground
,
KS French
,
Shaka (KolourLTD, Balance Alliance)
,
Elvin Tibideaux
…

Read more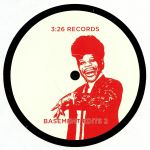 Cat: 326 002. Rel: 20 Dec 16
Disco/Nu-Disco
Acid Whump (6:09)

Bostitch Time (8:33)
Review: Chicago batboy Jamie 3:26 is one of the few Windy City producers who is still waving his city's flag up high; alongside other house and techno artists like Hieroglyphic Being, they are defining the Chicago sound of today. This particular producer's style is suave and supremely sleek in its execution, a quality that is clearly audible from this second instalment of Basement Edits. The first, "Acid Whump" couldn't be from anywhere else and, although the UK also has a long tradition of heavy acid house, this particular tune sounds like it really is from the source of it all. "Bostitch Time", on the other hand, is more leftfield in all senses; there's a jazzy percussive beat pushing it forwards, but the track's sonic coating is filled with strange and wonderful synth sounds that render it something of a misnomer. Excellent cuts.
…

Read more
Items 1 to 2 of 2 on page 1 of 1