We say a resounding Yes DJ to the chance to meet Simo Cell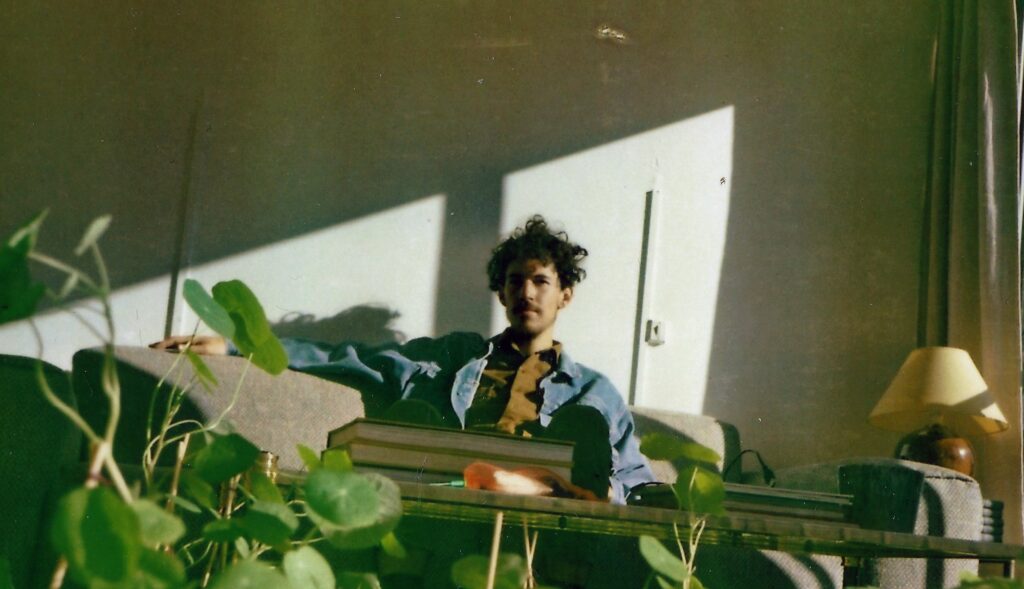 Multi-genre producer Simo Cell's newest EP YES.DJ channels the affirmative aura of club culture, eclectic genre blends, and the burgeoning French electronic scene. Made in the same bout of inspiration that led him to photograph every free drinks token received at the DJ gigs he played (beginning 'DRINK TICKET SELECTOR', his obsessive Instagram account dedicated to said vouchers of joy), YES.DJ matches this well-traveled documenting of club culture, spanning the juke, trap, and bass music influences endemic to his style. 
We caught up with Simo for his thoughts on lockdown, image culture in DJing, and the popularity of promotional fanzines for new, groundbreaking French music.
The French scene seems to have exploded in the past five years – with everything from emo rap to dancehall to cassette culture exploding and growing in popularity. From your POV, do you agree that French electronic music is going through a kind of renaissance and leading the charge? What is it about France that fuels its creative fire?
You're right, there are so many different niches that I find it difficult to follow everything that is happening. Between Gabber, Dancehall, Bass Music, House, Techno, Dub or DNB… It's amazing.
It's very new. We spent a long time looking for a successor to the French Touch era (Daft Punk, Air, Phoenix, then Ed Banger, Justice, Sebastian…) but things changed. This is probably what makes the strength of our scene today.

BFDM probably played an important role in the kind of renaissance you're talking about. It started in 2015. The Lyon scene was burning and no one really understood what was going on. At that time all the ingredients were there to make it work :
-a great club with a strong infrastructure: le Sucre
-a strong record store/distributor: Chez Emile
-a leader, Judaah. He gathered a team of good friends and talented emerging artists around him.

When we look at all the releases on BFDM, , there is not a specific sound signature since the musical spectrum is very broad. But all the artists from the label share the same energy and dynamics. This team energy best defines what is happening in France.

There are also a lot of connections made between artists and crews from different cities at the moment. For example, the underground scene has had to reinvent itself and organize parties in villages and farms in the last year. There is a whole network from North to South with small parties and festivals. People organize parties on their own, they craft their own soundsystem, build everything from scratch and invite local artists and friends of friends to play. It's a huge talent hotbed, a grassroots strength.

Going into the making of this release, which artists and genres were you listening to and playing most? Care to name any tracks that inspired you at the time?

I was playing Trap beats, Footwork, Jersey, Drum n Bass, Bass Music. A lot of stuff around 140, 160 et 90 bpm basically.

I wrote Whispers with the idea of making a track with the same energy as 'Senzu' from As Manual. I have played this track so many times in the last few years.

Short Leg is actually a track that I made during an Ableton Workshop. I was in Tunis for a residency organised by a crew called Neuvième Ruche. The idea was to learn how to work with a very limited number of samples in order to show that limits can increase your creativity. I was teaching the session and participating at the same time, this is how Short Leg came out.

Regarding Short Leg's mixdown , I tried to achieve the same result as 'Kill Bill Vol. 4' from Modeselektor.


It's hard to pigeonhole any track on YES.DJ into one genre. Was this an intentional effect, or just something you found yourself doing?

I produced a lot of music in the last 3 years, I wanted to take my time before releasing a new ep. It wasn't an intentional effect, I just sorted all my demos and tried to come up with a cohesive whole.

I always try out a lot of different styles when I'm in the studio. As a DJ, I also play a lot of different styles. My approach as a DJ nourishes the way I produce club music.

On the other hand, I spent a lot of time defining particular colors, sounds and textures. I did a lot of work around low frequencies and compressions. The hats and high frequencies have a very special signature as well, a very crunchy sound.

That's why I allow myself to incorporate so many different aesthetics into my music since it's digested in a very personal way.

You've said YES.DJ' has so much energy because you had lots of pent-up frustration left over from lockdown. What was your experience of lockdown like? Could you shed some more light on how you channeled those frustrations to achieve a creative result?

I was actually really good during the first lockdown. I felt lucky being able to stay at home, rest and stepback.

Winter 2021 was much more complicated, it was a big emotional rollercoaster with waves of fears. I suffered a lot from the lack of social contact. I lost self confidence. I started to wonder what I could do if I had to stop the music. I spent a tremendous amount of time thinking and trying to figure out what might happen, but couldn't formulate clear answers.

The only way to reassure me was to work. I fell into a workaholic, I spent 8 hours a day at the studio. I told myself that the more music I had in stock, the more quiet I would be afterwards. He was a defense mechanism. I feel way better now because I realise it's impossible to know what is going to happen. I will do music as long as possible without thinking about plan B. I guess answers will come naturally if i'm not able to make a living with my music. I would say I trust myself more after this lockdown experiment.
On the other hand, I was extremely creative, I opened up to other musical styles. I listened to a lot of RNB, pop Music but also traditional Argentinian music like Milongas. My father is from Argentina and I wanted to reconnect to my roots.  In short, all these inspirations fed my work in the studio.

What can you tell us about the fanzine that comes with the EP?
I'm putting out a book with my collection of drink tickets to go with my mini album. It's a way to pay a tribute to the club culture. Also, I wasn't sure if clubs could be open for the release of my record, so I was looking for a way to develop a universe around the release. Having a label is an amazing way to experiment things like that.

We also asked a few friends and promoters to speak about what club/dance music means to them. They shared club memories in the fanzine but also thoughts and feeling about why they like to organize parties so much.

Why photograph drinks tokens?

Drink tickets were often left in my pocket or put away in a waist bag when I got home after a dj set. There was no particular reason to keep them. I was just like a kid who would collect pogs or marbles.

One day I created an Instagram account to post them. Originally it was supposed to be a bit of fun trolling as I didn't want to have a proper Instagram account, but it started to take off. I received IG messages from promoters asking me to post their drink tickets on my page. Also, a few promoters began making me special drinks tickets. As weird as it sounds, I became a drink ticket influencer !

The truth is, I had become obsessed with drink tickets. I could pay for a drink rather than use my last drink ticket. I could also get sad when there was no drink ticket at a party. At every party, I was excited to discover a new token. It became an obsession.

Why were you reluctant in the first place? Generally, what is your opinion on Instagram / image culture in underground music?

Social networks take a lot of time, it can be a mental stress. I swapped my smartphone for an old mobile. The idea was to avoid notifications and also to stop using GPS. To return to a more concrete relationship with reality, to meet people.

Paradoxically, the more an artist develops a solid fan base online, the less it depends on the press and the media. It's about finding the right balance.

I think social networks are good tools as long as you use them moderately. It's great for announcing dates, getting in touch with your audience. I am well aware that my career and the chance I have to play all over the world is also linked to the rise of the internet. On the other hand, abusing social media to promote one's image impoverishes art more than it serves it. For example, I don't really see the point in constantly posting photos of yourself on Instagram.

More generally. A lot of artists try to look dirty and punk to give an underground touch to their profile by taking press shots behind graphs and dilapidated walls. This is also something that I have done in the past but it looks so fake and hypocritical. A lot of artists from the scene come from relatively well-off people, I find it healthier to assume it rather than trying to build a false street credibility.

How does the 'DJ' aspect come into the name 'YES.DJ'? Has your relationship with DJing changed over the course of the pandemic?

I got introduced to electronic music thanks to the DJ culture. With this opus I continued to explore the club aesthetic. My intention is to fully assume what I am and to continue to develop the dj side. My last two solo records already had this DJ aspect ('5 Party mix' & 'Pour le club'). With YES.DJ, it's now a trilogy 🙂

The music has evolved differently since the clubs closed. Before that, djs who played in clubs set the trends and influenced music producers. It's different new. So many niches popped out, it's harder to feel what's hot at the moment and I'm a bit lost.
This makes me want to play my own music more and start developing live shows. I want to change my way of DJing, using cdjs and djm in a more creative way too. I'm working on it at the moment. This weird period is an amazing opportunity to question our own practices. I don't see the point in wanting to redo everything as before.

I feel the need to be more selective on dates too. I questioned a lot the way I travelled before the pandemic and I tried to speak about ecological issues within the electronic music scene. I wrote an open letter to define commitments that I could honour whilst still being able to live from my music : Consider flying as the last solution for travel as well as using trains as much as possible on the same continent, reconsidering my hospitality requirements by favouring hotels closest to clubs and festivals.

I had to refuse gigs this summer. For example, I don't want to go the US only for one weekend anymore. I try more to plan concerts within a touring logic, to stay a bit longer in countries and to take advantage of the trip to make workshops and produce with local artists…. Trying to tour in a sustainable way is difficult, it's a big challenge.

In that vein, do you have any gigs coming up? What can we expect from you next?

I will play a few live shows with Abdullah Miniawy in September. I definitely want to push this project and play as much as possible with him. We played Visions Festival in Brittany together at the beginning of August, it will remain one of my best experiences on a stage. It's so fresh and new to me.

I'm also playing at Dekmantel Selectors at the end of August and probably a few gigs in France and Germany in September.
Simo Cell's six track Yes DJ EP is out on September 20 – pre-order it here