We collect ten of the best contemporary monophonic synthesisers currently on the market.
The past few years have seen a surge in affordable analogue synthesisers hit the marketplace, often coming in at very affordable prices. The most populated category is the monophonic synthsiser – meaning a synthesiser only capable of playing one note at a time, as opposed to polyphonic synthesisers, which can play several at once and can also play chords and pad sounds. Despite their limitations, monophonic synthesisers are some of the most popular synths for producers, due to their ability to create thick bass sounds, grizzled acid lines and even kick drums and percussive textures.
In this list, we have collected what we would consider to be ten of the best monophonic synths currently available in ascending order of price, with diminutive modules and keyboard-equipped varieties all featured.
The MkII version of this inspiring little synth from MFB is basically the same as the original, only now it comes in a high end metal case with wooden sides, as seems to be the fashion these days. In effect the Microzwerg is actually two single oscillator mono synths in one box, and switching between the two control panels is done by using a shift key. In addition, there are two multi-mode filters with cut off and resonance control for low pass, hi pass, band pass and notch modes. Although there is only one ADSR envelope, the dual LFO's have a one shot mode that essentially acts as an envelope. Along with the one shot mode, there are four wave shapes for each LFO, including sample and hold on LFO 2.
The Microzwerg is semi modular, meaning that although the classic signal path is pre-wired, it is possible to use patch cables to change the flow of the signal, and in this way it opens up further possibilities to be used in conjunction with sequencers or even other analogue equipment that use control voltages such as the Nanozwerg, also from MFB. The unit doesn't just feature CV; there is also a MIDI input port on the rear panel that will allow the Microzwerg to receive pitch information, pitch bend +/- a tone, and modulation wheel data. Like all MFB products, this mono synth is light and durable, and a lot of features have been packed into a small unit that belies its power. Although it doesn't have the smoothness of some of the more expensive synths in our list, it has a distinctly lo-fi sound that often adds a dimension of gravitas to productions. With its simple controls and impressive connectability, this synth will be a useful tool both in the studio and on stage.
More info/Buy
Specifications:
| | |
| --- | --- |
|  Power | 12V External Power Supply |
|  Oscillators | 2 x VCOs |
|  Filter | 2 x Multi-mode (low pass, hi pass, band pass, notch) |
|  Modulation | 2 x LFOs w/ four shapes, one shot |
|  Effects | N/A |
|  Features | Dual functions accessed by shift button |
|  Connections | Extensive CV connection, MIDI in |
|  Dimensions (cms) | 19x13x5 |
|  Weight (kgs) | 0.57 |
The Mono Lancet is not only the most inexpensive synth in our top ten but it is arguably the most impressive, with its keyboardless black metal box sporting a battery of high grade knobs and switches. The two VCOs both have the option of square and saw waves, with VCO 1 also featuring a triangle with octave ranges switchable between 32′, 16′ and 4′. VCO 2 has a white noise generator with octaves ranging between 16′, 8′ and 4′ with the added possibility of further tuning continuously by +/- 7 semi tones. A surprisingly wide range of sounds can be achieved, including squelchy, full bottomed synth bass, the kind of classic square basses found on old house records as well as long and winding lead tones, snappy percussive bleeps and sound effects.
To achieve this wide variety of sounds, the Mono Lancet has a single 24db low pass filter with a resonance control that stretches over two and a half octaves. The single ADSR can be accessed by the VCA and the VCF and for added colour there is the possibility of modulating your sound via the LFO that features square, triangle and sample and hold shapes with a speed control knob. If this isn't enough, it's possible to extend the possibilities of the Mono Lancet by connecting a 25pin modular dock that broadens the CV, PWM and filter inputs and outputs. Easily slotting into any modular set up or connecting to your studio via MIDI, the Mono Lancet is a flexible and powerful synth that is also small enough to take with you if you need to travel.
More info/Buy
Specifications:
| | |
| --- | --- |
|  Power | 12V AC |
|  Oscillators | 2 x VCOs |
|  Filter | 1 x low pass filter (VCF) |
|  Modulation | 1 x LFO (modulates VCO, VCF and VCA) |
|  Effects | N/A |
|  Features | Sub-D connector extends connection possibilities, Glide/legato control |
|  Connections | MIDI I/O/Thru, 25 pin sub-D |
|  Dimensions (cms) | 21x15x6 |
|  Weight (kgs) | 0.75 |
With the second coming of Doepfer's compact yet powerful synth comes some equally potent changes. The original Dark Energy had a low pass filter powered by the famous Curtis chip (which can be found on classic Sequential Circuits synths such as the Six Trak and the Split 8), but with the supply of said Curtis chip drying up, Doepfer decided to redesign the filter on their second incarnation which is why the Dark Energy II has a multi-mode filter with 12db low pass, notch, high pass and band pass filters. It's a striking looking box, with wood panelled sides and high quality knobs and switches that you would expect to find on a more expensive synth, and at its heart beats a single VCO with a single sawtooth wave form. Two LFOs with the choice of triangle or square shapes are available, with a switch to determine a range of low, medium or high and a knob to control the rate. This bantam sized box is just right for hands on control and at the same time fits neatly in your hand luggage.
MIDI input as well as USB is supported but perhaps more interestingly, there are a wide variety of CV/Gate options available, and patching can be done using 3.5mm mini-jack cables, a feature that stretches to the main audio output. There is a tough and muscular feel to the sounds that can be eased out of the Dark Energy II and the multi-mode filter definitely helps to open up the palette of audio possibilities available to a synth that effectively has a single wave form at its core. Doepfer have developed a great little analogue synth for those of us that refuse to compromise on pure analogue quality but also have a limited budget.
More info/Buy
Specifications:
| | |
| --- | --- |
|  Power | 15V AC |
|  Oscillators | 1 x VCO (sawtooth based) |
|  Filter | 12db multi-mode filter, low pass, hi pass, band pass, notch |
|  Modulation | 2 x LFOs (tri/rect) |
|  Effects | N/A |
|  Features | Mono synth with analogue signal path, CV patch options, mini-jack patch cables |
|  Connections | MIDI In, USB, Gate CV1 CV2 CV3 CV4 outputs, VCO F, VCO PW, VCF F, VCA A, Gate, Ext Audio, LFO 1, Envelope, Audio |
|  Dimensions (cms) | 19x15x8 |
|  Weight (kgs) | 1.2 |
Considered the last of the classic analogue synths, the original Bass Station sported 25 keys with two digitally controlled oscillators with pulse and saw wave forms. Being twenty years old, Novation decided to bring the original into the 21st century, and thankfully they have kept some of the key features. There is still a full size 25 key keyboard that now has velocity and after touch control, while there are two DCOs that present sine, triangle, saw and square with a variable pulse width. In addition there is a sub oscillator with the choice of sine, square and narrow pulse width and a noise generator. The filter meanwhile features two distinct types that include a classic mode taken from the original synth, and an acid mode that emulates the diode ladder filter of a TB303 in either low pass, high pass or band pass modes. Modulation is achieved with dual LFOs that contain classic shapes such as saw, square, triangle and sample and hold and it is possible to independently adjust the rate between the two.
The built in arpeggiator operates up to four octaves with selectable patterns including up, down, two types of up/down, random, and as played; all with swing control. The addition of a step sequencer to the arpeggiator section is also a major boon here as the Bass Station II allows you to sketch out ideas for later recall, or for syncing with other devices over MIDI or USB. The memory holds 64 factory presets and there is room for 64 of your own creations that can be saved and retrieved at any time. The Bass Station II continues the legacy of the original instrument by delivering portable and affordable analogue sounds that are designed for the creation of bass but can achieve a lot more. If you are looking for a great all round analogue monosynth that is equally at home in the studio as it is on stage then you would be wise to take a close look at the Bass Station II.
More info/Buy
Specifications:
| | |
| --- | --- |
|  Power | 9V |
|  Oscillators | 2 x DCOs, 1 x Noise generator, 1 x sub oscillator |
|  Filter | Classic/acid (diode ladder), low, hi, band, notch 12/24db slopes |
|  Modulation | 2 x LFOs |
|  Effects | Distortion, filter mod amount |
|  Features | Arpeggiator, step sequencer, glide, 25 note keyboard w/ velocity and after touch, 64 factory patches/64 user patches |
|  Connections | MIDI I/O, USB, ext audio in |
|  Dimensions (cms) | 46x28x8 |
|  Weight (kgs) | 3.7 |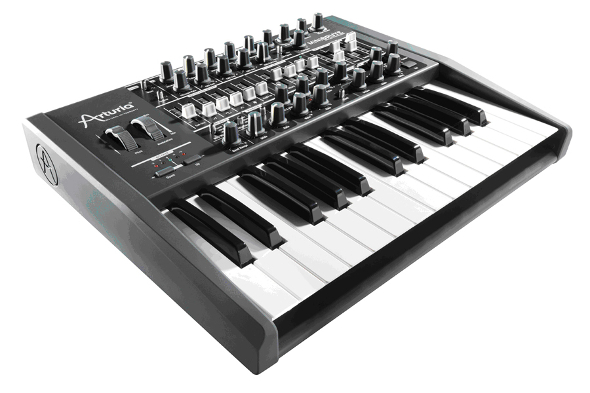 Arturia have come correct with their new synth that features a pure analogue signal path. Having previously made a name for themselves in the creation of ultra realistic digital versions of classic analogue synthesizers in plug-in form, Arturia have taken the leap into the world of hardware synthesis with the MiniBrute, setting a new high standard for affordable analogue synths. The single VCO features wave mixing between all the classic analogue shapes, including white noise, a sub that can be switched between sine and square waves, an octave or two octaves below the VCO, and an external sound source. In addition to being able to simultaneously mix all of the wave forms using the sturdy fader controls, each wave has an added shaping control. For example, the saw has an ultra saw knob that acts as a kind of ensemble control and the triangle has the "metalizer" that adds overtones to the original shape. Separate filter and amp ADSRs are the standard here and with plenty of modulation possibilities including syncing the rate to the built in arpeggiator. The multi-mode filter was created with the help of Nyle Steiner of Steiner-Parker fame and includes low pass, high pass, notch and band pass filters.
MIDI I/O, USB and plenty of CV/Gate connection options are available on the rear panel, and there really isn't a scenario that the MiniBrute won't fit into with ease. The headphone and main output volumes are completely independent, and sensitive tuning controls allow this powerful synth to be the ideal DJ/PA live performance partner. Likened to the classic SH101 synth, the MiniBrute also features feedback loop-type effects known as the "Brute Factor", which will add a serious amount of granular dirt to your patches. If you are in need of some real analogue sounds, but you don't have deep enough pockets for some of the more boutique synths on the market then you will be pleasantly surprised by the MiniBrute.
More info/Buy
Specifications:
| | |
| --- | --- |
|  Power | 12V AC |
|  Oscillators | 1 x VCO simultaneous wave mixing of sub, saw, square, triangle, white noise and ext in |
|  Filter | Steiner Parker multi-mode low, band, hi and notch |
|  Modulation | 1 x LFO |
|  Effects | Brutalizer overdrive |
|  Features | Wave shaping controls, filter and amp ADSR, 25 note keyboard w/aftertouch |
|  Connections | USB, MIDI I/O, CV/Gate, pitch out, Gate out, Gate in, amp to VCA, filter to VCF, pitch to VCO (MIDI/CV conversion) |
|  Dimensions (cms) | 33x39x7 |
|  Weight (kgs) | 4 |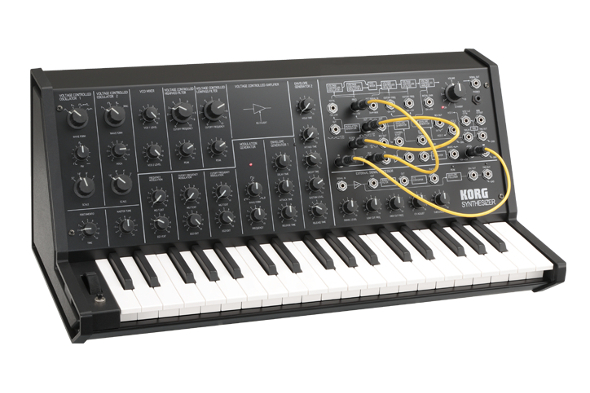 Korg have had a busy time in recent months with more a flurry of hotly anticipated synths being let loose on an eager public in the past 12 months. Loved by analogue synth fans since it hit the shops in the late '70s, the original MS20 has been rebooted to allow it to flourish in modern times. In short, the MS20 Mini is as faithful a replica of the original synth that is likely to ever come into being, with the single proviso that the new unit is 14% smaller than the original, including the keys. The two VCOs are scaled from 32′ to 4′ and 16′ to 2′ respectively, with VCO 1 offering triangle, saw, square with pulse width and white noise, and VCO 2 presenting saw, square, pulse and ring modulation with independent tuning. One of the unique features of the original MS20 was the inclusion of both a low pass filter and a high pass filter , both of which can be found on the new version, and together with the extensive modulation options, there is plenty here to keep analogue fans occupied for years to come.
Korg have decided to use 3.5mm mini jack as their audio connection standard, and as the synth is 14% smaller than the original, this is a sensible solution. Korg even provide 10 cables so you can explore the myriad of patch possibilities available. Communication options on the new version have been boosted also, as there is now MIDI in as well as USB I/O in addition to the original CV/Gate options. Full and fat bass tones, cutting leads, dirty percussive gongs and long evolving string lines are all possible here, all of which can be given a suitably gritty edge. The new MS20 Mini from Korg  will appeal to newcomers as well as old hands, and with the creative patch options available there is little that can't be achieved here.
More info/Buy
Specifications:
| | |
| --- | --- |
|  Power | 9V AC |
|  Oscillators | 2 x VCOs |
|  Filter | High Pass, Low Pass filters |
|  Modulation | 1 x LFO |
|  Effects | N/A |
|  Features | Extensive patch bay (3.5mm), 86% replica of original MS20, 37 note keyboard |
|  Connections | MIDI In, USB I/O ESP 3.5mm |
|  Dimensions (cms) | 50x26x21 |
|  Weight (kgs) | 4.8 |
There is a hefty weight of legendary pedigree behind this unassuming mono synth; Dave Smith had a hand in the popularisation and simplification of polyphonic analogue synths in the late '70s, and further to that he headed up the development of the MIDI protocol in the early 1980s. It could be argued that the current resurgence of interest in monophonic synths was first capitalised on by the Mopho, a unit which packs a lot of features into a very compact synth. Most notably, the well-regarded Curtis chip features in the Mopho's low pass filter circuitry. With a design borrowed from the Prophet '08, the dual oscillators are beefed up with a sub octave generator each that allows you to get to grips with devastating bass tones. You can also plug an external audio source (such as a guitar) into the Mopho to make use of its circuitry to great effect, or if you wish you can route the Mopho's audio back into itself for classic pre-filter feedback drive.
Along with the extensive modulation controls, including a whopping four LFOs, there is a built in step sequencer that features four banks of 16 steps that can be programmed using the 32 note keyboard, which encompasses after touch and velocity control. The synthesis possibilities are expanded by the addition of a noise generator, along with three ADSR envelopes for shaping your sounds. When you have finished sequencing or arpeggiating your creations you can save them in any of the three banks of 128 programs, and to help you get to a handle on controlling the synth there is some free software to help with the editing. MIDI I/O and USB connections are all present and correct making the Mopho the ideal analogue partner for a small studio set up with limited space.
More info/Buy
Specifications:
| | |
| --- | --- |
|  Power | 12V AC |
|  Oscillators | 2 x DCOs/2 x sub octave generators/white noise |
|  Filter | 2- or 4- pole Curtis low pass filter |
|  Modulation | 4 x LFOs |
|  Effects | Feedback loop drive |
|  Features | Arpeggiator, 16×4 step sequencer, Glide, 32 note keyboard w/velocity and aftertouch |
|  Connections | MIDI I/O/Thru, Polychain, USB, Headphone out 1/4" TRS |
|  Dimensions (cms) | 48x29x10 |
|  Weight (kgs) | 4.25 |
MFB have the knack of presenting unique analogue instruments that are both small enough to be easily transported in your hand luggage, yet also featuring as many useful features as is possible to cram into a single unit. This time they have managed to create an analogue mono synth with three VCOs that also allows you to store user sounds in any of the 128 memory slots. All of the VCOs are syncable and include all of the basic wave forms you would expect to find on an analogue synth with selectable octaves between 32′, 16′,8′ and 4′. VCOs 2 and 3 can be tuned independently of VCO 1 which has a master tuning control, and is stabilised digitally to aid integration with other instruments. The filter gives you a range of six different modes including three low pass filters, high pass, band pass and notch and can be controlled by one of the two ADSRs and can be inverted by the push of a switch.
Needless to say, the modulation options are extensive, with two LFOs that can be switched into one shot mode (effectively turning them into envelope generators). The LFOs perform six wave shapes that include sample and hold and are cleverly assigned at the destination points. Further to this, it's possible to combine the Dominion X with other analogue equipment via the inputs on the front face that combine CV/Gate, filter, VCA and mixer connections amongst others, as well as the MIDI I/O connections. The Dominion X SED is extremely lightweight and portable, and you will have no problem throwing it into a bag next to a laptop. Some might find the battery of control knobs on the front face quite daunting at first, but intermediate users will soon see the logic of the signal path.
More info/Buy
Specifications:
| | |
| --- | --- |
|  Power | 12V external power (supplied) |
|  Oscillators | 3 x VCOs |
|  Filter | 3 x low pass filters (12,18,24db), hi pass, band pass, notch |
|  Modulation | 2 x LFOs (six wave shapes) 1 x LFO (sine wave/modulation wheel) |
|  Effects | N/A |
|  Features | 128 programmable patch slots |
|  Connections | MIDI I/O Thru, 9 x patch options including CV/Gate |
|  Dimensions (cms) | 33x17x6 |
|  Weight (kgs) | 1.4 |
The father of popular analogue synthesis is undoubtedly Bob Moog, and perhaps his most popular creation is the Model D monophonic synth that was released more than a generation ago in the early 1970s. Since the resurgence of interest in Moog instruments – namely with the Moog Voyager – there have been many new models and cut down versions, but the Sub Phatty feels much more like a return to the simple analogue synthesis of the Model D, with some handy modern bonuses. The two oscillators present a continuous selection of triangle, saw, square and pulse waves, with the second oscillator having the ability to be tuned separately from the first. The sub oscillator gives you the option of adding a square wave an octave below oscillator one, and there is also a pink noise generator that throws out a wide frequency range. As expected, modulation comes from an LFO with all the classic shapes you would expect such as triangle, ramp, saw and square shapes.
One of the modern additions on this powerful synth is the design of the multi-drive that allows you to rough up your creations and allow the Moog to snarl and scream, giving it a more unruly and edgy side. Other new additions include the possibility of saving your original sounds as user patches using the four banks available from the front panel. As expected, the low pass filter follows the classic Moog ladder design and reaches between 20Hz all the way to a sky-cracking 20kHz. The two octave keyboard might be on the short side for some, but with plenty of DIN sync, USB and CV/Gate connection options, main and headphone outputs and a n exceptional build quality, any shortcomings are soon forgotten. If you are a fan of the old Moog synths, or any boutique analogue synths for that matter, you will be more than at home with the Sub Phatty.
More info/Buy
Specifications:
| | |
| --- | --- |
|  Power | 100/240V AC |
|  Oscillators | |
|  Filter | Moog Ladder 20Hz-20kHz |
|  Modulation | 2 x LFOs and 1 sub oscillator |
|  Effects | Multidrive section |
|  Features | 4 banks of 4 preset patches |
|  Connections | 2 x TS output (audio out, headphone out), 1 x TS input, DIN I/O, USB (MIDI), Filter CV in, Pitch CV in, Volume CV in, KB Gate in |
|  Dimensions (cms) | 25x63x44 |
|  Weight (kgs) | 9.4 |
For the ultimate in analogue synthesis that walks the walk as well as it talks the talk, look no further than the Leipzig SK from boutique synth manufacturer Analogue Solutions. The SK is almost identical to the Leipzig S modular synth, only the SK features a built-in keyboard with a three octave range. Sturdy knobs and switches are set into the black metal chassis that features wooden sides, giving it a deeply old school look that accentuates the bespoke nature of this instrument. The single LCD is the only digital feature here and is used to navigate various MIDI and keyboard utility options, primarily because there is no memory for saving your sounds despite the modicum of digital technology available. The dual VCOs are capable of syncing and there are glide controls for both, including sub VCOs. The SK has a built-in step sequencer with clocking options that include external sources, and as there is no digital control in the creation of the sounds, there is plenty of authentic slop that is part and parcel of much older analogue equipment but less easily found in their modern counterparts.
Leipzig SK creator Tom Carpenter points out the wide range of sonic possibilities open to this synth, and in particular there is an emphasis on creating unique electronic drum and percussion sounds. The Moog-style ladder filter lends itself to deep bass sounds and snappy percussive elements as well as warm leads, and with MIDI input and CV options, the SK is a practical solution for the modern studio. True analogue synths from the '70s and '80s are famously difficult to keep in tune as there is no digital control to keep them from drifting while their circuits warm up; though in this day and age we have digital control to help deal with this problem, Analogue Solutions have embraced this unreliability as part of the character of a synth and so have endeavoured to stay true to a more pure analogue design, developing a truly old school synth which has been designed for integration in a modern world.
More info/Buy
Specifications:
| | |
| --- | --- |
|  Power | 12V AC |
|  Oscillators | 2 x VCOs with glide and sub oscillators |
|  Filter | Transistor Ladder Filter (low pass) |
|  Modulation | LFO, 8 step sequencer also features modulation routing |
|  Effects | N/A |
|  Features | 37 note velocity sensitive keyboard. LCD with digital control of MIDI and keyboard utilities. Eight step sequencer w/ external clocking options |
|  Connections | MIDI I/O Thru, CV I/O, CV2 I/O, CV/Gate I/O |
|  Dimensions (cms) | 10x23x49 |
|  Weight (kgs) | 3 |