10 Best: Mono Synths 2022
We collect ten of the best contemporary monophonic synthesisers currently on the market.
The past few years have seen a surge in affordable analogue synthesisers hit the marketplace, often coming in at very affordable prices. The most populated category is the monophonic synthsiser – meaning a synthesiser only capable of playing one note at a time, as opposed to polyphonic synthesisers, which can play several at once and can also play chords and pad sounds. Despite their limitations, monophonic synthesisers are some of the most popular synths for producers, due to their ability to create thick bass sounds, grizzled acid lines and even kick drums and percussive textures.
In this list, we have collected what we would consider to be ten of the best monophonic synths currently available, with diminutive modules and keyboard-equipped varieties all featured.
Contents
What to look for
Why choose a mono synth?
Monophonic synths can only play one note at a time, which might sound like a bit of an issue for those who've never tried one. As we've also explained in our guide to the best analogue synths, a lot of acoustic instruments are usually only played one note at a time, while lots of elements of music – such as basslines – typically sound best when played monophonically. Some of the most iconic synths of all time are proudly monophonic, from the Minimoog to the Roland TB-303.
In practice, mono synths have a lot of advantages, from simplicity of use to efficiency of design. Manufacturers of mono synths can focus their attention on just one voice circuit, meaning that the end result is often a more refined and coherent instrument than a poly synth which tries to tick as many boxes as possible.
That's not to mention the simple fact that so much classic music has been made with mono synths, particularly in the case of house, techno and related electronic genres. Put it this way: the first modern synths were all monophonic designs, released in the 1960s. Six decades on, mono synths are still around, having survived and remained popular despite the arrival of multi-voice polyphony. They must be doing something right.
Mono synth variety
Despite sharing a similar number of voices, there's far more variety on our list than you might expect. We've got digital synths and analogue synths, vintage-inspired models and cutting-edge innovation. There are keyboards and desktop modules here, full-on semi-modular designs and grooveboxes with built-in sequencers. That's before we even come to the different price points, ranging all the way from Korg's bargain Monotron up to mighty instruments from the likes of Moog and Analogue Solutions. There's something here for everyone.
The best mono synths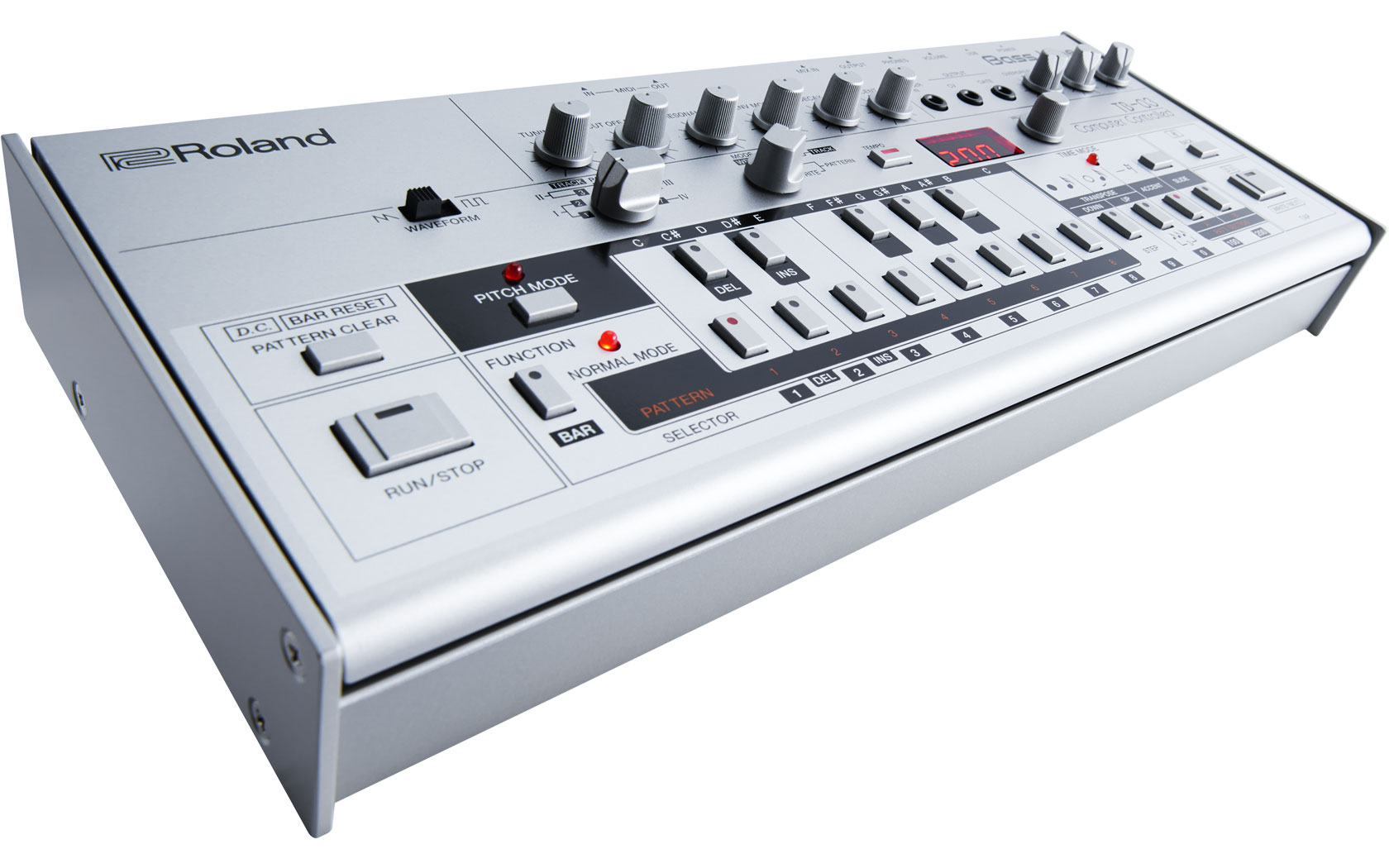 If you'll forgive us the overlap with our list of the best mini synths, no mono synth round-up would be complete without giving a mention to the legendary 303. Originally a fully analogue synth released by Roland in the early 1980s, the TB-303 defined the sound of acid house before eventually being rebooted as a digital emulation as part of Roland's Boutique range.
You know what you're getting with the TB-03: it's a very limited little box, but that squelchy bass sound is truly iconic, with the digital emulation pretty much nailing the character of the legendary resonant filter. The monophonic character of the synth really isn't a negative at all; you wouldn't want to play chords with the phat 303 sound, and the slide between notes is a key to the classic sound. The bottom line is that once you start playing with the built-in sequencer, crafting and shaping acid lines of your own, you'll soon discover what made the 303 a classic, all with the benefit of modern updates like MIDI and a built-in audio interface.
More info/Buy
| Pros | Cons |
| --- | --- |
| The classic acid box updated with plenty of modern features | Purists will argue that nothing else sounds exactly like the real thing |
| MIDI and built-in audio interface make the TB-03 play nicely with other hardware and DAWs | |
| Tech specs | |
| --- | --- |
| Synthesis type | Digital (Roland ACB virtual analogue) |
| Features | Step sequencer; overdrive and delay effects |
| Dimensions | 308 x 130 x 52 mm |
| Weight | 940 g |
Synths don't have to be big and expensive to justify a place in your studio setup. For proof, look no further than the Korg Monotron Delay, a tiny little toy synth that remains a bestseller and a hugely popular creative tool. When it was released in 2010, the original Monotron was Korg's first fully analogue synth for nearly three decades, based on a recreation of circuits from the Korg MS20 which were later used in the brand's reboot of that model (featured below). The updated Monotron Delay expanded on the idea with some extra effects, still in an ultra-portable handheld format. What you get is an oscillator, a filter, a low-frequency oscillator to modulate the sound, and a basic delay circuit to add echo effects. There's a built-in speaker or a headphone output, it's all powered by a pair of AAA batteries, and you can even plug in an aux cable to process other sounds through the unit.
The sound is basic but huge fun, with an authentic analogue tone and bags of character. You can use the ribbon keyboard to play basslines and melodies, or get experimental and start tweaking the knobs to enter dub siren territory. There aren't many synths that offer greater bang for your buck, with the Monotron putting a smile on the face of anyone who plays with it, regardless of musical experience.
More info/Buy
| Pros | Cons |
| --- | --- |
| A tiny but truly usable analogue synth | Extremely basic |
| Great for FX, bleepy weirdness and simple melodies | |
| Tech specs | |
| --- | --- |
| Synthesis type | Analogue |
| Features | Korg MS20 filter; delay effect |
| Dimensions | 120mm x 72mm x 28 mm |
| Weight | 181 g |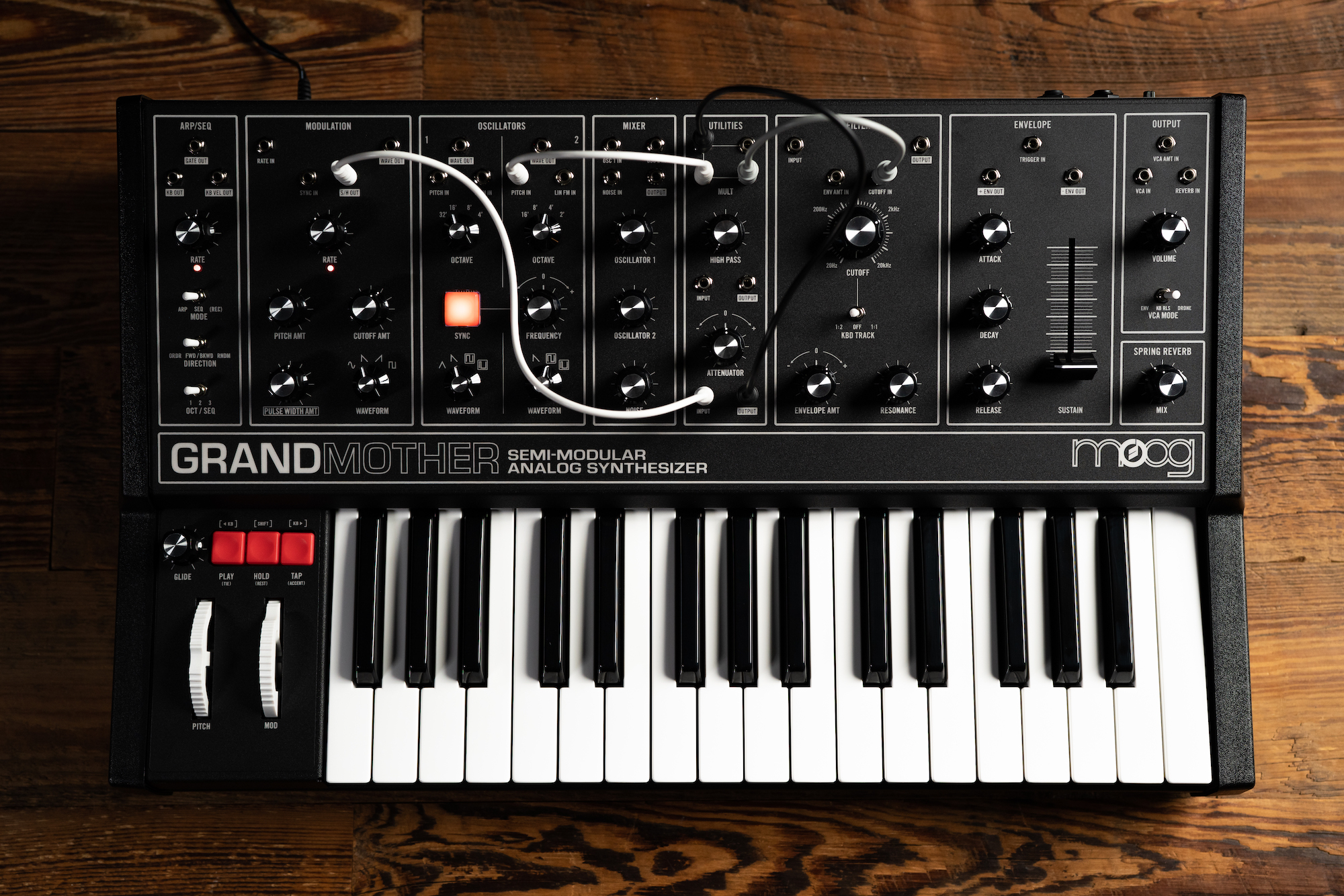 The father of popular analogue synthesis is undoubtedly Bob Moog, inventor of the groundbreaking and genre-defining Minimoog Model D monophonic synth, released in the early 1970s. Moog helped to define what we knew as the classic analogue synth of the 1970s, and the original formula was strictly monophonic, capable of producing only a single note at a time.To this day, most of the brand's synths are monophonic, from the humble Werkstatt 01 DIY synth and onwards up the range.
The sweet spot for us is the Grandmother, shown here in its optional Dark Series finish, which nods to the history of Moog's synths with a classy black and silver colour scheme. The Grandmother draws from Moog's history in multiple ways, from iconic Moog ladder filter for fat, juicy tone, through to the semi-modular patching capabilities, which hint at Moog's roots in modular synthesis. It's not cheap – Moog synths don't tend to be – but it's a thoroughly capable synth, with just the right blend of vintage and modern features, including a sequencer, arpeggiator, MIDI and a built-in spring reverb. It's a glorious instrument, guaranteed to put a smile on the face of anyone lucky enough to get their hands on it.
More info/Buy
| Pros | Cons |
| --- | --- |
| A truly inspiring instrument from an iconic brand | As with all Moog instruments, quality doesn't come cheap |
| Semi-modular features expand the synth's sonic potential | |
| Tech specs | |
| --- | --- |
| Synthesis type | Analogue |
| Features | Semi-modular; spring reverb |
| Dimensions | 584 x 362 x 140 mm |
| Weight | 8.2 kg |
Our next pick is a fitting contrast to the TB-03. There are no prizes for guessing what inspired Erica Synths to create the Baseline DB-01, but this fully analogue, 303-inspired acid groovebox couldn't be much further from the TB-03 if it tried. It's got fairly extensive sound-sculpting options by comparison to the TB-03, with nice features like a noise source, sub-oscillator, LFO and frequency modulation. To push things to the next level, you'll also find built-in overdrive and a detune effect for even thicker sound. All of which makes the DB-01 a surprisingly versatile little box, capable of much more than just classic acid sounds. Think drones, kick drums, percussion, rave stabs and more.
The other key factor here is the powerful sequencer, an essential part of any groovebox and one which works particularly well with monophonic synths. Erica's offering includes plenty of performance-focused features like pattern storage, sequence transposition, randomisation and a neat arpeggiator, which combines nicely with the MIDI and CV options to turn the DB-01 into a capable synth which can play well with others. All in all, a modern take on a classic formula.
More info/Buy
| Pros | Cons |
| --- | --- |
| An acid groovebox with a twist, capable of much more than just TB-303 impressions | Some people prefer a more traditional 303 clone |
| Excellent built-in sequencer | |
| Tech specs | |
| --- | --- |
| Synthesis type | Analogue |
| Features | Sequencer; overdrive |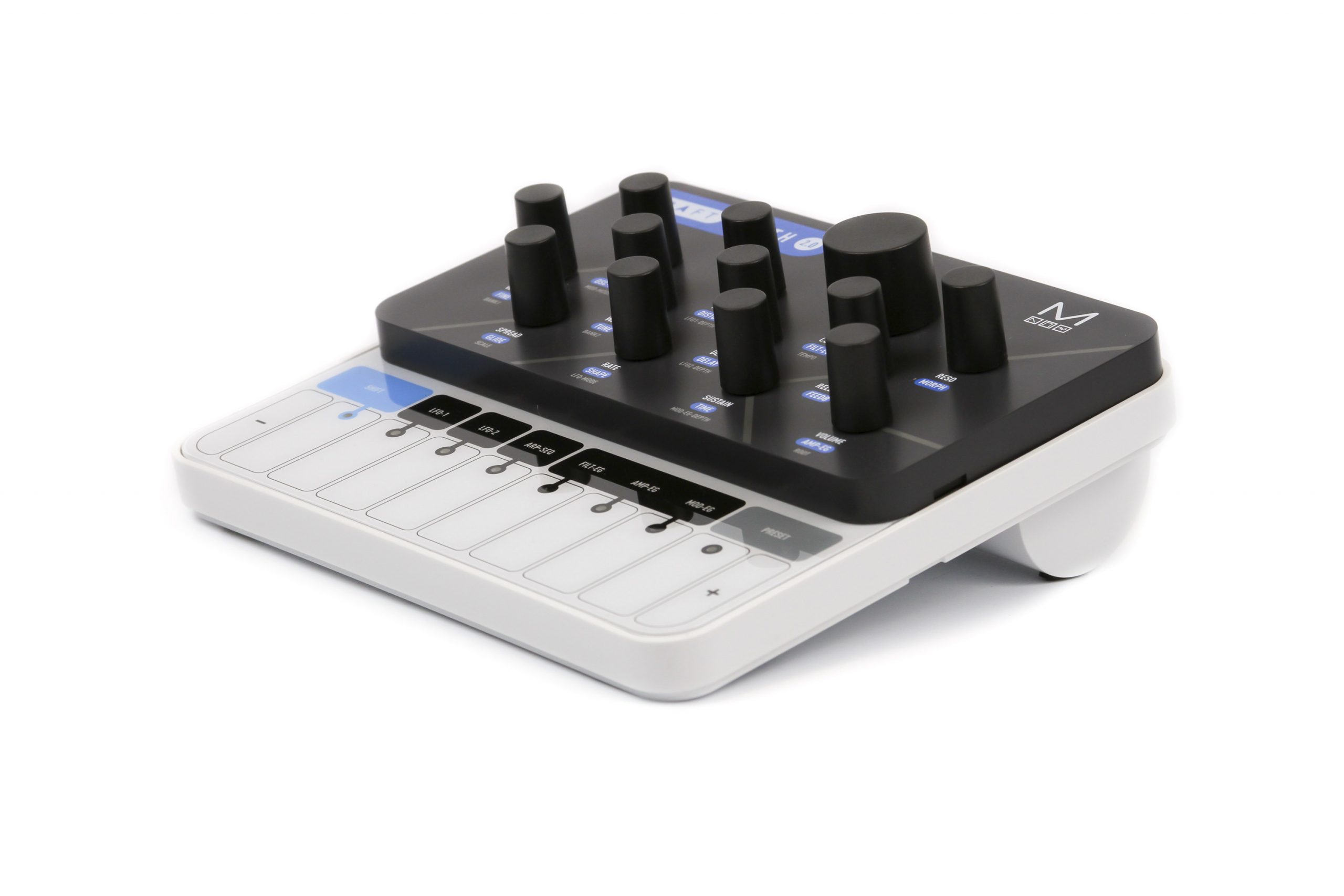 Most of the synths on are list are strictly analogue simply because the old-school synthesis approach lends itself particularly well to monophonic sounds, but that doesn't have to be the case. Modal Electronics are just as good at analogue synths as anyone else, but they chose to go digital with their monophonic CraftSynth, a monophonic wavetable synth with eight digital oscillators.
The CraftSynth is a tiny unit with a very basic 8-key touch keyboard, but it's surprisingly potent. The digital oscillator section combines nicely with a morphable resonant filter, giving you plenty of sound design options. The real bonus at this affordable price point is that Modal have crammed in lots of features you'd expect on more expensive synths: a modulation matrix to get creative with sounds, sequencer/arpeggiator for performance, delay and distortion effects, plus MIDI and analogue connectivity, allowing you to hook up to other synths, keyboards, computers, mobile devices and even Korg Volcas and Teenage Engineering Pocket Operators. One of the smallest synths on our list, but maybe the best value for money.
More info/Buy
| Pros | Cons |
| --- | --- |
| An interesting monophonic option, based on wavetable synthesis | Keyboard is very basic |
| Impressive depth thanks to sequencer/arpeggiator, effects and modulation matrix | |
| Tech specs | |
| --- | --- |
| Synthesis type | Digital (wavetable) |
| Features | Sequencer/arpeggiator; delay and distortion effects |
| Dimensions | 150 x 135 x 68 mm |
| Weight | 470 g |
Loved by analogue synth fans since it hit the shops in the late 1970s, the original MS20 has been rebooted to allow it to flourish in modern times. In short, the MS20 Mini is as faithful a replica of the original synth that is likely to ever come into being, with the single proviso that the new unit is 14% smaller than the original, including the keys (limited edition 'Full Scale' versions are occasionally released, commanding a higher price). Two VCOs feed into both a low-pass filter and a high-pass filter, with the uniquely aggressive tone of the low-pass filter defining the searing tone of the synth.
Korg have decided to use 3.5mm mini jack as their audio connection standard, and as the synth is 14% smaller than the original, this is a sensible solution. Korg even provide 10 cables so you can explore the myriad of patch possibilities available. Communication options on the new version have been boosted also, as there is now MIDI in as well as USB I/O in addition to the original CV/Gate options. Full and fat bass tones, cutting leads, dirty percussive gongs and long evolving string lines are all possible here, all of which can be given a suitably gritty edge. The new MS20 Mini from Korg will appeal to newcomers as well as old hands, and with the creative patch options available there is little that can't be achieved here.
More info/Buy
| Pros | Cons |
| --- | --- |
| A legendary synth, reissued in slightly smaller form | The MS20's patch bay takes some work to get the most out of |
| Incredible tough sound, ideal for basslines and cutting leads | |
| Tech specs | |
| --- | --- |
| Synthesis type | Analogue |
| Features | Semi-modular |
| Dimensions | 493 x 208 x 257 mm |
| Weight | 4.8 kg |
To bring things right up to date, Korg's latest monophonic synth comes in the form of the Monologue, an analogue powerhouse designed from scratch to offer a truly versatile instrument at an affordable price. The Monologue looks similar to the polyphonic Minilogue, but it's quite different: its two oscillators and voltage-controlled filter are voiced for a more aggressive sound, making it capable of everything from fat, bold lead sounds to acid bass. The inclusion of a 16-step sequencer with motion sequencing helps with the latter, allowing you to create patterns and perform with the synth in real time.
Available in a range of five colours, the Monologue looks as good as it sounds. As you'd expect from Korg, it's also fully up to date in terms of modern features that make it easy to use: MIDI connectivity to hook up to your computer or other equipment, preset storage to save your sounds, and microtuning options for those who want to get really adventurous. It can run off batteries and also includes a headphone output for making music on the go. As an all-rounder, it's an ideal entry point into the joys of monophonic synths.
More info/Buy
| Pros | Cons |
| --- | --- |
| An excellent all-rounder at a very appealing price | The similar but polyphonic Minilogue might be a tempting upgrade |
| Powerful 16-step sequencer with motion sequencing features | |
| Tech specs | |
| --- | --- |
| Synthesis type | Analogue |
| Features | Step sequencer; microtuning |
| Dimensions | 350 x 276 x 76 mm |
| Weight | 1.7 kg |
The Mono Lancet '15 is arguably the most impressive module in our list, with its keyboardless black metal box sporting a battery of high grade knobs and switches. The two VCOs both have the option of square and saw waves, with VCO 1 also featuring a triangle with octave ranges switchable between 32′, 16′ and 4′. VCO 2 has a white noise generator with octaves ranging between 16′, 8′ and 4′ with the added possibility of further tuning continuously by +/- 7 semi tones. A surprisingly wide range of sounds can be achieved, including squelchy, full bottomed synth bass, the kind of classic square basses found on old house records as well as long and winding lead tones, snappy percussive bleeps and sound effects.
To achieve this wide variety of sounds, the Mono Lancet has a single resonant 24dB/oct low-pass filter that stretches over two and a half octaves. The single envelope can be accessed by the VCA and the VCF and for added colour there is the possibility of modulating your sound via the LFO that features square, triangle and sample and hold shapes with a speed control knob. If this isn't enough, it's possible to extend the possibilities of the Mono Lancet by connecting a 25-pin modular dock that broadens the CV, PWM and filter inputs and outputs. Easily slotting into any modular set up or connecting to your studio via MIDI, the Mono Lancet '15 is a flexible and powerful synth that is also small enough to take with you if you need to travel.
More info/Buy
| Pros | Cons |
| --- | --- |
| A compact but powerful module, featuring classic analogue circuitry | Only available as a module, no keyboard version |
| Expandable with optional modular dock | |
| Tech specs | |
| --- | --- |
| Synthesis type | Analogue |
| Features | Optional modular dock expansion |
| Dimensions | 210 x 55 x 145 mm |
| Weight | 750 g |
Having previously made a name for themselves in the creation of ultra realistic digital versions of classic analogue synths in plugin form, Arturia took a bold leap into the world of hardware synthesis with the original MiniBrute, setting a new high standard for affordable analogue synths. The updated model follows a broadly similar formula: a single VCO features wave mixing between all the classic analogue shapes, including white noise, a sub that can be switched between sine and square waves, an octave or two octaves below the VCO, and an external sound source. In addition to being able to simultaneously mix all of the wave forms using the sturdy fader controls, each wave has an added shaping control. For example, the saw has an ultra saw knob that acts as a kind of ensemble control and the triangle has the "metalizer" that adds overtones to the original shape. The multi-mode filter was created with the help of Nyle Steiner of Steiner-Parker fame and includes low-pass, high-pass, notch and band-pass filters.
The big change for version 2 is the extensive patch bay, which turns the MiniBrute into a semi-modular beast. With a versatility and sound likened to the classic Roland SH-101 synth, the MiniBrute also features feedback loop-type effects known as the Brute Factor, which will add a serious amount of granular dirt to your patches. If you are in need of some real analogue sounds, but you don't have deep enough pockets for some of the more boutique synths on the market then you will be pleasantly surprised by the MiniBrute 2.
More info/Buy
| Pros | Cons |
| --- | --- |
| An updated version of one of the synths which kicked off the affordable analogue trend | Build quality feels a little less impressive than more expensive keyboards |
| Patch bay gives impressive semi-modular capabilities | |
| Tech specs | |
| --- | --- |
| Synthesis type | Analogue |
| Features | Semi-modular; sequencer/arpeggiator |
| Dimensions | 484 x 336 x 58 mm |
| Weight | 4.8 kg |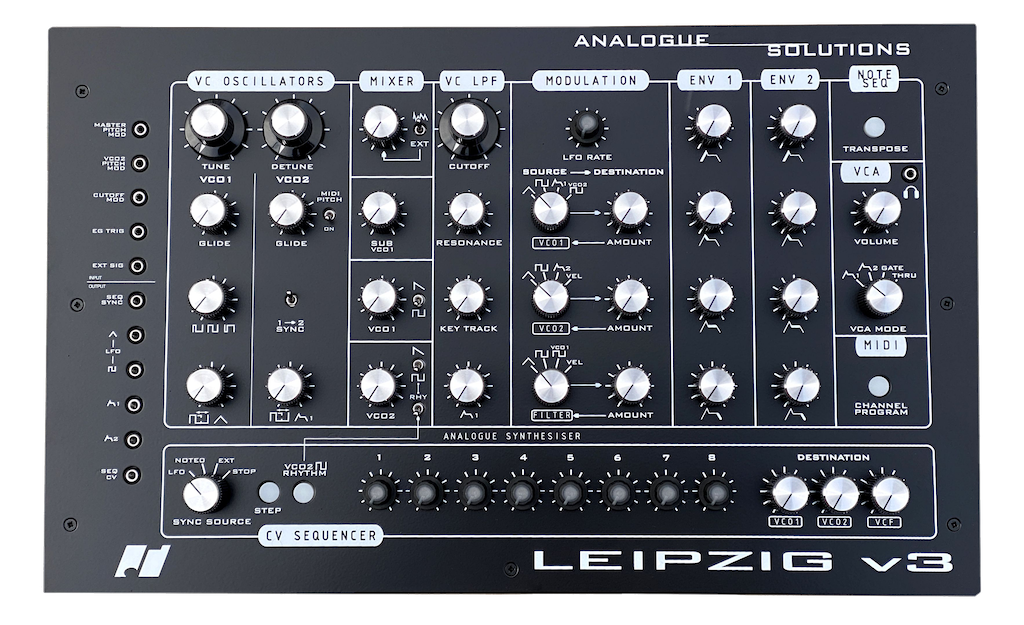 For the ultimate in analogue synthesis that walks the walk as well as it talks the talk, look no further than the Leipzig V3 from boutique synth manufacturer Analogue Solutions. Loosely inspired by Moog synths of the 70s, the V3 updates those classic circuits to deliver a synth that can do retro phatness as well as more modern, precise synthesis. The dual VCOs are capable of syncing and there are glide controls for both, including sub VCOs. The V3 has a built-in 16-step sequencer with clocking options that include external sources, and as there is no digital control in the creation of the sounds, there is plenty of authentic slop and organic character that is part and parcel of much older analogue equipment but less easily found in their modern counterparts.
Leipzig creator Tom Carpenter points out the wide range of sonic possibilities open to this synth, and in particular there is an emphasis on creating unique electronic drum and percussion sounds. The Moog-style ladder filter lends itself to deep bass sounds and snappy percussive elements as well as warm leads, and with MIDI input and CV options, the V3 is a practical solution for the modern studio. True analogue synths from the 70s and 80s are famously difficult to keep in tune as there is no digital control to keep them from drifting while their circuits warm up; though in this day and age we have digital control to help deal with this problem, Analogue Solutions have embraced this unreliability as part of the character of a synth and so have endeavoured to stay true to a more pure analogue design, developing a truly old-school synth which has been designed for integration in a modern world.
More info/Buy
| Pros | Cons |
| --- | --- |
| A pure analogue powerhouse loosely inspired by classic Moog synths | Too hardcore for some |
| Incredibly organic, lush sound | |
| Tech specs | |
| --- | --- |
| Synthesis type | Analogue |
| Features | Step sequencer; patchable |
| Dimensions | 432 x 262 x 63 mm |
| Weight | 3 kg |
In summary
We're in seriously eclectic territory with this round-up of instruments. Synths like the Analogue Solutions Leipzig V3 and Korg Monotron Delay share little more than a commitment to monophonic sound.
With that said, there's a common theme that runs through every instrument on our list, from pocket-sized wonders through to the mighty Moog Grandmother: they all sound fantastic. That means we've got something for everyone here, whether you're looking for an affordable and basic synth or something much more professional.
You may also be interested in…