10 Best: MIDI Keyboards 2022
We list ten of the best MIDI keyboards on the market, from compact, affordable controllers through to high-end options for professional studios.
While recent years have seen hardware synths make a major comeback, there are still plenty of producers out there quite happily working with soft synths and effects plugins. Though it's quite possible make an entire track using just a mouse, there's no substitute for a good MIDI keyboard controller, whether used just to write a melody or bassline or get deep into shaping the sounds themselves.
MIDI keyboards used to be pretty basic, but the past decade has seen manufacturers offering models with assignable knobs and faders for controlling parameters, LCD screens for displaying values and even velocity-sensitive pads for creating beats. As the title suggests, here we pick ten of the best models currently available, covering everything from compact travel-friendly models through the best options for iPad to high-end models that could easily offer an all-in-one solution for all your production needs.
Contents
What to look for
Size matters
In many of our other 10 Best features – most notably the best mini synths and the best studio monitors – we've made the point that bigger isn't always better. Size does matter when it comes to MIDI keyboards, but not necessarily in the way you might think. There are compelling arguments for big keyboards being better, with full-size keys and multiple octaves, but there are also situations where smaller mini keyboards can be best.
Your personal choice will depend on a number of factors: are you looking for a main studio keyboard, something for live performance, or something portable to throw in a backpack and carry around with you? There's no wrong answer here, of course, but your personal needs will define which direction you go.
Added features
The most simple MIDI keyboards are just that: keyboards, and nothing more. But in recent years it's increasingly hard to find MIDI controllers which don't offer a few other added features, whether it's touch-sensitive pads for triggering samples and playing beats, faders and knobs for adjusting software parameters, or transport controls to streamline your production process.
Things change quickly in music tech, but not much much has changed for years in terms of the best features for MIDI controllers. Almost all MIDI keyboards are velocity-sensitive, meaning in simple terms that you can play notes softer or harder depending on how hard you push the keys. Many also feature aftertouch, which allows you to modulate a sound while holding down notes.
The added performance options may not be necessary for everyone, but we'd suggest that velocity-sensitivity is well worth looking out for and features like automatic mapping or integration with your chosen DAW are a real bonus.
The best MIDI keyboards
Sometimes space is at such a premium, you don't have room to carry a keyboard with anything except the keyboard itself. Enter the Korg MicroKey 2 Air, a keyboard that offers a unique take on portability and compactness. The standard MicroKey controllers use a USB connection, but the Air versions offer the option to connect using Apple's Wireless Bluetooth LE (Low Energy) standard, which provides solid battery life and surprisingly low latency (that annoying delay between pressing a key and hearing the note you're playing, a problem which haunts lower-quality keyboards).
Korg's Natural Touch mini keyboard might be smaller than a full-size controller, but it offers good feel and control. There's also a mini joystick for pitch bend and modulation control, plus a built-in arpeggiator. With a decent bundle of software included, the MicroKey 2 Air 25 is an affordable and convenient way to get started making music, or one of the most portable mini keyboards on the market.
More info/Buy
| Pros | Cons |
| --- | --- |
| Wireless Bluetooth LE connection for convenience | Just keys, no pads or knobs |
| One of the most portable options available | |
| Tech specs | |
| --- | --- |
| Keys | 25 |
| Features | Wireless Bluetooth |
| Dimensions | 395 x 52 x 131 mm |
| Weight | 670 g |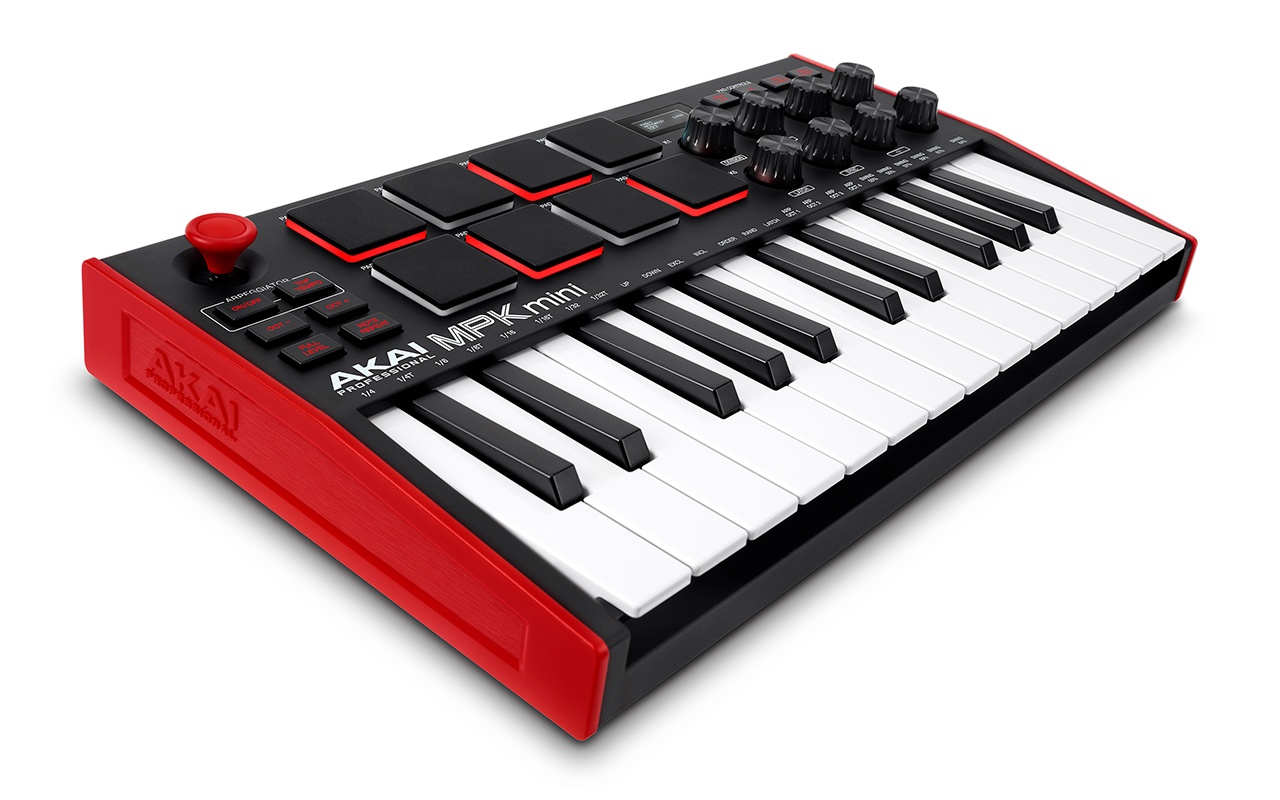 Akai have a long and proud history of keyboards and controllers, stretching all the way back to the 1980s. The MPK Mini mk3 represents the distillation of the brand's knowledge into a compact format, designed to be the ideal all-rounder when it comes to size, features and price. Whether you've only got limited studio space and can't fit anything bigger, or you want something to take out and make music on the go, the MPK Mini fits the bill.
Considering its diminutive size, the MPK Mini mk3 has an impressive array of controls. As well as a compact 25-note velocity-sensitive keyboard, it features eight assignable rotary knobs and eight assignable, backlit, velocity-sensitive pads for playing beats and triggering samples. There's an assignable X-Y controller thumbtack for modulation, plus an input for a sustain pedal if you want to get really fancy. Taking power from USB, the MPK Mini mk3 is easy to set up and easy to use, with a bright OLED display giving visual feedback. It's also available in a range of colours, meaning you can express yourself in more ways than one.
More info/Buy
| Pros | Cons |
| --- | --- |
| A little bit of everything: keys, pads and knobs | If we're being fussy, we'd swap a few knobs for some faders |
| The usual Akai reliability and build quality | |
| Tech specs | |
| --- | --- |
| Keys | 25 |
| Features | 8 pads; 8 rotaries |
| Dimensions | 318 x 181 x 44 mm |
| Weight | 0.75 kg |
While Android devices, iPads and iPhones may not have quite taken over from laptops and computers on the stage and in the studio, there's no denying the quality of the synths available on the App Store is getting ever more impressive. Arturia, Korg and many other big names are making mobile soft synths serious rivals to their computer-based counterparts, but it's left a real need for compatible keyboards. There are more than a few options on the market, but IK Multimedia's iRig Keys 2 Mini is our choice for its combination of connectivity, portability and quality.
Featuring 25 velocity-sensitive mini keys, a volume knob and octave controls, the iRig is a fairly stripped-back keyboard, but with synth apps having touch controls built in, there shouldn't be much need for additional controls. The Keys 2 Mini has improved compatibility for the latest mobile devices, connecting via USB and featuring MIDI in and out plus a new headphone output to allow it to work as an audio interface.
More info/Buy
| Pros | Cons |
| --- | --- |
| Designed to play nicely with mobile music apps | A keyboard with drum pads and faders might be more versatile |
| Built-in audio interface and headphone output | |
| Tech specs | |
| --- | --- |
| Keys | 25 |
| Features | 4 rotaries; audio interface |
| Dimensions | 605 x 24 x 77 mm |
| Weight | 0.6 kg |
M-Audio arguably laid the groundwork for the modern MIDI keyboard controller with the introduction of the Oxygen 8 back in 2002. While not the first company to introduce a portable 25-key MIDI keyboard, its success helped the company establish a strong foothold in the portable controller keyboard marketplace, and the number of 25-key options currently available owes a lot to the the Oxygen 8.
The Oxygen keyboard is now on its fifth iteration, but the introduction of the Oxygen Pro range takes things to the next level. The same basic formula is there from the first model: 25 keys, eight knobs along with pitch and modulation wheels. The Pro version goes a few steps further with 16 velocity-sensitive pads for beatmaking or sample triggering, Note Repeat and an arpeggiator, Smart Chord and Smart Scale, plus M-Audio's trademark seamless auto-mapping. The Oxygen might not be the flashiest keyboard on this list, but its enduring legacy makes it easy to recommend to anyone wanting a solid controller at a good price.
More info/Buy
| Pros | Cons |
| --- | --- |
| The latest incarnation of a classic controller series | Chunky looks aren't for everyone |
| Impressive features including Note Repeat, arpeggiator, Smart Chord and Smart Scale | |
| Tech specs | |
| --- | --- |
| Keys | 25 |
| Features | 16 pads; 8 rotaries |
| Dimensions | 264 x 490 x 83 mm |
| Weight | 2.5 kg |

While there are plenty of affordable options here, there's nothing else on this list that offers quite the value for money of Nektar's Impact keyboards. For not much more than £100 you can get a 49-key controller with sliders, knobs, transport and navigation buttons, pitch and modulation wheels and eight velocity-sensitive pads.
The software integration will automatically set up the keyboard with most major DAWs, and the low-profile black design and rubberised fader caps make it look the part too. The Impact is definitely one to put in the workhorse category, but for those who want the maximum amount of control for their money, there's not much else to rival it.
More info/Buy
| Pros | Cons |
| --- | --- |
| A 49-key controller with sliders, knobs and more for just a little over £100 | Keybed feel is basic when compared to more expensive controllers |
| Outstanding value for money | |
| Tech specs | |
| --- | --- |
| Keys | 49 |
| Features | 8 pads; 8 faders; 8 rotaries |
| Dimensions | 803 x 76 x 267 mm |
| Weight | 3.2 kg |
Stepping up in Nektar's range, the Impact GXP is the successor to the popular GX series. Available in three sizes, it's a slightly more premium option, featuring semi-weighted keys and aftertouch, expression pedal and foot switch inputs, plus built-in performance options including note repeat. As you'd expect from Nektar, you still get excellent DAW control and 14 assignable buttons which can be used with Nektar's Nektarine software to control virtual instruments and set up keyboard splits.
Size is always a matter of personal taste when it comes to keyboards, but the extensive performance options of the GXP series lend themselves particularly well to the larger sizes. If you've got the space, the flagship 88-key model shown above is definitely the way to go, but we suspect the 61-key model is the sweet spot for most studios: big enough to give you freedom to play up and down the octaves, but not so huge it requires a massive space.
More info/Buy
| Pros | Cons |
| --- | --- |
| A highly playable semi-weighted keyboard at a good price point | You'll need a lot of studio space for the 88-key version |
| Excellent performance for serious players | |
| Tech specs | |
| --- | --- |
| Keys | 61/88 |
| Features | Transport controls; Nektar DAW integration |
| Dimensions | 1345 x 230 x 80 mm (GXP61) |
| Weight | 8.2 kg (GXP61) |
Having begun life as a software company specialising in emulations of vintage synths, Arturia know a thing or two about MIDI control. The brand's controller range covers most bases, from mini keys through to fancy full-sized piano-style keyboards. But just as with their innovative pad controllers, the BeatStep and BeatStep Pro, Arturia offer a small range of keyboards which combine sequencing features. The flagship KeyStep Pro is the pick of the bunch if you're looking for ultimate control of MIDI instruments and analogue CV/gate hardware.
Combining four independent sequencer tracks with its extensive real-time control options, the KeyStep Pro allows you to create up to 16 patterns per track, then chain patterns into full song arrangements. You can control software over MIDI too, of course, making the KeyStep Pro a comprehensive all-in-one sequencing powerhouse. It's no exaggeration to say that it can be the main sequencing option in a large live setup or a key part of your studio environment. Arturia love to think outside the box, and the KeyStep Pro represents an exciting new approach for controller keyboards
More info/Buy
| Pros | Cons |
| --- | --- |
| Clever combination of sequencer and controller features | CV/gate features are only relevant if you have suitable analogue hardware |
| Suitable as the centrepiece of a hardware studio setup | |
| Tech specs | |
| --- | --- |
| Keys | 37 |
| Features | Sequencer; CV, gate and drum trigger outputs |
| Dimensions | 589 x 208 x 38 mm |
| Weight | 2.7 kg |
The KeyStep Pro might have moved the game on, but don't sleep on the original KeyStep. It's more basic, yes, but we were blown away by its creative approach to synth control back when it was released in 2016. A Slimkey keyboard with arpeggiator is combined with a polyphonic step sequencer, giving a unique new perspective on controlling synths and instruments. The KeyStep wasn't the first controller to combine real-time hands-on playing with sequencing options, but it simplified the process in a way that few others have matched.
The KeyStep works with pretty much any hardware or software synth you want thanks to its combination of MIDI and CV/gate connectivity, unlocking creative new approaches to your existing instruments. At under £100, it's still a total bargain.
More info/Buy
| Pros | Cons |
| --- | --- |
| A genre-defining combination of keyboard and step sequencer | The KeyStep Pro can do much more |
| Outstanding value | |
| Tech specs | |
| --- | --- |
| Keys | 32 |
| Features | Sequencer; CV and gate outputs |
| Dimensions | 483 x 152 x 38 mm |
| Weight | 1.4 kg |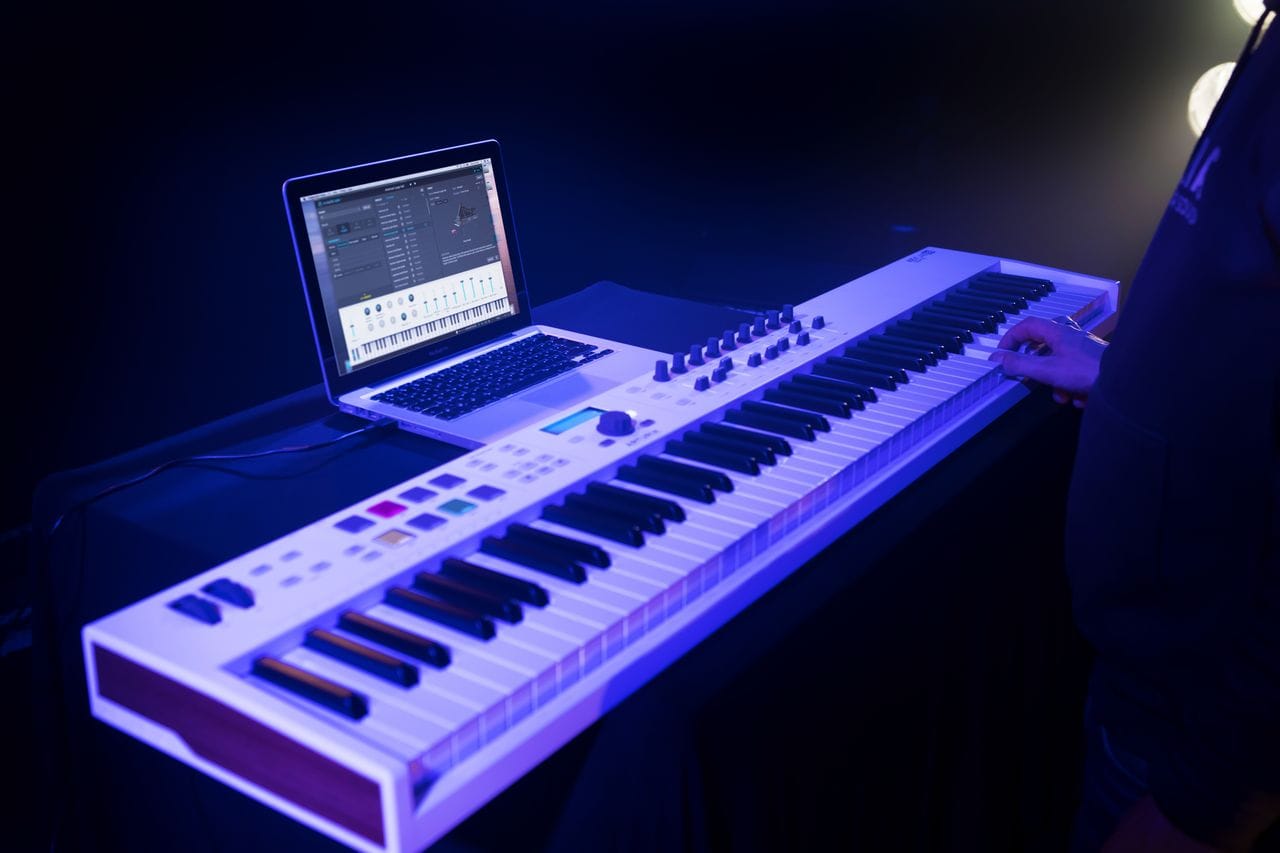 The other side of the coin in terms of Arturia's keyboard output comes in the form of straightforward controllers which follow the conventional approach: high-quality keybeds with a smattering of pads, rotaries and faders to take control of all your software. The range extends all the way up to the flagship KeyLab 88 MkII with its authentic piano-style action, but there's a relative bargain to be had with the slightly more humble KeyLab Essential 88.
When you start to look at full-size 88-key controllers with piano-style feel, things quickly get pricy, but that authentic piano feel is only really necessary if you're a fairly accomplished pianist. For those of us with slightly more humble talents, or those who simply enjoy playing with the more artificial feel found on most synth keyboards, the hybrid synth-piano feel of the Essential 88 strikes a nice balance. It's a brilliantly expressive keybed that gives you plenty of control and expression. For under £300, the Keylab Essential 88 feels like a bit of a bargain.
More info/Buy
| Pros | Cons |
| --- | --- |
| Hybrid synth-piano keybed gives excellent feel and control | The most serious keyboard players will be tempted by the brand's flagship KeyLab 88 MkII |
| Good value compared to full piano-style keyboards | |
| Tech specs | |
| --- | --- |
| Keys | 88 |
| Features | 8 pads; 9 rotaries; 9 faders |
| Dimensions | 1230 x 350 x 110 mm |
| Weight | 13 kg |

Native Instruments' Komplete package has become the go-to solution for producers who want a comprehensive collection of soft synths and effects in one big bundle. The brand's Komplete Kontrol MIDI keyboards represent the ultimate in control over the brand's own software and, thanks to the openly available NKS protocol, control of plugins and effects from other developers.
The keyboard itself is also an impressive piece of equipment. It's as beautifully designed as you'd expect from a piece of Native Instruments gear, together with automatic parameter mapping for Komplete, touch strips and an innovative 'light guide' – an LED feature helping novices to find the right keys in whichever scale is selected. Unlike some MIDI keyboards the Kontrol doesn't load itself with features like drum pads or sample triggers – it leaves it to the integration with Maschine for all that – but this is about as high-end as MIDI controllers come. You'll need Komplete to get anything out of this, but if you're happy to be tied to the Native Instruments ecosystem it's the ultimate keyboard.
More info/Buy
| Pros | Cons |
| --- | --- |
| Beautifully crafted controller with a real quality feel | Requires Komplete and/or NKS-compatible software to get the most out of it |
| Parameter mapping and innovative 'light guide' add huge value | |
| Tech specs | |
| --- | --- |
| Keys | 61 |
| Features | Light guide; NKS integration |
| Dimensions | 1006 x 297 x 84 mm |
| Weight | 6.5 kg |
In summary
If nothing else, the variety of MIDI keyboards on the market proves that there are plenty of ways to achieve the same basic thing. All of the options on our list allow you to record notes into software or control hardware synths, but they go about it in different ways.
The bottom line is that most people in the market for a MIDI keyboard will know roughly what kind of thing they're looking for. Not many people will be weighing up a full-size piano-style keyboard against a compact, portable controller. Instead, what we've offered here are our favourite choices at a variety of budgets and catering to the vastly different needs of live musicians, studio producers and mobile music-makers.
You may also be interested in…