We pick ten of the best DJ mixers, including rotary mixers and options from Pioneer, Allen & Heath and more.
Whether you're a beginner DJ looking for a simple two-channel mixer to learn on, or an old hand searching for a specialist scratch mixer or boutique rotary, we've whittled down all the top options on the market to pick out our 10 best recommendations.
In no particular order, we present our favourites, from budget choices through industry-standard Pioneer and A&H options, all the way to hand-built rotary exotica.
Contents
What to look for
What style of mixer?
The best place to start when choosing a DJ mixer is probably to define which style of mixer you'd like. DJ mixers fall into a number of different categories, many of which overlap with each other. Broadly speaking, you've got analogue and digital mixers – the former being more of the audio purist's choice, the latter usually offering more in the way of effects and creative options. You've got conventional mixers with straight faders, or old-school rotary mixers. Then there are the more esoteric choices, like mixers designed for scratch DJs or DVS users.
If you're purchasing a mixer for your own personal use, you're free to choose whatever suits your own DJ style best. If, on the other hand, you're putting together a setup that's likely to be used by a lot of different DJs – say, a bar installation or a radio station – then it's worth considering what will suit the majority of styles. A Pioneer DJM is probably the safest bet in that kind of situation, offering a relatively safe all-round package.
Are rotary mixers better?
Define 'better'! Rotary mixers have had a lot of good press in recent years, but remain a relatively niche concern. Typically favoured by disco and old-school house DJs, rotary mixers offer a very different feel to straight faders. Rotary fans argue that the different approach to level control gives a more tactile response and encourages a more organic mixing style. In practice, it's not a case of being better or worse than other approaches, so much as suiting different tastes.
It's a misconception that rotary mixers are inherently higher quality than straight-fader mixers; the use of a rotary level control doesn't automatically make a mixer sound better, but historically rotary mixers have been favoured by audiophile DJs and so manufacturers have tended to prioritise sound quality. That's certainly still true for mixers like the ARS Model 9900, but more basic options like the Omnitronic TRM-202 allow you to enjoy the feel of rotary mixers at a more affordable price.
Channel count and other features
Just as with studio mixers, there's a temptation to think that more channels must be better, but that's not necessarily the case. The most basic DJ mixers offer just two channels, while fancier models offer six or more, plus microphone inputs and effect loops in some cases. All of those added circuits cost money, which means that costs can quickly increase for bigger models. Four-channel or six-channel mixers might be desirable for DJs who play from multiple different formats over the course of a set, but bear in mind that even basic two-channel mixers let you switch between phono and line inputs, so the smaller channel count might not necessarily be an issue.
The same kind of thing applies to other features like isolators, filters and built-in effects: each extra feature makes the mixer more complicated to build. There's a good argument that it's pointless paying for features you won't use, so you might be better off sacrificing a few of the less essential features if that means you get better sound quality.
The best DJ mixers

A new flagship mixer is always a big deal for Pioneer. When the DJM-V10 was released in 2020 it represented a major overhaul of the brand's approach, introducing performance-focused features including four-band channel EQs, single-knob compressors, a master isolator and a new approach to filters.
As a six-channel mixer with two separate monitoring sections and headphone outputs, it's a setup tailor-made for complex multi-deck mixes, back-to-back sessions and all-round versatility. For those who don't need a crossfader, there's also the long-fader DJM-V10-LF version, which swaps it for longer 60mm channel faders.
It's not cheap by any stretch of the imagination, but if you're looking for the absolute pinnacle of Pioneer's mixer output, it's the clear winner. Expect to see a lot of these in high-end DJ booths over the next few years.
More info/buy
| Pros | Cons |
| --- | --- |
| Immense flexibility and sonic versatility | May be overkill for some |
| The pinnacle of Pioneer's mixer range | |
| Tech specs | |
| --- | --- |
| Summing | Digital |
| Channels | 6 |
| Dimensions | 438 x 108 x 467 mm |
| Weight | 11.9 kg |
Tokyo-based Alpha Recording Systems specialise in premium audio products, offering everything from mixers and amps to full sound systems loosely inspired by classic vintage designs.
The Model 9900 is the most expensive option on our list by some distance, but once you dig into the company's design ethos and manufacturing principles it becomes easier to understand why. ARS's mixers are heavily inspired by the iconic DJ mixers of the 1970s and 80s – most obviously the Bozak CMA-10-2DL, which was the definitive version of the first commercially produced DJ mixer. All ARS mixers use modern production techniques and high-grade components, updating that classic approach for the 21st century. As such, the ARS trademark is a clean, relatively uncoloured, ultra-precise sound that can hold its own against anything on the market.
The 9900 is their flagship desktop model, with six input channels, three-band EQ on each channel plus a three-band isolator. Yes, it's expensive, but you get what you pay for: the pinnacle of boutique audiophile rotary mixer technology, built by hand in Tokyo. There's a reason that it's expensive, and we think the end result justifies the asking price. So do a number of top DJs, including DJ Harvey, who ordered a customised model as soon as the 9900 was announced.
More info/buy
| Pros | Cons |
| --- | --- |
| Incredible sound quality and top notch build | This kind of quality doesn't come cheap |
| More versatile than some rotary mixers thanks to three-band channel EQs and master isolator | |
| Tech specs | |
| --- | --- |
| Summing | Analogue |
| Channels | 6 |
| Dimensions | 460 x 280 x 100 mm |
| Weight | 13 kg |
If you're looking for an industry standard club mixer, there are two main contenders. The first comes from Pioneer. The DJM-900 has been superseded by the DJM-V10 in some ways, but for club use the DJM-900 remains a firm favourite at a slightly cheaper price point. It's certainly still the mixer a sizable chunk of pro DJs request on their tech riders.
Pioneer's approach is ultra-techy. There's no doubt that the brand has played a significant role in pushing DJ technology into bold new territory over the years, and the 900 reflects that. It's a four-channel digital mixer, very much designed with CDJs in mind but compatible with any analogue or digital sound source. Working in the digital domain allows Pioneer to focus heavily on sound manipulation, with the DJM-900 packing a huge range of the brand's trademark effects including filters, delays, bitcrushing and noise.
Pioneer's more-is-more approach can be divisive, with a minority of people thinking the digital summing and effects sacrifice ultimate sound quality at the expense of added features. On the other hand, thousands of DJs love the versatility it offers. It's really just a matter of personal taste; if the Pioneer doesn't float your boat, there are plenty of more purist options out there. Speaking of which…
More info/buy
| Pros | Cons |
| --- | --- |
| An old favourite which still has a lot to offer | Now superseded by the DJM-V10 |
| Most DJs will be familiar with the DJM-900 layout and features | |
| Tech specs | |
| --- | --- |
| Summing | Digital |
| Channels | 4 |
| Dimensions | 414 x 108 x 333 mm |
| Weight | 8 kg |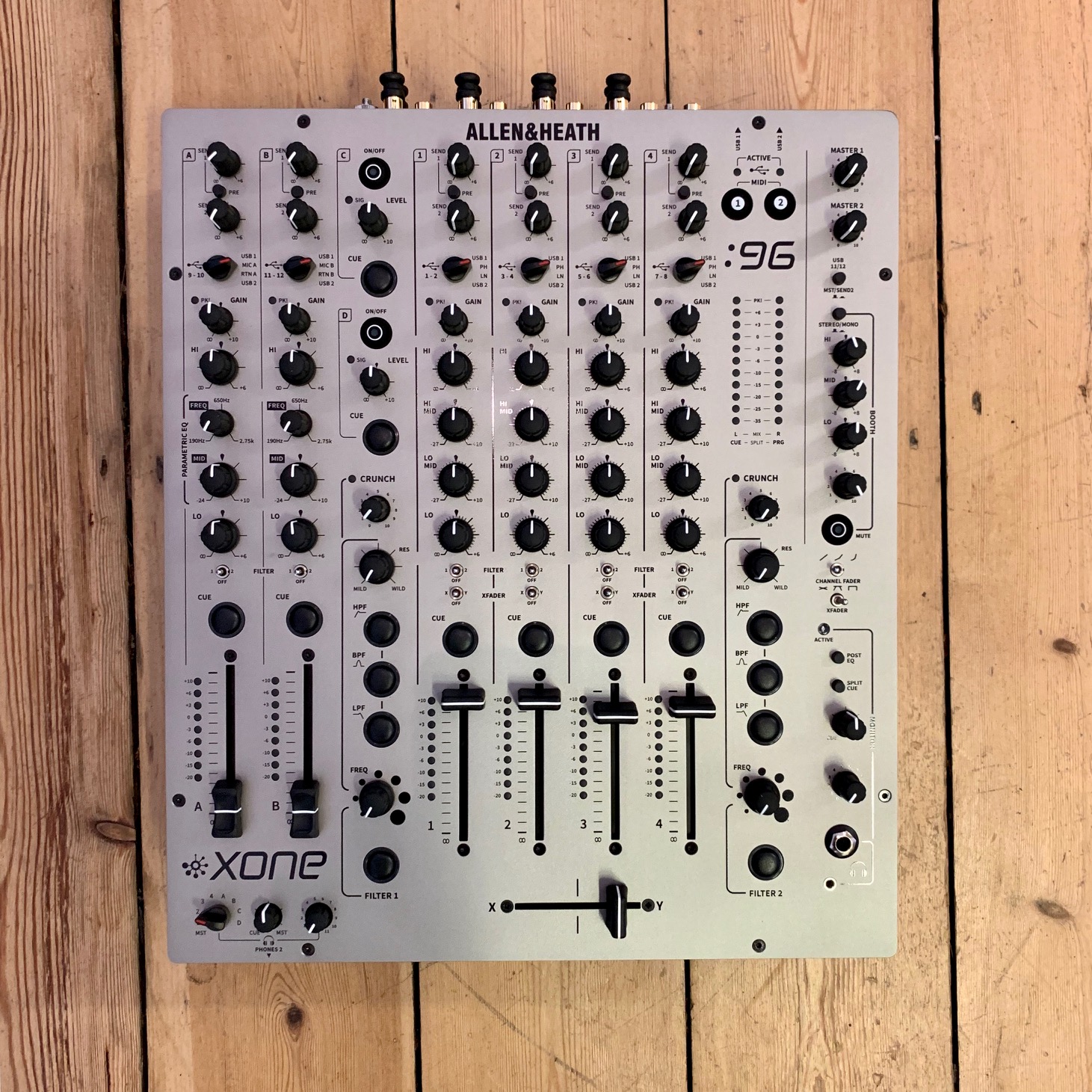 The main rival to the DJM-900 comes from long-established UK brand Allen & Heath, whose design philosophy is very much analogue-focused, in sharp contrast to Pioneer's digital approach. The Xone:96 is their flagship model, released in 2018 as a replacement for the Xone:92, which had topped the range since 2003. The fact that it took so long to update the 92 reflects the fact that the formula already worked pretty well, and the 96 sticks to the same kind of approach that made the 92 such an enduring favourite: a four-channel design (plus two additional simpler channels), analogue summing, four-band EQ per channel plus two of A&H's trademark silky smooth analogue filters.
Like the Pioneer, it's got flexible cueing features and an array of signal routing options for maximum versatility, allowing you to connect a huge range of sound sources and effects units. The biggest change from the 92 is the addition of USB ports, allowing you to connect up a computer and route audio through a DAW for effects, or just bring in additional sound sources.
The rivalry between the Pioneer and Allen & Heath options is a bit overplayed sometimes, but the truth is that most DJs fall into one camp or the other. Both are superb mixers, which is why you'll find them in so many DJ booths around the world.
More info/buy
| Pros | Cons |
| --- | --- |
| A more purist analogue approach than the DJM-900 | Some DJs simply prefer the Pioneer control layout |
| Those classic A&H filters | |
| Tech specs | |
| --- | --- |
| Summing | Analogue |
| Channels | 4+2 |
| Dimensions | 109 x 336 x 410 mm |
| Weight | 7 kg |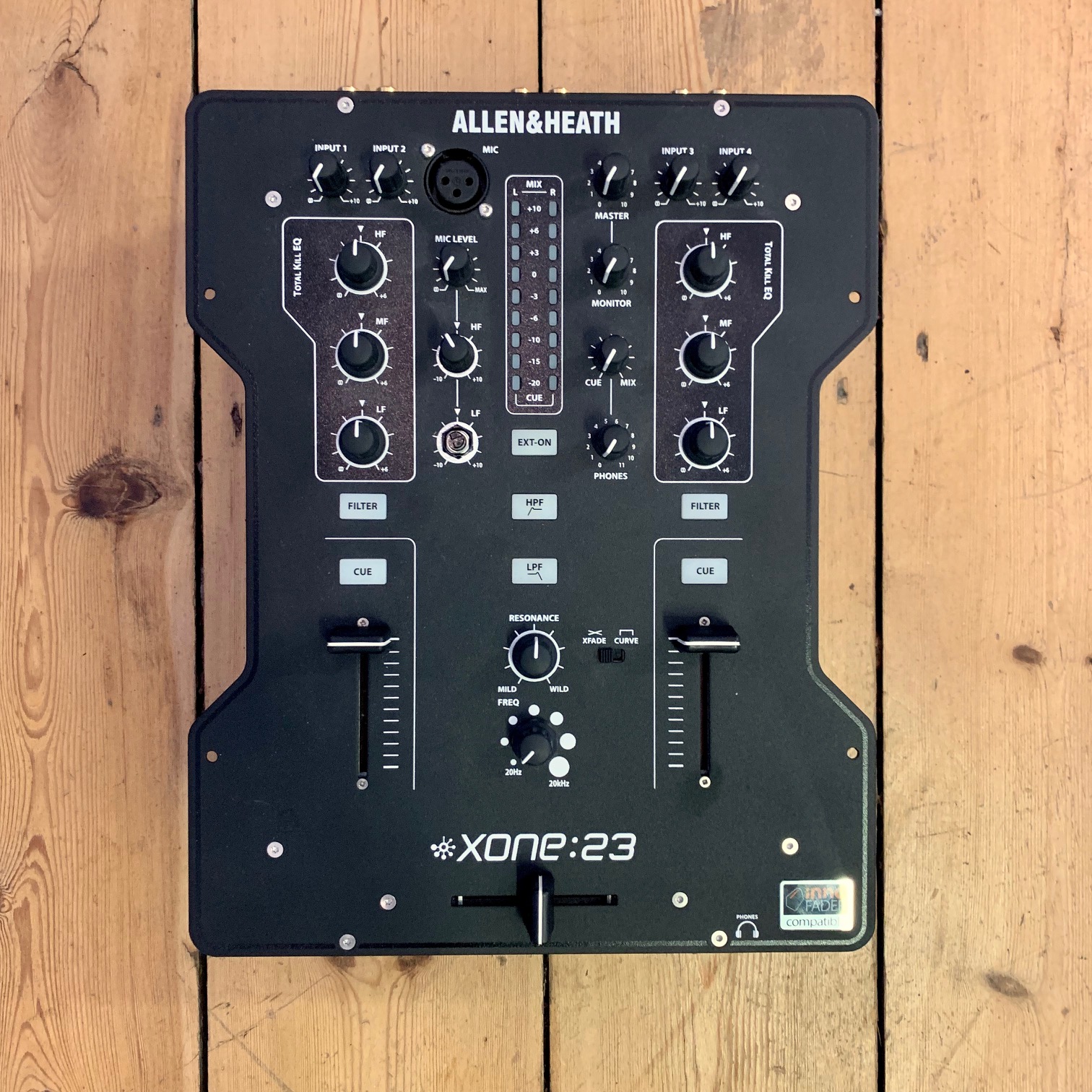 It's interesting to compare the premium Xone:96 with one of our budget favourites, in the form of A&H's entry-level Xone:23. The Xone:23 comes in at around 15% of the price of the flagship model, so it goes without saying that we're not expecting all the bells and whistles of a high-end product here, but it's a seriously good option for beginners. The 23 is a 2+2 design, meaning it has two channels, each with a phono and line input, both of which can run through the channel simultaneously (unlike most mixers, which force you to pick between the two inputs). The practical applications of this are admittedly limited, but it does provide an extra degree of versatility for multi-deck mixes, additional sound sources or changeovers.
Each channel has three-band EQ, while there's also a resonant high-pass/low-pass filter, which can be assigned to either of the channels (or both simultaneously). In use, it's clearly a very much simpler affair than the flagship model but there are hints of the same DNA to be found. The EQ is missing a band compared to the 96, but it's still clean and musical. Meanwhile, the filter section offers a basic version of that trademark A&H sound.
The 23 is a really solid all-round performer, with a stripped-back feature set that offers everything you really need for basic mixing. As an affordable way into the Allen & Heath world it's ideal.
More info/buy
| Pros | Cons |
| --- | --- |
| Excellent value entry-level option with hints of Xone:96 DNA | No effects |
| Good EQs and resonant filter | |
| Tech specs | |
| --- | --- |
| Summing | Analogue |
| Channels | 2+2 |
| Dimensions | 315 x 106 x 240 mm |
| Weight | 2710 g |
Until recently, rotary mixers were only really available at the higher end of the market. There's no real reason why affordable rotaries shouldn't exist, but manufacturers of entry-level and mid-range mixers tended to stick to the more commercially popular straight-fader designs. Rotary mixers have always had a cult following, but it seems the recent resurgence of interest in the approach increased demand to the point where manufacturers were willing to test the market with cheaper rotary options.
Omnitronic's TRM-202 is the most affordable rotary mixer on the market, first released in 2015 but quickly updated to the MK2 model and then the current MK3. The 202 offers a very simple, bare-bones setup: just two channels, each with two-band EQ, plus a three-band master isolator. It's undoubtedly basic, but that's the same approach employed by options at three or four times the price.
Sound quality is solid if unspectacular, but certainly on a par with other models in a similar price range. The TRM-202 might not quite be able to match the silky smooth sound quality of high-end boutique rotaries, but it offers just the same kind of ergonomics as much more expensive models. As an entry point into rotary mixer, it's a great choice.
More info/buy
| Pros | Cons |
| --- | --- |
| An affordable way to enter the world of rotary mixers | Lacks the sonic sparkle of high-end rotary mixers |
| Three-band master isolator | |
| Tech specs | |
| --- | --- |
| Summing | Analogue |
| Channels | 2 |
| Dimensions | 235 x 190 x 95 mm |
| Weight | 3 kg |
The M101 is about as basic as a DJ mixer gets, but that's nothing to be ashamed of. Everyone has to start somewhere, and there's a very good chance your favourite DJ learned to mix on something very similar to this. Similar two-channel mixers have been around for decades, and Numark are one of the trusted brands who've been producing solid entry-level mixers since the 80s.
With such a simple mixer, it's hard to go into much detail. There are two channels, each switchable between line and phono inputs and each with two-band EQ. There's a crossfader, a mic input, headphone output for cueing and that's just about it. The one concession to modernity is a built-in USB audio interface, allowing you to record to a computer via the output or take an audio feed into channel 2.
It's solid, it sounds clean and it does the job. As a first DJ mixer we've got absolutely no complaints – it's a perfectly solid starting point if you're on a tight budget.
More info/buy
| Pros | Cons |
| --- | --- |
| Simple but effective | Clearly a budget model lacking the features and finesse of more expensive options |
| Very good value | |
| Tech specs | |
| --- | --- |
| Summing | Analogue |
| Channels | 2 |
| Dimensions | 263 x 228 x 104 mm |
| Weight | 2.9 kg |
Your choice of mixer is defined to a certain extent by your style of DJing. Rotary mixers lend themselves to longer, slower blends and smooth, organic transitions between tracks, while crossfader-equipped straight-fader models lend themselves more to cuts, chops and faster mixes. At the extreme end of the scale, scratch DJs have arguably the most specific demands of all, requiring an ultra-precise, ultra-durable crossfader and typically a much more simple approach elsewhere.
Dedicated scratch mixers have been around for a couple of decades now, and the formula is well-defined. Reloop's KUT is visually similar to the classic Vestax scratch mixers of the 90s, which is surely a classic case of "if it ain't broke, don't fix it". The two-channel design is based around a non-contact innoFADER for durability, with adjustable crossfader curves and 'hamster' reverse switch as you'd expect on a scratch mixer.
To show that it's still possible to innovate while sticking to a classic layout, the KUT goes further, with a built-in USB audio interface for digital vinyl systems, built-in effects and adjustable channel fader curves. It's a versatile setup which would be one of our first recommendations for any scratch DJ, alongside more expensive choices like the Pioneer DJM-S11.
More info/buy
| Pros | Cons |
| --- | --- |
| Solid, durable scratch mixer | Scratch-focussed design won't appeal to some DJs |
| Built-in USB audio interface | |
| Tech specs | |
| --- | --- |
| Summing | Digital |
| Channels | 2 |
| Dimensions | 355 x 254 x 104 mm |
| Weight | 4 kg |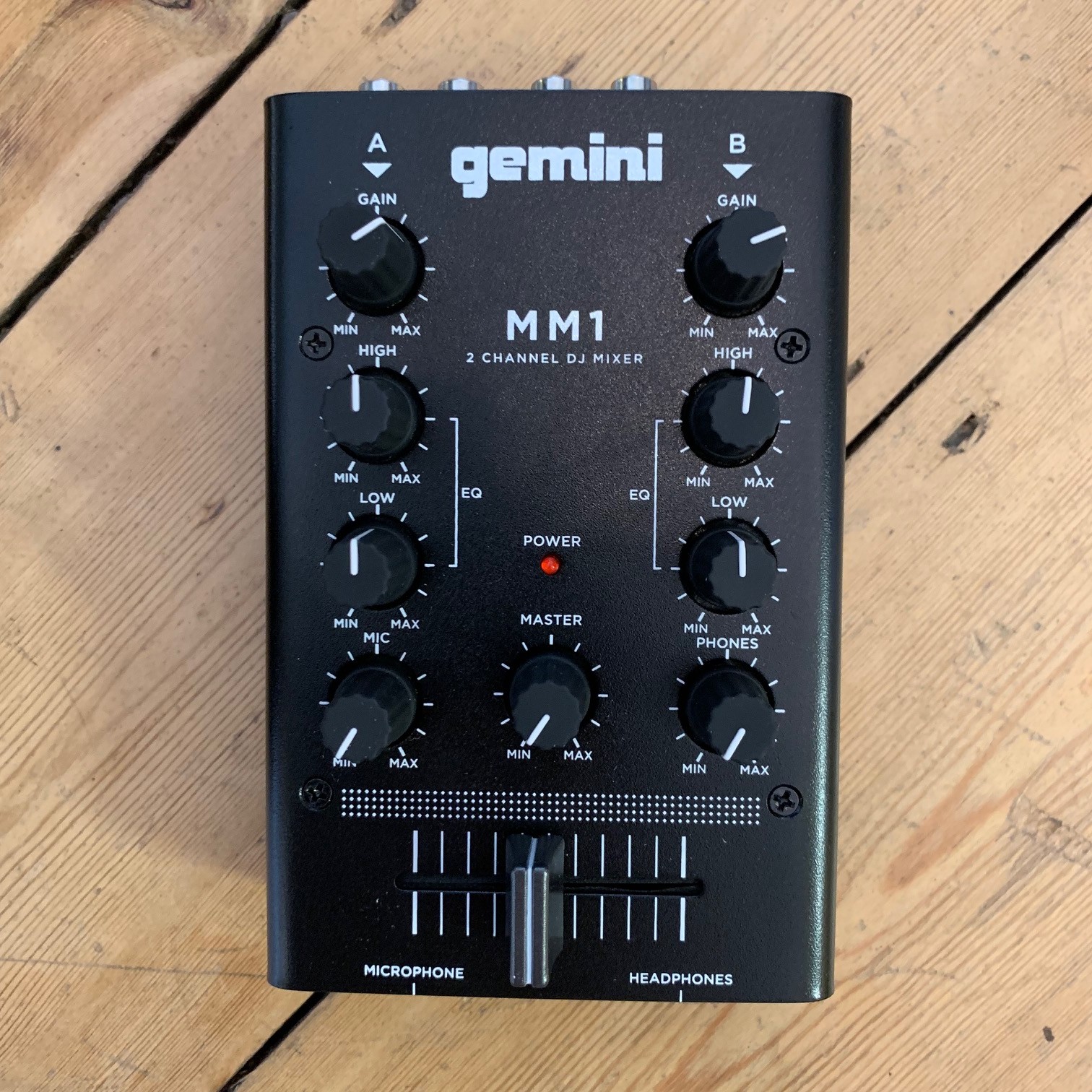 The most unusual product on our list is this tiny offering from Gemini, which is about as minimal as a DJ mixer can get. The MM1 is a tiny, super-basic two-channel design which offers little more than a pair of line-input channels with two-band EQ, a crossfader, mic input and headphone output.
It's clear that this isn't a fully-featured DJ mixer by any stretch of the imagination and, for more conventional use cases, the additional expense of the Numark will be justified more often than not. However, we can imagine various scenarios where the tiny Gemini could be useful, whether it's to create a tiny portable DJ setup (perhaps hooked up to a phone or tablet running DJ software) or to add an additional channel to an existing DJ mixer (plug the two sound sources into the MM1 and the MM1's output into the mixer's line in).
A novelty? Maybe. But a genuinely useful one all the same.
More info/buy
| Pros | Cons |
| --- | --- |
| Tiny, compact design | Some obvious compromises when compared to full-size mixers |
| About as portable as it gets | |
| Tech specs | |
| --- | --- |
| Summing | Analogue |
| Channels | 2 |
| Dimensions | 305 x 203 x 127 mm |
| Weight | 550 g |
The MP2015 is something of a rare beast: a rotary mixer that eschews the typical analogue circuitry in favour of digital summing. Rane describe it as "an analogue soul with a digital heart", which hints at the split-personality approach.
It's actually a fairly unusual setup, falling somewhere in between the tightly focussed simplicity of a purist rotary mixer like the ARS 9900 and the user-friendly versatility of mixers like the Xone:96 and DJM-900. That means you've got rotary level controls for each of the four channels but also separate gain controls (which you won't find on most rotary mixers); you've got a rotary-style three-band master isolator, three-band EQs plus multi-mode filters on each channel, but you've also got digital inputs for CDJs, and a built-in USB interface.
To some it might be heresy to mess with a rotary mixer in this way, but to most it'll probably represent a sensible compromise, giving you the best of both worlds. Probably the closest you'll get to a rotary rival for the Pioneer and A&H, marrying modern flexibility with rotary ergonomics and warm, musical sound.
More info/buy
| Pros | Cons |
| --- | --- |
| The best of both worlds: analogue spirit and digital tech | Is a digital rotary mixer heresy?! |
| Hugely versatile EQ, isolator and filter options | |
| Tech specs | |
| --- | --- |
| Summing | Digital |
| Channels | 4 |
| Dimensions | 355 x 83 x 333 mm |
| Weight | 5.7 kg |
In summary
It's impossible to give a definitive answer on the 'best' DJ mixer. A quick look at the first two picks on our list – the Pioneer DJM-V10 and the ARS Model 9900 – gives a perfect example of two radically different approaches. Both are six-channel designs, but that's about where the similarities end: digital vs analogue; straight fader vs rotary; extensive features vs sonic minimalism…
Regardless of your personal preferences when it comes to mixer design, there's something here to suit every taste and every budget, from full-on pro installations all the way down to more humble home practice setups. All of the options on our list represent good value at their respective price points.
You may also like…