The best new albums this week
The albums doing the do for our writers this week
ALBUM OF THE WEEK
Metallica – 72 Seasons (EMI/Blackened)
You can section the momentous career of Metallica over the past four decades into three categories defined by which member was handling bass duties at that time. The original Cliff Burton trilogy of Kill 'Em All, Ride The Lightning and Master Of Puppets is often heralded as the high watermark each subsequent project has aspired to since, while the tenure of Jason Newstead ushered in the fan favourite …And Justice For All as well as their global juggernaut The Black Album.
What followed throughout the 90s was a meandering collection of sonically unsure material delivered via the controversial one-two punch of Load and Reload which saw an eschewing of the lengthy tracks, thrash soloing and even a communal grooming which saw all long hair chopped asunder.
Following the creative respite during their Garage Inc. covers project and iconic S&M live album collaboration with Paul Kamen and the San Francisco Symphony Orchestra, anticipation reached fever pitch for their first 21st century offering which would also mark the arrival of current bassist Robert Trujillo.
When St. Anger dropped in 2003 along with the questionable companion documentary Some Kind Of Monster, reception was mixed to say the very least. Solos? Out. God awful snare sound? In. Grandiose thrash metal bedlam? Out. Clunky hooks, grooves and genuinely laughable lyrics? Definitely in! The discourse surrounding the eighth full-length from the biggest of the Big Four thrash metal groups has led to opinion pieces, video essays, fan remasters and could easily be a feature all unto itself, but the self-admitted course correction that was 2008's Death Magnetic did its utmost to restore listener satisfaction and re-garner credence the band's material hadn't been paid in almost two full decades.
Naturally, the future of Metallica was considered by lifers, with many assuming the project would serve as a swansong so as to not go out on the disappointing note that was St. Anger. That was until the controversial, much maligned Lou Reed collaboration Lulu was dispersed upon the land like a faux-avant-garde plague that still irks many at its mere mention.
You can then only begin to imagine the hype and testament to fan goodwill that shrouded 2016's Hardwired… To Self-Destruct based on its initial slew of singles, and when the album was finally in hands and ears, many rejoiced at the full circle moment of hearing the best to ever do it rediscover their fluid knack for bombastic, lengthy, epic metal set-pieces, informed and guided by the baby steps of its predecessor.
Seven years and 72 Seasons later, Metallica have unveiled easily their most potent and rewarding work of phase 3 to date. At 77 minutes in length and boasting 12 hefty chapters of retrograde thrash fury, this is the sound of a group revitalised and serves as tangible proof that a genre is only as stale or irrelevant as the men behind the music.
From the frenetic riffage of the opening title-track onwards, there's little to no breathing room offered by the seasoned veterans, who at a median age of 60, deliver an endless barrage of hyper-dense rhythms locked in place by absurdly tight compositions, leading to the audible equivalent of a train constantly toying with the possibility of total derailment yet just about managing to stay locked on course.
Yes, there are tell-tale signs of an ageist gap between the extremity of most modern metal and the 80s indebted well Metallica opt to draw from here, with the overall project veering closer to thrash-imbued hard rock, but that doesn't dilute or distract from the majorly impressive prowess the members have successfully re-encompassed across these multiple epics.

'Screaming Suicide' and 'Lux Æterna' pummel and pulse with the same hard-hitting yet anthemic energy as Kill 'Em All cuts such as 'Hit The Lights', while the more gargantuan opuses such as 'You Must Burn!' or the 11+ minute closer 'Inamorata', evoke the progressive thrash nuances that still hold Justice as such an integral staple in the band's discography. It must also be noted just how lyrically introspective and vulnerable frontman James Hetfield appears across these tracks, detailing his darkest moments in a mature, self-analytical lens as opposed to the war-torn and political musings that make up a great portion of their essential hits.

In short, 72 Seasons is the mother of all victory laps from the most successful (thrash) metal act to ever exhale carbon dioxide. Avoiding any of the standard balladry that can still come naturally to the group (just look to the fantastic Death Magnetic lead single 'The Day That Never Comes'), this is a calculated mission statement to reward and remind listeners in equal measure that through bassist changes, eras, haircuts, sonic experiments, alcoholism, infighting, relentless touring and family life, Metallica have still got it where it counts. And they demand almost an hour and a half of your time to drive the point home, and in turn reciprocate with their best work of this century, Robert Trujillo's tenure, and possibly since The Black Album. We will not be accepting any retorts.
ZB
Thomas Bangalter – Mythologies (Erato)
There's a point, maybe around one-third of the way into Mythologies, when you stop listening from a critical perspective as someone armed with knowledge about who wrote it, and start truly buying into one half of Daft Punk being a ballet composer, in this case for a production by Orchestre National Bordeaux Aquitaine, Ballet Preljocaj, and the celebrated Romain Dumas. Given the uneasy relationship between electronic music and classical, that revelation alone is recommendation in itself.
It's hard not to feel some sense of cynicism or trepidation towards projects like this. Joint ventures involving talented chamber musicians or full symphony ensembles and dance producers are nothing new, and — when all is said and done — very few actually bring anything new to the conversation. Granted, when they do it's mind-blowing — Chronos Quartet, Metropole Orkest — but too many are happy to cash in on the classics, and the fact someone once realised dance and orchestral share some common traits: emotional intensity, the myth of structural freedom masking foundational rules for how arrangements can and should play out. Thankfully, Mythologies is not like any of that, and as such offers new evidence of Thomas Bangalter's insane talent.
The score represents his first foray into actual classical composition. Recently commenting on the process, he remarked how refreshing it was to sit down with manuscript paper, pen and notepad to begin this endeavour, rather than an array of screens and technology. The results of those efforts are certainly grand and pomp-y enough to fill an opera house, a 10 part odyssey of highly evocative and compelling pieces that range for the pace-y strings of 'Les Amazones' to the reflective, almost mournful overture, 'Les Gémeaux I'. The point being, heard blind, it's hard not to think this is the work of a far more seasoned composer.
MH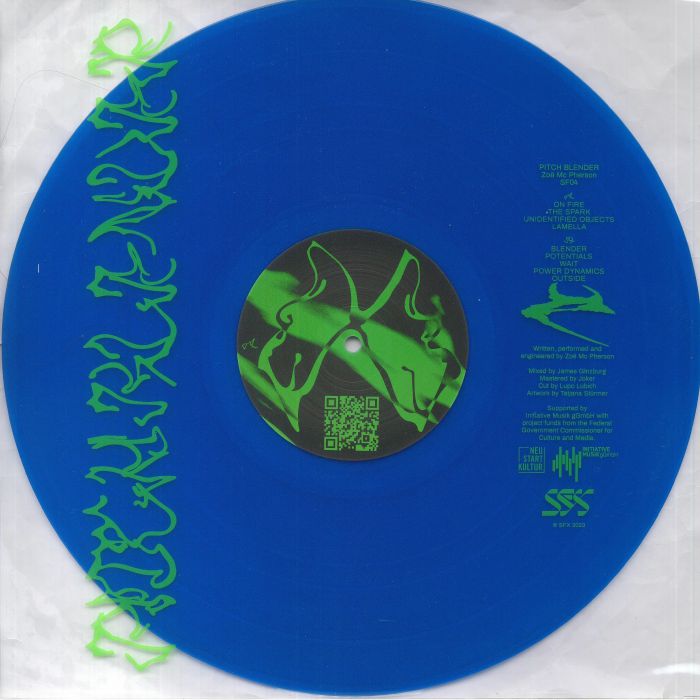 Zoë Mc Pherson – Pitch Blender (SFX)
Carving out a distinctive space all of their own, Zoë Mc Pherson has spent the past five years laying out vivid drum mantras where the rhythms fall at wild angles and there's a soundsystem focus to the mix. States Of Fugue saw them particularly pushing into experimental territory, but on new LP Pitch Blender it feels like some of that contrariness in their creative approach has been tempered to allow other ideas into the mix.
In particular, there's more space afforded for alien melodic forms, especially on album centrepiece 'Lamella' which deals in a giddy wash of pearlescent synth and some pop-adjacent vocals from Mc Pherson themselves. The lyrics follow a thread which starts with prior ambient piece 'Unidentified Objects', examining human civilisation from an imagined future and whatever trash we leave behind. As angular, abrasive neo-rave opener 'On Fire' attests, it's not always the gentlest of subjects, but Mc Pherson approaches it with sensitivity and isn't afraid to weave hope in amongst the more oppressive traits of their production.
Shot through with snatches of jungle and boldly embracing some genuinely catchy hooks (see standout track 'Potentials'), Mc Pherson has rounded out their developing artistic identity while still pushing into unknown territory, very much the singular artist pursuing their own aims and making something very special in the process.
OW
Magnolia Park – Baku's Revenge (Epitaph)
Orlando, Florida pop-punk upstarts Magnolia Park have been garnering mass hype over the last few years due to their prolific nature and the excelled rate at which they've dropped their first slew of EPs and mixtape.
Combining modern hip-hop and emo-trap motifs into a sugary brand of anthemics influenced by the types of artists they grew up on and have supported on the road such as Simple Plan and Sum 41, anticipation has been high to see the group reach their full potential on a debut full-length and Baku's Revenge delivers on all of that initial promise.
Released in 2022 via Epitaph Records (a known breeding ground for the best in modern punk and already a major seal of approval for the relatively new group), the project follows the titular fictional character and narrative that's been set in place since their earlier works, but one deep listen is enough to peel away the foil and hear the earnest and emotive pleas for change that come through vocalist Joshua Roberts' cathartic lyricism.
A racially diverse group channelling their ethos for inclusivity, their brand of modernised pop-punk bridges the gap to the emo-centric hip-hop revival led by acts such as Gothboiclique and Lil Lotus, who have also served as touring companions in the past.
Working with Floridian punk producer Andrew Wade (known for his work with other local acts such as A Day To Remember and Wage War) to capture that subtle balance in its most natural form leads to an album that feels both nostalgia baiting for early noughties Dickies trousers and t-shirt/tie combos, and simultaneously indicative of the modern shape the scene has taken over the last decade.
From the earworm hook that weaves around the admittedly depressive ode to addiction, succinctly titled 'Drugs', to the standard failed relationship lament 'Ghost 2 U', the group manage to turn the darkest and most personal of themes into eccentric, easycore bangers, while standout lead single 'I Should've Listened To My Friends' is sure to become a modern day genre staple for an entirely new generation.
Unpretentious, honest, emotive and absurdly catchy, Magnolia Park make revenge seem so bittersweet on this infectious debut.
ZB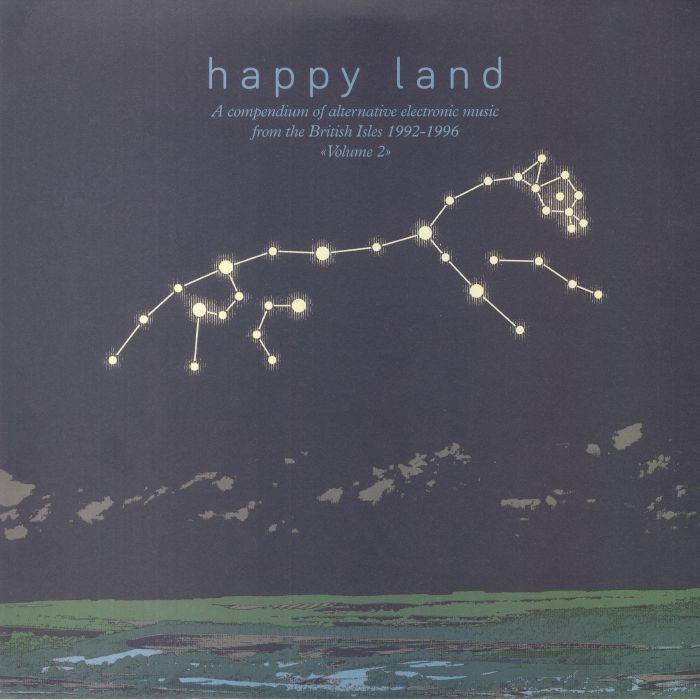 Various Artists – Happy Land: Alternative Electronic Music From The British Isles 1992-1996 (Above Board Projects)
The British Isles and, more specifically, the UK's reputation as a global epicentre of dance music culture is well-earned. But it should also be subject to important questioning: why exactly did this rainy corner of Europe jump on the rave train so quickly, and with such vehement passion?
A fertile breeding ground for artists working across various genres, whether 'borrowed' from overseas (house, techno, disco) or homemade (jungle, drum & bass, dubstep), several factors have played into this country's longstanding love affair with fast noise. Not least the speed at which movements can become dominant trends in small territories, and the threat posed to national radio by pirate stations before legal broadcasters bowed to pressure and started playing — and pushing, hard — the sounds of rural fields, city warehouses, and basement clubs.
Away from the bright lights and big promotional juggernauts that have risen to dominant positions within this end of culture since the early-mid-1990s, a leftfield scene has always thrived. Put it down to British eccentricity, or simply the sheer volume of people messing about with synths and drum machines (some were bound to do interesting things), either way a few of those boundary pushing names feature on Happy Land, which commemorates a particularly rich period in the region's history when it comes to beats and bleeps, and a volatile one politically and socially.
Spread over 15 tracks, work from luminaries — The Black Dog, Cabaret Voltaire, Herbert, Richard D. James (AKA Aphex Twin, or, on this, Strider B) — sits next to lesser known talent that have long-deserved a little time in the spotlight. Even if that spotlight is still going to have comparatively niche appeal. Slo-mo acid builders (Thunderhead the Word By Eden), bumpy tech (Fretless Azm), and dub techno (Syzgzy) giving some idea as to the sonic focal point here.
MH
Antoni Maovvi – The Dead Of Winter (Redscroll US)
Imagine this: you're a roving warrior, one of an elite band of few. Donning bear hides and makeshift spears, you've banded together as part of an armed rebellion against a tyrannical ghost-erl-king, whose coercive tenure against the realm has unleashed all manner of evils against your homestead. Now on your final mission, you approach the king's ice temple, but you feel sick to your stomach, not least since you're somewhat unprepared for the fight.
These are the sorts of images conjured by 'The Dead Of Winter', an album which hears Connecticut musician Antoni Maiovvi do exactly what he does best. The self-styled bohemian is a fixture of his local scene, having carved out an unfalsifiable niche for himself by mixing film soundtrack tropes with 80s / retro / dungeon synth ideas. This latest statement is a decidedly creepy album, given contrast by its doomy builds and twinkly nooks. While its scene-setters like 'Open Doorways' and 'Snowstorm' mix big booms with ice-noise and neo-orchestral tremblings, the real meat on the freshly-hunted bone is its black metal themes, best evoked by the chants and electric guitar loopings on leaders like 'In Danger' and 'Dreams Inside The Witch House'. Watch out, in case one of Maovvi's vampire thrall gets you in the neck.
JIJ
Dicky Continental – Un (Acid Jazz)
Dicky Continental may sound like a character from one of the dodgier 'Confessions…' movies – ask your dad if you're under 30 – but his real identity will be familiar to anyone with a love of the jazzier end of the leftfield breakbeat spectrum. Rich Thair of Red Snapper fame – for it is he – steps out on his own to deliver 11 tracks, some vocal, some instrumental, all a laid back treat for the ears.
Tracks like 'Mavron' show what a delicate touch his productions have, a dusty beat reclaimed and remade into a lithe and lively groove, with string specialists The Mavron Quartet weaving equally subtle musicality around it. 'Simon Says' does a similar job of turning relative simplicity into an addictive art form, the added bonus of some proper Daft Punk-style filtering proving the cherry on top. Singer Jo Sims adds her lungs to two excellent songs and from the disco-hop of 'Chico Florres' to 'Pike', which is not a million miles from Ultramarine and Robert Wyatt's earthy collaboration Folk, this is an album which constantly delights with its invention and sense of joyfulness.
Let's hope Mr Continental makes another cameo soon, because this really is the business.
BW
Florigenix – Wild Light (Mystery Circles US)
Adding to the rare crop of tape-bound musick seeping through the weekly Juno floodgates, Florigenix's 'Wild Light' comes to the fore. A synth-based IDM and ambient project of one Nick Dallwitz, Florigenix flirts with ideas of futures past, serenely moving through self-contained worlds of wonder without overthought or pretension. While many a self-release has come from the Australian producer before, this is a comprehensive full-length project bestowed unto the longtime psychedelic label Mystery Circles.
'Wild Light' ponders the supposedly static nature of modern music media – think digital files – and entertains the thought of what might happen if such ostensibly infallible ways of storing sound might truly begin to degrade. We quote: "We'll provide future archaeologists with corroded hard drives and landfill graveyards with discarded electronics".
Diving into this project, it's clear Dallwitz has a real sense of the wealth of possibility offered by digital tech for generating niche and wondrous soundworlds. With each track sounding like distinct windows into tiny bacterial microcosms locked inside amber quartzes, all contain twinkling synthbound arpeggios, lolling vocal hums, and birdsong. The track titles are exquisite: the likes of 'Jungle Rusted Plasma Temple' and 'Vector Shrine Of Gentle Breath' echo the early, associative naming practices of trailblazing artists like The Skaters, while effectively evoking ideas from sloshy neo-Aztec soundbaths, to visions of great outdoor plains overlaid by HPPD.
JIJ
GoGo Penguin – Everything Is Going To Be OK (XXIM/Sony)
You have to admire UK experimentalists GoGo Penguin for their optimism in the face of a world that seems right on time for certain doom. Then again, when you're capable of making sounds that are as emotionally beautiful as opener 'You're Stronger Than You Think', a staggering, stop-you-dead, but all-too-brief, piano gem, perhaps it is easy to see things in a more positive light.
In many ways, Everything Is Going To Be OK is the album you needed right now, even if it's not the one you definitely went out looking for — a record that seems more human than most of us, packed with drama, grief, sorrow, joy, and strength, all realised through breathtaking arrangements built from 'natural' instrumentation. Even before you learn about the challenging circumstance during which it was born (with bassist Nick Blacka losing mother and brother to cancer months apart, and pianist Chris Illingsworth's grandmother passing away), it's impossible not to feel this is about much more than nice sounding tunes and razor sharp talent. Music often struggles for legitimacy because of a lack of sincerity. Here, it feels like every note and movement is played with a determination to commemorate, make proud, and hold dear.
MH
Rise Against – Nowhere Generation II (Loma Vista)
Following on from last year's excellent statement of intent, 'Nowhere Generation', Chicago natives and melodic hardcore heroes Rise Against return with the companion, sister EP, 'Nowhere Generation II'. Composed of 5 new cuts originally written/recorded during the album process, the band have opted to split the 16 full songs into separate volumes, in order to give listeners an opportunity to fully digest the overarching themes of alienation and everlasting political corruption that have become ceaselessly commonplace.

Anthemic, emotive and cathartic in equal measure, this follow-up continues the momentous energy of its predecessor while putting a definitive full stop on the 'Nowhere Generation' era. Opening cut, 'The Answer', balances the triumphant energy of old with the seasoned melodious tendencies the group have sharpened over the course of their two-decade plus tenure, while lead single, 'Last Man Standing', is arguably one of the most vital contributions to their own expansive canon yet, with its serene, arena-sized pop-punk staying-power.
The title, 'This Time It's Personal', seems indicative of possibly a more ferocious entry, but ultimately serves as one of the EP's more tender, nuanced moments, while the increased freneticism of, 'Pain Mgmt', and the cracks in composure on the stomping closer, 'Holding Patterns', hint at their aggressive origins more than any of the preceding tracks.

While it's no secret that Rise Against have made a name for themselves as a politically driven force with ample room provided for introspection, frontman Tim McIlrath still manages to resonate and connect with his sincere wordplay and weariness for the world around him. With the deafening realisation that – "The world looks like a broken toy, once capable of endless joy", one can't help but feel ashamed when an artist's pleas for change have seemingly fallen on deaf ears for so long. It's not that the messaging or intent has changed a single iota, but that the apathy of those in power has rendered a demand for change so integral and vital, when we'd like to have imagined it a moot point by now.
ZB
Andrew Morrison aka. The Cyclist is a name we haven't heard from in a while, so we're more than chuffed to hear the Irish dance music producer is still going strong. The cutely-crowned "tape throb" here debuts a new alias, Indopan, for 100% Silk on cassette. The accompanying project 'Yupana' is said to be a "50-minute trip through outer limits and altered states", et cetera, et cetera….
… You awaken to discover that the lines normally taken as defining givens between genres have melted away, and that this postmodern break has somehow occurred while sleepwalking in a yet-undiscovered temperate wilderness, somewhere south of god-knows-where. Despite having woken up in a rainforest, you feel incredibly relaxed. The words 'Indopan Relents' soon drift onto your lips, as a cluster of zoodial creatures bursts through the canopy, playing all manner of self-fastened instruments from saxophone to woodblock.
You slowly to pick up the mental fragments; speed garage… sampledelics… broken beat… exotica… Somehow you can slowly begin to feel the mental connections reform. The party continues, as you feel yourself 'Falling', where the creatures trillingly vocalize to a shuffly take on something you might've once identified as "retro". Blossomy proto-trance hits meld flowingly with swung clacks as you feel yourself 'Breaking Down', not long before you finally remember what a breakbeat is as you ask, 'When Will This Storm End?'
As you finally come to, you realise that all that has happened is that you've listened to an incredible EP, one truly unafraid of fusing tape psychedelia with UK dance themes, and that this has had a remarkable effect on you.
JIJ
Pekodjinn – Dharba (Les Disques Magnétiques)
North Africa and the Middle East have emerged as electronic music hotspots in recent years. Or at least that's how it looks from the West. In reality, it's probably more a case of UK, US, and European media looking beyond those regions for new stories and exciting scenes, and quickly realising there's been a lot going on for quite a while that has little to do with the Atlantic hegemony. Pekodjinn's debut solo album, Dharba (The Blow or The Strike for those who want an English translation) is a case in point.
The Tunisian artist might be new to you, but already lays claim to a huge reputation in his homeland and current HQ city, Geneva, not least as a result of his role in founding the genre-straddling Ozadya collective. But while in the Swiss metropolis he represents a thriving leftfield dance community, when all is said and done, the Maghreb and Arab-futurism he peddles — featuring diverse parts including weird trap, alt-Funky, Baile hybrid, and dub — should really send the message home that the sonic traditions of his birthplace and surrounding region share more in common with club sounds than most of what tries to pass as 'club music' today.
MH
This week's reviewers: Zach Buggy, Jude Iago James, Martin Hewitt, Zach Buggy, Oli Warwick, Ben Willmott.